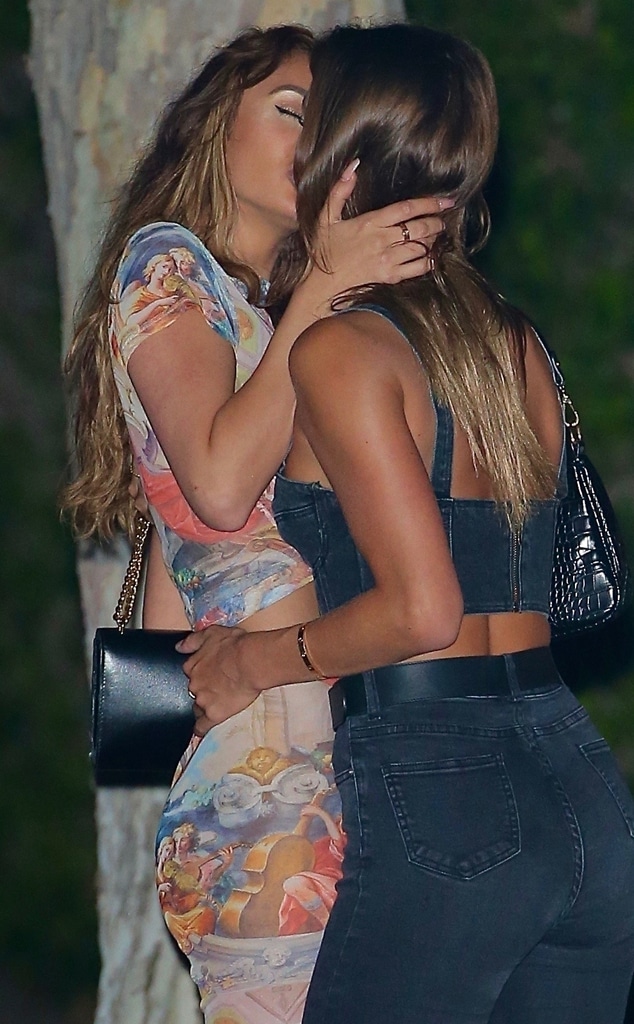 Backgrid
Rising temperatures in Los Angeles isn't the only thing heating up the city.
On Saturday night, Too Hot to Handle star Francesca Farago couldn't keep her hands off Australian model Casey Boonstra. The dynamic duo packed on the PDA after enjoying a late night out in West Hollywood, Calif.
From Casey's Instagram Stories, it appeared the two went to the celebrity hot-spot E.P. & L.P. and grabbed some dinner. At one point during their outing, Francesca pulled Casey in for a passionate kiss.
Their affection towards each other didn't stop there. The Australian model posted several Instagram Stories of she and the Netflix star locking lips. "My baby," one caption read.
While it's unknown how serious the duo is, news of Francesca's flirty night comes a few weeks after she was spotted on a dinner date with Jersey Shore alum Vinny Guadagnino.
In mid-July, the Too Hot to Handle star sparked romance rumors with Vinny after they looked cozy at a New York City restaurant. Before meeting up for dinner, the two had been flirting with each other on Instagram.
However, the two haven't appeared to hang out since. It could be that Francesca is enjoying the single life, especially after she and her Netflix co-star Harry Jowsey recently split.
Watch:
Cole Sprouse & Lili Reinhart and More 2020 Celebrity Breakups
"Harry and I are not together anymore. He decided to break up with me because he couldn't do long-distance anymore. I obviously was heartbroken. I did everything I could," Francesca shared in a YouTube video in June. "I didn't even want to tell my friends because I genuinely thought that we were going through a rocky period and we were going to figure it out."
"We would argue every now and then, but it was never for me relationship ending. And I think for him, small, little things ended up turning into relationship-ending arguments," she continued.
The reality TV personality explained that "rumors" about Harry came to light and ended up being true. However, she didn't go into detail about what those rumors were.
"There was a lot of rumors that came up that turned out to be true. I was getting sent a lot of screenshots and messages," she described. "I didn't want to believe it because how could you have a wedding ring folder with someone, and how could you propose to someone, but you're also saying I can't be with you because of the distance. It makes me feel like I was being played."
"For me, I would have stuck by this person no matter what," she went on. "Through all the fights and everything I would have never given up, but it wasn't reciprocated. He was moving on, and he is moving on and I need to do the same."
Harry opened up about the breakup but told a different side of the story.
"What we had was like nothing I ever had before," he shared in his video. "You can literally go back and watch the show and you will see how infatuated I am by Francesca. I was so in love and I was so drawn to her and my eyes have never been for anyone but Francesca."
"I flew to Vancouver to spend time with Francesca and I saw a different side of Francesca at that point in time...," he explained. "Long story short, I broke up with her for the first time after she came to visit me in Australia."
Watch:
E!'s Famous Reality TV Families: Where Are They Now?
"Francesca knows exactly what was going on between us. I never lied to her about anything," he explained. "I've always had my location shared with her so she can see where I'm at all times. I knew that if I continued to be with Francesca, it would end up with her being seriously heartbroken or me continuing to be seriously depressed in the relationship."
He added, "She's a wonderful person. She's so gorgeous and everyone's right. She's well and truly out of my league. She's a superstar and I'm so proud of her."
Harry proposed to Francesca over Zoom during a Too Hot To Handle reunion in May. After production wrapped up on Too Hot To Handle, the pair actually called it quits. They would later reconcile.
But in the end, it looks like they're both still looking for that special someone.