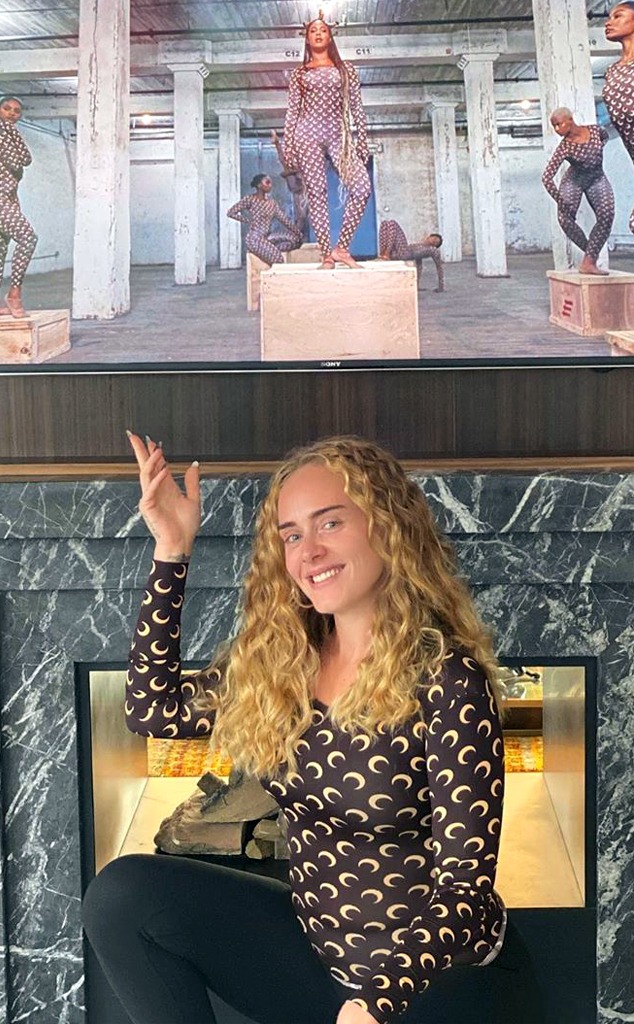 Instagram
Adele is "rolling in the deep" for Beyoncé.
The Beyhive went wild when Black Is King finally released on Disney+ on Friday, July 31. Queen Bey's visual album didn't disappoint either, as it was full of incredible moments like drool-worthy fashion, empowering messages and all-star guest appearances.
Naturally, that's all anyone has talked about on social media. Among those swooning over Beyoncé's newest project? Adele.
"Thank you Queen for always making us all feel so loved through your art," the English star shared on Instagram on Saturday afternoon, alongside an image of her watching the visual album.
Making her post sweeter? Adele showed off her playful ensemble, which perfectly matched Bey's during her "Already" performance. In the video, the Houston native wears a brown Marine Serre catsuit, which is decorated with the designer's signature crescent moons.
Of course, this isn't the first time Adele has praised Beyoncé.
Last year, the "Hello" singer expressed her excitement over Homecoming and shared a text message exchange with her friends.
Plus, in 2017, she famously broke her Grammy Award in half to give to the 38-year-old star.
"I can't possibly accept this award, and I'm very humbled and very grateful and gracious, but my life is Beyoncé, and the album to me—the Lemonade album, Beyoncé—was so monumental, and so well thought out, and so beautiful and soul-bearing," Adele said in her acceptance speech after winning Record of the Year.
Speaking directly to "Spirit" singer, Adele continued, "We all got to see another side of you that you don't always let us see, and we appreciate that. All us artists adore you. You are our light. The way that you make me and my friends feel, the way you make my Black friends feel is empowering, and you make them stand up for themselves. I love you. I always have. And I always will. Grammys, I appreciate it."
Moreover, the English singer shared the same sentiments when she spoke to reporters backstage.
"Like I said in my speech, my Album of the Year is Lemonade. So, a piece of me did die inside, as a Beyoncé stan—not going to lie," she explained. "I was completely rooting for her, I voted for her. I felt like it was her time to win. What the f--k does she have to do to win Album of the Year?"
Andrew White/Parkwood Entertainment
Similar to Lemonade, Beyoncé's latest visual album celebrates the Black community.
"Black Is King is a labor of love. It is my passion project that I have been filming, researching and editing day and night for the past year," Bey shared on Instagram last month. "I've given it my all and now it's yours. It was originally filmed as a companion piece to The Lion King: The Gift soundtrack and meant to celebrate the breadth and beauty of Black ancestry. I could never have imagined that a year later, all the hard work that went into this production would serve a greater purpose."
"I only hope that from watching, you leave feeling inspired to continue building a legacy that impacts the world in an immeasurable way. I pray that everyone sees the beauty and resilience of our people," she continued. "This experience has been an affirmation of a grander purpose. My only goal is that you watch it with your family and that it gives you pride."
To see all of the celebrity appearances, swoon-worthy ensembles and more from Black Is King, click here.