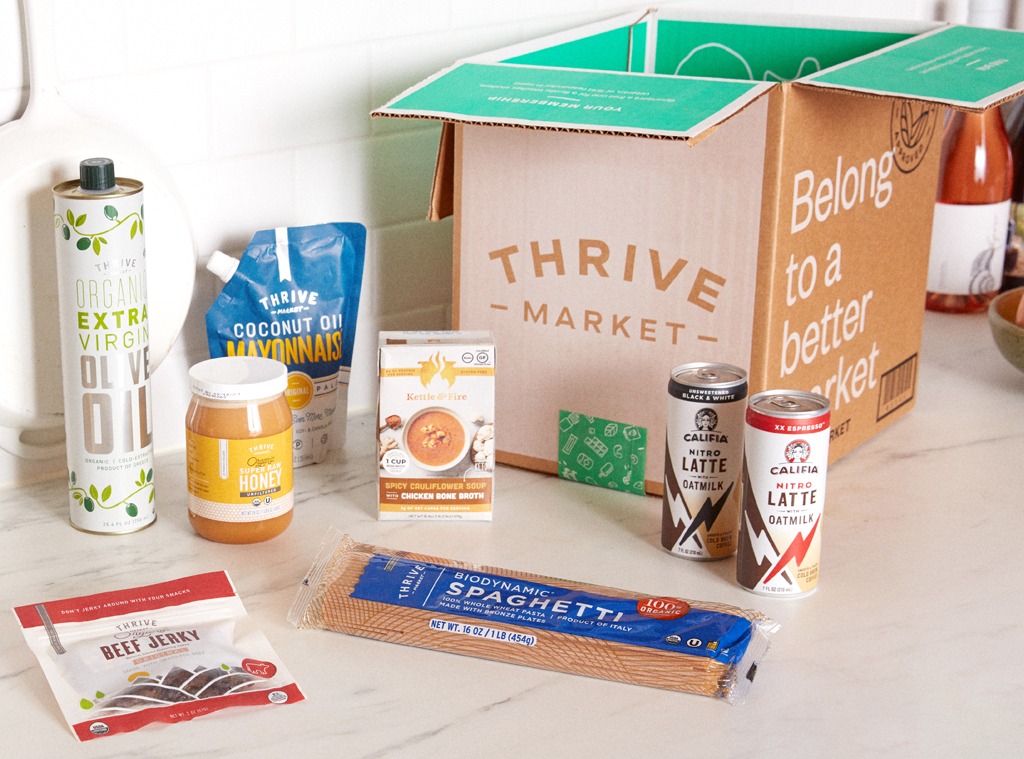 We love these products, and we hope you do too. E! has affiliate relationships, so we may get a small share of the revenue from your purchases. Items are sold by the retailer, not E!.
To be honest, we've never really been big fans of grocery shopping.
Dietary restrictions made each aisle a minefield for us, and then there's the chaos involved in finding a non-crowded time to go so it's easy to just get in, get stuff and get out... and this was even before the intensity of COVID hit and made grocery shopping an entirely different minefield. So we started researching alternatives, which is what led us to Thrive Market.
And as we read all the glowing reviews, we thought, "This couldn't possibly be as awesome as people say it is." But friends, it is. Everly glowing review is true. We signed up for Thrive Market back in March and have fallen in love with the experience. Dare we say it? Grocery shopping has actually become fun!
The first thing that made it so amazing was how Thrive Market makes it so easy to find food based on your dietary needs. Whether you're Paleo, vegetarian, gluten-free or sugar-free, or vegan (with other annoying restrictions) like us, one click of a category link revealed a plethora of options that meet your needs across every category you can think of. Whether it's snacks, one-pot meals, organic wines, or products you never even imagined you'd ever want, Thrive Market makes it super simple to find your favorites, and discover new ones. And when you find things you love, you can save them in your favorites list and even create categories to manage them, making for a super easy grocery list to shop when you need to.
But going back to discovering new products: we've discovered so many things we now love, like Lotus Pops and seaweed jerky (don't wrinkle your nose, it's better than it sounds) and even goodies from Thrive Market's house brand. They have everything from spices to blue corn chips to Keto-friendly chocolates and more. We particularly love their pasta sauces, like the tomato with roasted garlic (which constantly sells out)! Thanks to Thrive Market, our pantries and fridges are stocked (though we get our produce from a CSA).
And the prices really are incredible, with a promise of savings up to $32 per order. We've found tons of products that usually line the shelves of Whole Foods and the like for a fraction of the price at Thrive Market, and they often feature promotions where certain brands or products associated with dietary needs go on sale. And if you find an item you love somewhere else for cheaper, Thrive Market will match the price.
But what we love most about Thrive Market is their commitment to making the world a better place in a variety of ways. They work directly with food artisans, such as their partners in coffee farming and sustainably-sourced seafood, to ensure transparency in their supply chain. They pride themselves on having tons of products that are organic, and everything is non-GMO and sustainable. Their shipping really is fast, and it's carbon neutral, and everything is recyclable or compostable. And your annual membership cost sponsors a membership for a family in need, so everyone has the opportunity to eat healthy.
A Thrive Market membership is $60 per year, or $5 per month, and then, of course, the cost of your groceries goes on top of that. But they offer you a risk-free trial for 30 days so you can decide if you like it or not before you commit for the long haul. But trust us, this is one commitment you're going to want to make.