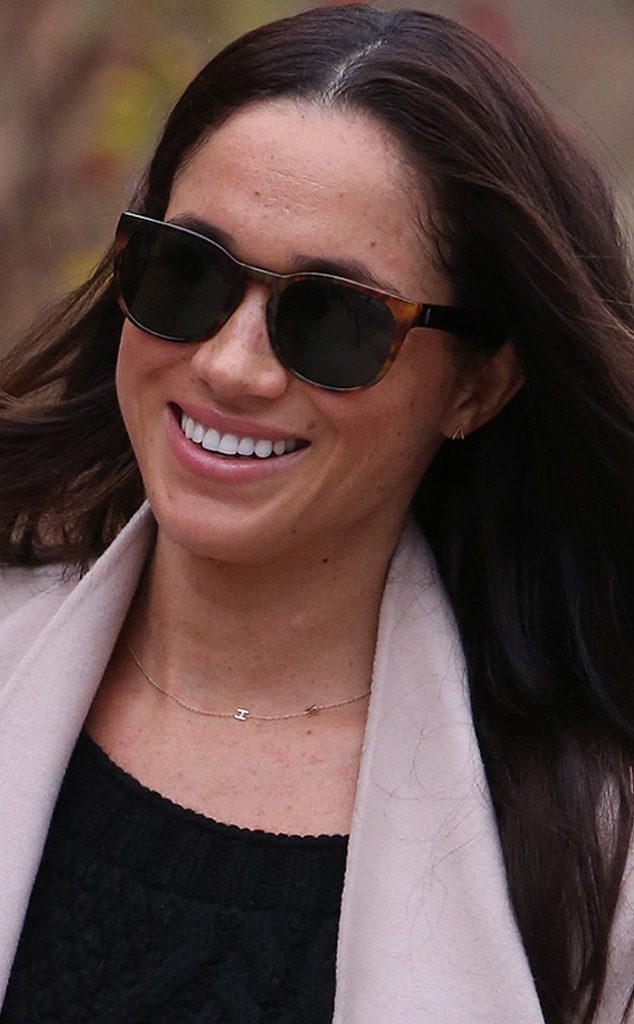 SplashNews.com
Meghan Markle's sense of style is often praised by royal admirers and fashionistas. However, there was one accessory that reportedly resulted in a bit of blowback. 
Royal reporters Omid Scobie and Carolyn Durand spilled the royal tea in their new book Finding Freedom: Harry and Meghan and the Making of a Modern Royal Family.
Back in 2016, when Meghan was still in the early stages of her relationship with Prince Harry, photographers spotted her wearing a special piece of jewelry. It was a gold Maya Brenner necklace that was reportedly valued at $240 and featured the letters "H" and "M" on the chain. Not only are these the couple's initials, but Meghan would also later reveal she calls Harry "H."
While some may have found the item sweet, Scobie and Durand reported the necklace resulted in criticism from palace aides.
"She was advised that wearing such a necklace only served to encourage the photographers to keep pursuing such images—and new headlines," the two wrote in the book, per an extract published by People.
According to the book extract published in the magazine, Meghan later had a call with a senior Kensington Palace aide.
Meghan "said little during the call, choosing instead to simply listen to the counsel. But after hanging up, she felt frustrated and emotional," the published excerpt read. "While she knew the aide had good intentions, the surreal experience of having someone from her boyfriend's office tell her what kind of jewelry to wear or not to smile at a photographer was too much."
Per the shared book extract, Meghan later called a friend saying, "I can't win. They make out like I'm to blame for these pictures, that it looks like I'm encouraging them, that me even acknowledging the cameras may not be sending the right message. I don't know what to say. It was only yesterday that people online were saying I look miserable in pictures, because I was trying to just ignore the [photographer]."
The authors reported Meghan "felt damned if she did and damned if she didn't."
Watch:
Prince Harry & Meghan Markle's 2-Year Anniversary: Their Royal Romance
This isn't the only topic covered in the book. Finding Freedom: Harry and Meghan and the Making of a Modern Royal Family also reports on how Harry and Meghan's romance began and what led to their decision to step back as senior members of the royal family. According to People, the book features interviews with friends of the couple, as well.
A spokesperson for Harry and Meghan told E! News, "The Duke and Duchess of Sussex were not interviewed and did not contribute to Finding Freedom. This book is based on the authors' own experiences as members of the royal press corps and their own independent reporting."