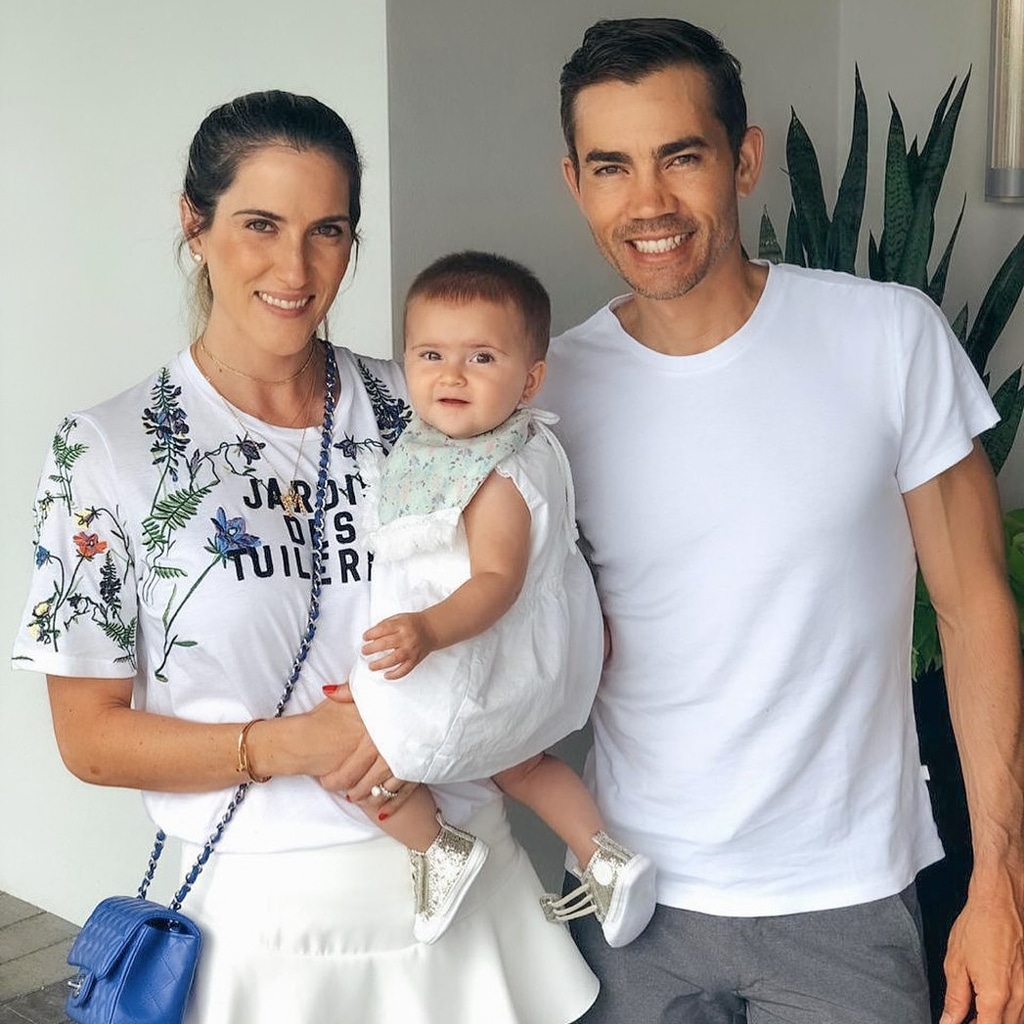 Camilo Villegas/Instagram
Camilo Villegas is mourning the loss of his baby girl.
On Monday, PGA tour commissioner Jay Monahan confirmed that the professional golfer's 22-month-old daughter Mia passed away over the weekend in Miami after battling tumors on her brain and spine.
"The PGA TOUR is deeply saddened having lost a member of our family, Mia Villegas," the commissioner said in a statement posted online. "We grieve with Camilo and [wife] Maria and our thoughts and prayers are with the Villegas family."
Just last month, Camilo discussed his daughter's health struggles during an emotional press conference prior to the Korn Ferry Challenge.
"She always went to the gym with me; it was one of our bonding spots," Camilo recalled. "She was always like a little monkey, climbing on everything. But then one day, I noticed she had not been climbing on anything. She had also been crying a little more than normal at night. She had been teething, so we took her to the pediatrician, thinking it was that."
After a visit to Nicklaus Children's Hospital in Miami, Camilo and his wife learned that tumors were growing on their baby girl's brain and spine. After their daughter underwent surgery, doctors recommended even more treatment.
Camilo Villegas - instagram
"It's not easy, but I have actually seen Mía playing while she's crying," Camilo previously shared. "She does want to play. She's a kid. She's young and naïve, but she's also really tough. We just don't know. The doctors explained that sometimes the tumors grow fast and disappear fast." 
But ever since the Korn Ferry Tour event in June, Camilo has not been playing golf. Instead, he has been focusing on his daughter who was sometimes photographed on dad's Instagram. 
Through all the highs and lows, Camilo has applauded his wife for remaining positive through their daughter's health battle.
Watch:
In Memoriam: Fallen Stars of 2020
"My wife has been very, very strong," he shared. "But, at the same time, I've also known that there is no option other than to be strong." 
Maria shared those same sentiments in her last Instagram post shared in May.
"Mia, being your mom has been the greatest gift in my life! I thank God every day for this experience that we are going through together Yes, it has been the most difficult challenge I have ever experienced but it has also been the most beautiful," she wrote. "I am thankful for the lessons. You are the strongest warrior and I am so proud of you, of us."