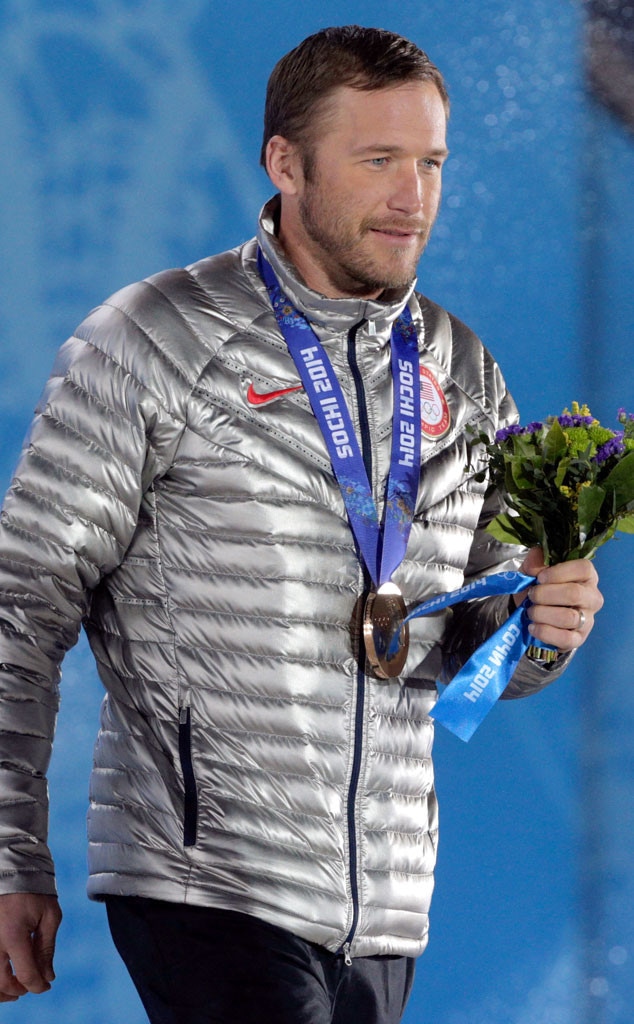 Adam Pretty/Getty Images
Behind every Olympic win is an unforgettable journey filled with highs and lows.
With six medals under his belt, Team USA's Bode Miller may look like the ultimate success story on paper. But according to the alpine ski racer, being an Olympic medalist isn't all celebratory.
Bode, along with several other world-famous competitors including Michael Phelps, Lolo Jones, Shaun White, Gracie Gold and Apolo Ohno, agreed to participate in The Weight of Gold, HBO Sports' new documentary that explores the mental health challenges that some Olympic athletes face.
According to Bode, it was important to speak up in hopes of bringing change to future athletes of all sports.
"We're trying to destigmatize and really bring the conversation to a productive place," Bode exclusively explained to E! News. "Starting with people who maybe the general public wouldn't expect to deal with these things I think was a logical way to do it."
In The Weight of Gold, several athletes describe the pressure they felt from sponsors, the media and themselves to perform their very best ahead of big Olympic races. But according to Bode, many outsiders forget that a majority of athletes are young adults who aren't prepared to handle all of the factors.
Photo by Doug Pensinger/Getty Images
"Most of these people are teenagers or early 20s. They don't have the experience of someone who has raised children before or worked in corporate America for 30 years. They are kids. It's just a lot of stress and a lot of pressure," he said. "I think in the end, it's something that takes an enormous amount of maturity and discipline and focus and mental stamina to get through and I just don't think there is really any programming designed on helping athletes develop that."
Bode continued, "Everything is focused on the physical side and it leaves them feeling very exposed on the emotional and mental state."
Regardless of where an athlete places in his or her sport, the harsh reality is that many competitors only have one opportunity to earn an Olympics experience in their careers.
And after years and years of daily practice and training, the reality of returning back to normal can be an emotional struggle for some.
"The athletes are generally fuel. If the system is the Olympics of the U.S. Ski Team or the National Governing Bodies—that's the vehicle—the athletes are fuel," Bode explained. "They are expendable. They get burned up and spit out of the exhaust pipe with no real regard for them. There's always a next one. There's always another gas station right around the corner. You can pick up new athletes and burn them through the system as well."
"I think the challenging part is you're relevant when you're relevant and it's not just Olympic athletes," Bode continued. "It's pro athletes, it's musicians, it's parents who are empty nesters. It's a very similar emotional experience for all those different demographics. You're relevant, you're needed, everyone appreciates you and then fairly abruptly in some cases…you're not relevant or you're not needed. That impacts people's self-esteem, self-worth, self-image and those are really tough."
Bode says he tries to use his decades of experiences in sports to inform his kids about mental health and competition as they grow up. At the same time, Bode argues that every generation and each person is unique.
Watch:
How Ryan Lochte Finds Positivity In 2020 Olympics Cancellation
Although the stories in The Weight of Gold may be challenging to hear for some loyal Olympic fans, Bode says the summer and winter games still have plenty of good.
"I think the dream of the Olympics is where the value is. We don't want to extinguish that dream. Of the million kids that dream of being an Olympian, maybe 100 or maybe 50 actually are Olympians so for the others, it's about the dream," Bode explained. "It's about the pursuit, the aspirational component and I don't want to rob them of that by any stretch."
"There are things that need to change and there are ways of changing it. I don't think it's impossible," Bode continued. "I just think we're in a renaissance right now for sports where I think there's going to be a lot of reality checks."
While the International Olympic Committee has yet to see The Weight of Gold as of press time, a spokesperson said "the IOC recognizes the seriousness of the topic."
In 2018, the IOC assembled a team of international experts to review the scientific literature on mental health symptoms and disorders in elite athletes. More recently, the IOC launched a series of webinars to support and inspire athletes during these uncertain times.
A spokesperson also confirmed the IOC Athletes' Commission will continue to work closely with the Mental Health Working Group on creating more resources as well as a helpline.
The Weight of Gold premieres tonight at 9 p.m. EST on HBO Go and HBO Now.