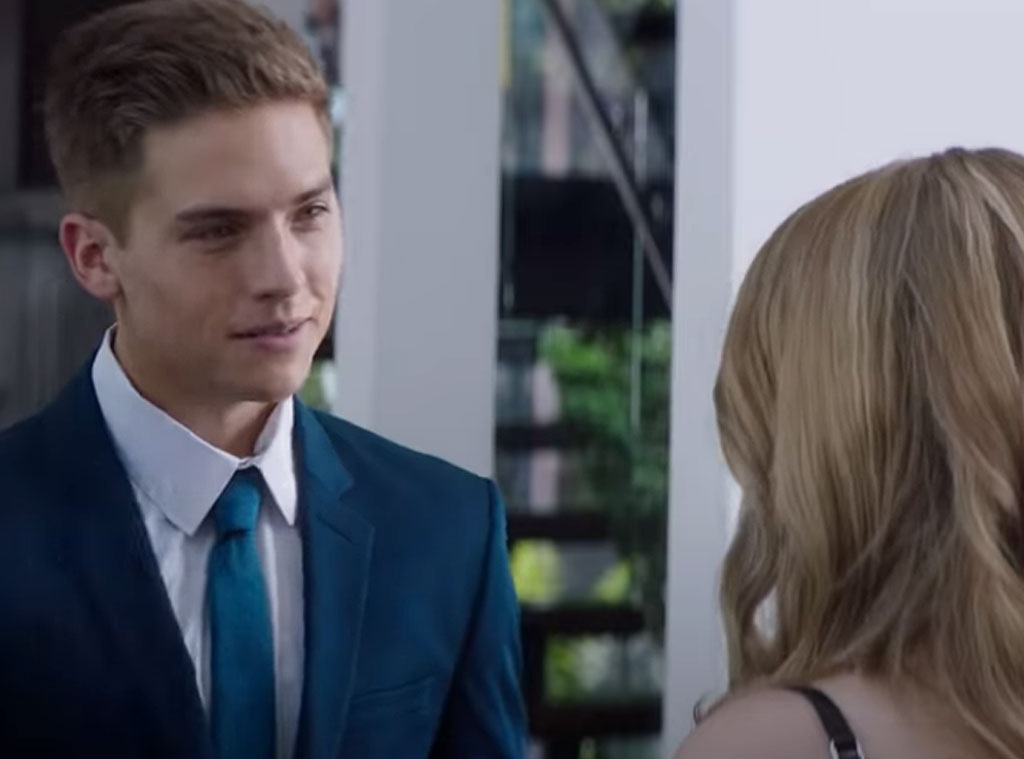 Voltage Pictures
Who doesn't love a love triangle?
Today, the first trailer for the After sequel dropped and fans got a taste of what's to come for Tessa (portrayed by Josephine Langford) and Hardin (portrayed by Hero Fiennes Tiffin). In the sequel, which is titled After We Collided, the former flames struggle in the aftermath of their split.
And while it seems that Tessa and Hardin are still enamored with one another, there's a new love interest who may derail their reconciliation. We're, of course, talking about Dylan Sprouse's character Trevor Matthews.
As seen in the all-new trailer, Tessa and Trevor have a meet cute involving an elevator on a first day of work. Although Tessa doesn't leave a great first impression, it's clear that the two have serious chemistry.
Cut to Dylan as Trevor half-naked hiding from a furious Hardin.
"Hardin Scott? I didn't peg you as a bad boy type," the former Suite Life on Deck star notes in character.
He later adds, "Let me ask you this, are you in love with him?"
Tessa's answer? Unclear.
"I thought that things were getting better, but I don't know how to fix it," the After leading lady says in a voice-over.
Following a series of dramatic scenes, Josephine's Tessa is seen shouting, "There is no 'Your Tessa' anymore!"
Furthermore, Dylan's character warns that Tessa and Hardin's relationship is "not gonna end well."
We guess we'll see once After We Collided hits theaters and on demand on October 2.
Watch:
Dylan Sprouse Brings GF Barbara Palvin Burgers After Her VS Show
Dylan is clearly excited to join the After family as he joined Josephine and Hero for a thank you video for fans just before the trailer's release.
"This fandom is like no other and I'm very excited to be a part of it," he notes in the new social media video.
The After films are based off the book series by Anna Todd. In 2019, the first film won the Drama Movie of 2019 award at the E! People's Choice Awards.
Are you excited for the sequel film? Be sure to let us know!