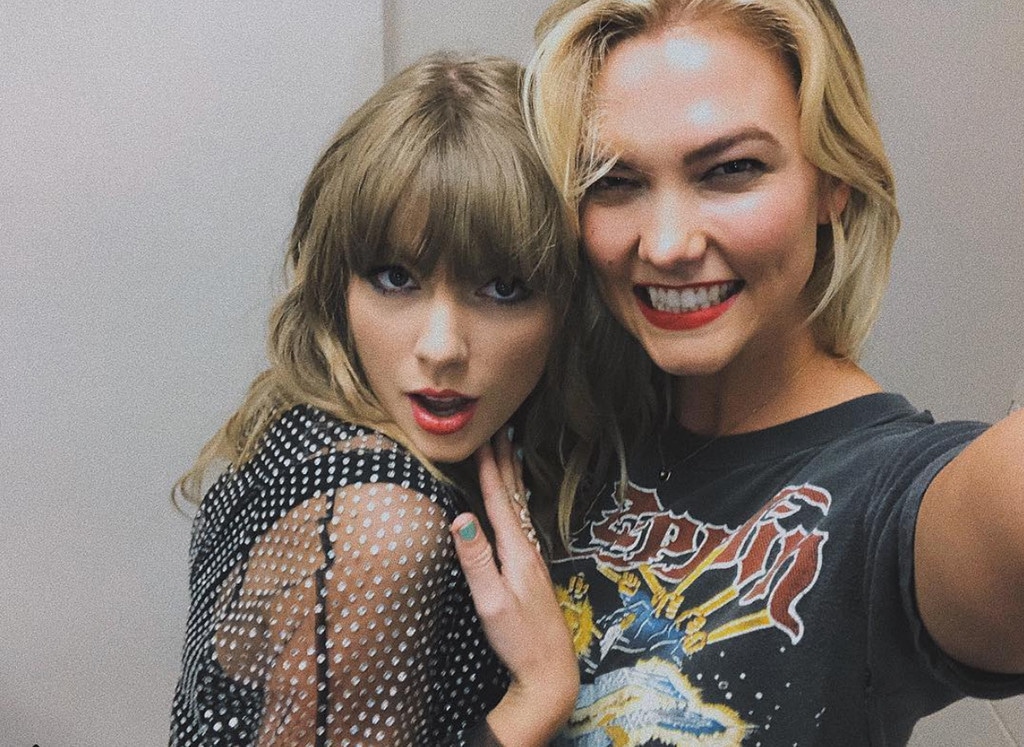 Instagram
No bad blood here! Karlie Kloss is showing some support for Taylor Swift's new album.
Despite rumors of a rift between the celeb BFFs, the supermodel's recent social media activity proves that it's all just folklore. Over the weekend, the 27-year-old took to Instagram to "like" a series of posts about the Grammy winner's eighth studio album, including one from fellow model Martha Hunt. In the picture, Hunt can be seen wearing a cardigan gifted to her by the superstar singer, a nod to her new single of the same name.
Hunt, a close Swift pal, captioned the Instagram snap with lyrics from the star's song "Cardigan," writing, "peter losing wendy."
Kloss also showed love to a Swift-related post from designer Christian Siriano. "Well #taylorswift inspired a paint session last night after a very hard day in fashion," he wrote on Instagram along with a photo of his art. "So her wonderstruck gown painting is now available on ChristianSiriano.com! Oh and my custom Siriano little sofa is fitting in just perfectly!"
Fans of the duo have also pointed out that Kloss herself might've unintentionally promoted Swift's new album. On Thursday, July 23, Kloss took to her Instagram to share a series of photos from an outdoor adventure. "happy place," she captioned the photos, showing her posing alongside trees.
So, what's the connection? Well, Kloss posted the photos on the same day that Swift announced her surprise album, sharing the news alongside a series of photos of herself in the woods.
After, Kloss received a flood of comments from fans about the folklore connection, but she has yet to respond.
Kloss and Swift, who became instant BFFs after meeting at the Victoria's Secret Fashion Show in 2013, have appeared to spend less time together in recent years, sparking rumors of a feud. However, Kloss addressed the speculation in a March 2018 interview with the New York Times, stating, "Don't believe everything you read."
Months later, the duo reunited at Swift's Reputation stadium tour stop in Nashville and posed for a selfie. "No one puts on a show like @taylorswift...#ReputationTour Nashville was out of this world, I am SO proud of you," Kloss captioned the photo.
Watch:
Did Taylor Swift Reveal a Major Name in New Album?
However, feud rumors were reignited in Oct. 2018 when Swift was noticeably absent from Kloss' wedding to Joshua Kushner. However, Swift was on the Australian leg of her tour at the time.
The Kode With Klossy founder once again squashed reports while appearing on Watch What Happens Live in March 2019. When asked about the singer's essay in Elle, in which she talked about lessons she's learned over the years, Kloss said, "Taylor's incredible. And I feel really lucky to call her a friend. She's one of the hardest-working women and I loved her essay."