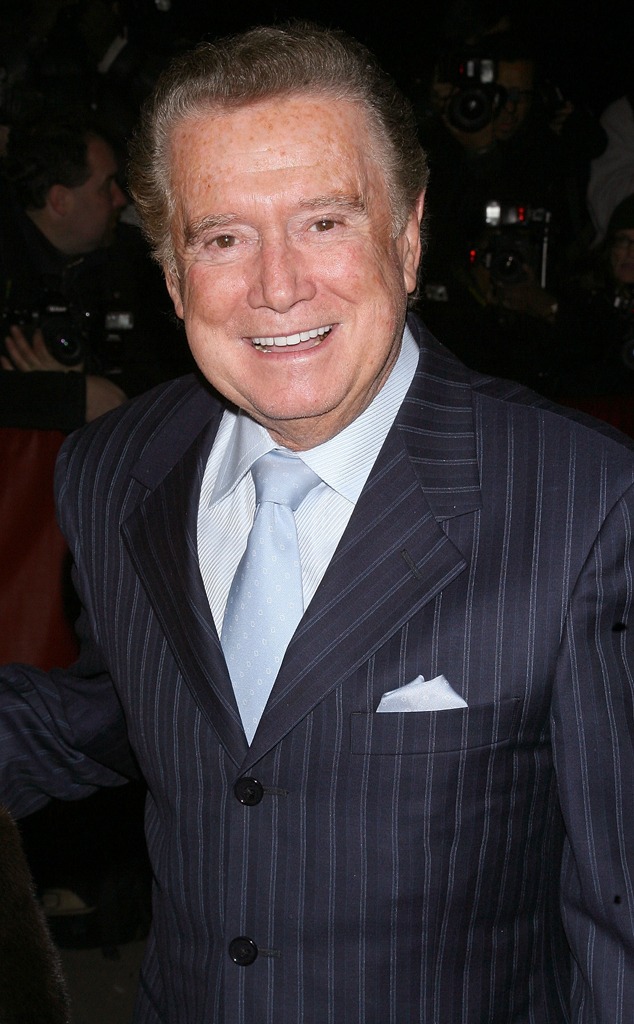 Jim Spellman/WireImage
Hollywood is coming together to honor a television legend.
On Saturday afternoon, news broke that Regis Philbin passed away from natural causes on July 24 at the age of 88. 
"We are deeply saddened to share that our beloved Regis Philbin passed away last night of natural causes, one month shy of his 89th birthday," his family said in a statement to E! News. "His family and friends are forever grateful for the time we got to spend with him—for his warmth, his legendary sense of humor, and his singular ability to make every day into something worth talking about. We thank his fans and admirers for their incredible support over his 60-year career and ask for privacy as we mourn his loss." 
Pop culture fans know Regis from his experience in television especially daytime. He began his career as the host of Live! with Regis and Kathie Lee alongside Kathie Lee Gifford. The show would later become Live! with Regis and Kelly co-starring Kelly Ripa. 
In addition, Regis captivated audiences as the original host of the game show Who Wants to Be a Millionaire? 
As family and fans continue to mourn Regis' sudden passing, see how Hollywood's biggest stars are remembering him below. 
Watch:
Legendary Television Host Regis Philbin Dead at 88
Kelly Ripa & Ryan Seacrest: "We are beyond saddened to learn about the loss of Regis Philbin. He was the ultimate class act, bringing his laughter and joy into our homes everyday on Live for more than 23 years. We were beyond lucky to have him as a mentor in our careers and aspire everyday to fill his shoes on the show. We send our deepest love and condolences to his family and hope they can find some comfort in knowing he left the world a better place."
Kathie Lee Gifford: "There are no words to fully express the love I have for my precious friend, Regis. I simply adored him and every day with him was a gift. We spent 15 years together bantering and bickering and laughing ourselves silly—a tradition and a friendship we shared up to this very day. I smile knowing somewhere in Heaven, at this very moment, he's making someone laugh. It brings me great comfort knowing that he had a personal relationship with his Lord that brought him great peace. I send all the love in my heart to Joy, to his children, to the rest of his family and to the innumerable people he touched over his legendary life. There has never been anyone like him. And there never will be."
William Shatner: "Saddened to hear about the passing of Regis Philbin. Condolences to his wife Joy."
Josh Gad: "This one hurts. A staple in our household growing up, his joy was infectious and his hosting skills among the greatest I've ever seen. Whether on "Live" or leading "Who Wants to be a Millionaire" he was always captivating & hilarious. #RIPRegis"
Jimmy Kimmel: "Regis was a great broadcaster, a good friend and a tremendous amount of fun. He leaves behind a beautiful family and a TV legacy that will likely go unmatched. Regis, I hope our friend Rickles met you at the pearly gates with open arms and a slew of the insults you loved so much."
Hoda Kotb: "Heartbroken. We will miss you Regis."
Billy Eichner: "RIP REGIS!!! A real icon. Nothing will ever top Regis and @KathieLGifford as a morning show. Nothing!"
Bob Saget: "What a loss—The wonderful Regis Philbin. I met him in 1985 when I was on the Rodney Dangerfield Young Comedians Special and we loved each other ever since. Such a TV icon and above all, a good man. My sympathies to Joy and all of his children and friends."
Katie Couric: "Im so sad to hear this news. Beloved television host Regis Philbin died on July 24th. He was 88 years old...Sending love and strength to his family and friends. #restinpeace #regisphilbin"
Ross Mathews: "Watching #RegisPhilbin as a kid was so influential. His easy nature, story telling & uproarious sense of humor made me want to be like him. We met in the early 2000's & told him I'd always wanted to meet him. He smiled, shook my hand & said, 'Well now you have.' A class act."
Bret Michaels: "My deepest condolences go out to the family & friends of #RegisPhilbin. I had the honor of being on LIVE several times including his final week of episodes with the song #FarewellToRegis. Regis was always awesome & the best. He will be missed."
Maria Shriver: "Regis was a legendary figure in TV. There was no one like him. I used to love watching him. He was always up, always genuine, always real. God bless, Regis. #ripregis #RegisPhilbin"
Billy Bush: "He never rehearsed his opening. He told the story once. Whatever happened that night by the next morning was an uproariously funny event. He was simply the best. I respected him and looked up to him more than anyone else in the biz. He was my number one. I will miss this great man, talent and friend. #halloffame #legend #RIPRegis"
Holly Robinson Peete: "Truly the end of an era."
George Takei: "It is hard to say goodbye to someone whose smile and laugh greeted us so often. Regis Philbin, thank you for bringing a sense of fun and normalcy to our lives. Rest among the heavenly hosts now."
Chris Harrison: "We throw this word around too much but Regis Philbin was a legend. He was a true gentleman I'm glad I got to know and a TV host I admired and was honored to follow. Much like Arnold Palmer everybody has a great 'Regis' story, I'm grateful I have mine."