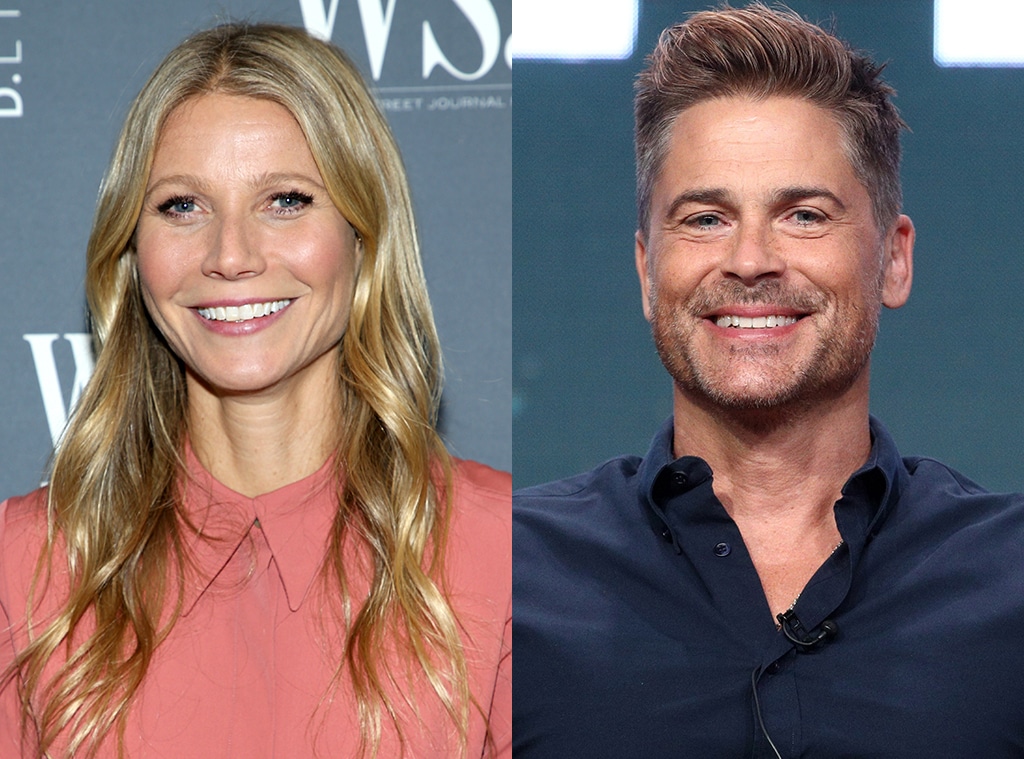 Getty Images
Gwyneth Paltrow and Rob Lowe go way back. In fact, the 56-year-old actor has known the 47-year-old actress since she was a teenager.
Over the years, fans have watched the famous friends co-star in movies like View From the Top and celebrate each other's major milestones. Paltrow, for instance, honored Lowe at his Hollywood Walk of Fame ceremony, and Lowe watched Paltrow walk down the aisle during her and Brad Falchuck's wedding.
Given all of their history, the St. Elmo's Fire celeb thought it would be fun to interview one of his "oldest pals in show business" for Thursday's episode of his podcast Literally With Rob Lowe. Let's just say, the duo covered a lot of ground. From marriage and kids to careers and roles, the stars talked about it all.
To read through some of the biggest revelations shared in the podcast, check out the list below.
On How Paltrow and Lowe Met:
The Oscar winner met Lowe's spouse, Sheryl Berkoff, when she was 15 or 16 years old. Paltrow said Berkoff was a makeup artist at the time and that she was doing her mom Blythe Danner's makeup for a TV movie in Florida. 
"I met Sheryl and I was, like, immediately obsessed with her," Paltrow recalled. "First of all, she was dating Keanu Reeves, who was my celebrity crush. And she was so cool. She knew that I was sneaking cigarettes, and she would come smoke with me behind the trailer. And, she taught me how to give a blow job, and you know, all the classic Sheryl stuff. And I just worshipped her. I thought she was literally the coolest chick of all time."
Berkoff and Reeves later broke up, and she started dating Lowe. Paltrow then met Lowe through Berkoff's relationship with him. She said she even stayed with them at one point.
Watch:
Necessary Realness: Brad Pitt & Gwyneth Paltrow's Oscar Moment
On Paltrow's Kids:
It's no secret that Paltrow's kids, whom she shares with her ex Chris Martin, have famous parents. However, the Shakespeare in Love star said she still tries to protect her children, Apple Martin, 16, and Moses Martin, 14, from the limelight.
"I won't let them be public on any social media or anything like that. I try to keep them out of the public eye as much as possible," she said. 
Paltrow also called her daughter "so bright and so funny" and agreed with Lowe that Apple is "hilarious." As for her son, the proud parent said Moses is "so unique, and so deep and, like, such an old soul." In addition, she said her youngest child is "really talented—like scarily talented."
Paltrow said she tries to teach her kids right from wrong and the value of hard work. She also shared that Apple works in retail when stores aren't closed amid the global coronavirus pandemic.
On How Paltrow Came Up With Her Company's Name:
During the chat, Paltrow talked about how Goop's name came to be.
"Chris used to call me 'Goopy' sometimes for fun…because GP were my initials," she told Lowe.
She then said she went to see "branding master" Peter Arnell and he suggested Goop, as well. While Paltrow initially thought it was a "terrible name," it clearly worked out.
Phillip Faraone/Getty Images for goop
On Paltrow's Relationships:
Lowe said he's seen Paltrow through all of her "iterations of love" and that he's "appreciated" her ex-boyfriends. He also suggested he's a big fan of her husband Falchuck, whom he worked with on 9-1-1: Lone Star.
Looking back at Paltrow and Falchuck's big day, Lowe called it the "greatest wedding" and "so beautiful." 
"She literally had Steven Spielberg—he was filming the wedding on his video camera," he said.
Watch:
Gwyneth Paltrow & Brad Falchuk Are Married!
On Paltrow's Acting Career:
Speaking of Falchuck, Paltrow works with him on the show The Politician.
"It's great," Paltrow said about her 49-year-old husband directing her. "I just love being around him, and he's so smart and he's so soothing and he just, like, gets me so well."
However, she admitted acting is not her "favorite thing to do."
"I don't know what it is," she said. "I feel embarrassed and I, like, can't remember lines anymore…. I used to be able to read a scene one time in the hair and makeup chair and know it perfectly. And now, I struggle so much." 
Paltrow attributed this notion to the idea that she has so much on her mind, like her business.
Watch:
Why Gwyneth Paltrow Came Out of Semi-Retirement at 2020 Golden Globes
On Roles Paltrow and Lowe Have Lost:
During the interview, Paltrow recalled how she lost the role of Susannah in Legends of the Fall to Julia Ormond. She also said she lost the role of Sabrina Fairchild in Sabrina, which Ormond got, as well. 
As for Lowe, he said he lost the role of Conrad in Ordinary People to Timothy Hutton. In addition, he said he turned down the role of Dr. McDreamy on Grey's Anatomy.
On Paltrow Not Knowing Who McDreamy Is:
Speaking of the Patrick Dempsey character, Paltrow had no idea who he is.
"I don't know what McDreamy is," Paltrow said. "What's that?...What are you talking about?"
To hear their full discussion, click here.