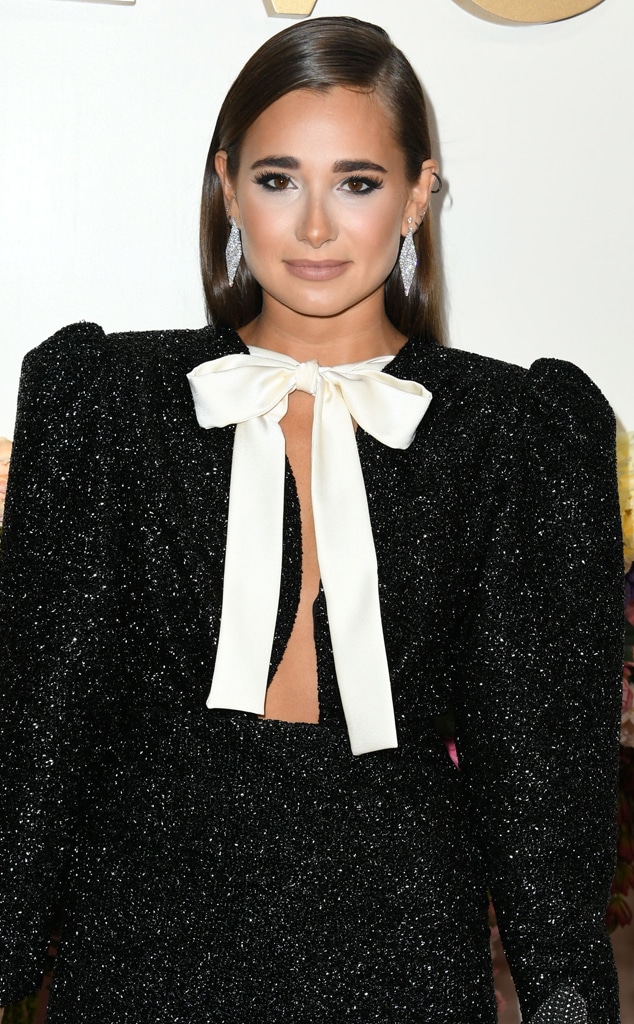 Jon Kopaloff/Getty Images
After being accused of copying a fellow brand, WeWoreWhat's Danielle Bernstein has shared her side of the story. 
On Tuesday, the influencer took to social media to address a recent claim over her brand's newly debuted face masks. A day earlier, she had showed samples of the masks on her Instagram Story, revealing them as linen face covers each adorned with a chain—similar in style to that of a sunglasses chain—that will be available for purchase next week. However, that same day, famed Instagram account Diet Prada called out Bernstein for selling masks with a similar chain feature to those of By Second Wind. 
Diet Prada quipped in the caption of their post, "It's a cute idea— and she appears to have lifted it directly from @bysecondwind , who began offering masks June 1st. On June 29, Danielle reached out to the brand via DM, and hustled some free masks. On July 2, she messaged again with a heads up... she was launching her own masks. Don't worry, though, according to Danielle they're not a copy!"
The Diet Prada Instagram post also featured screenshots of alleged Instagram direct messages between Bernstein and By Second Wind. One screenshot showed Bernstein sharing an address with By Second Wind on June 29 and describing which masks she wanted them to send her. In a second screenshot, Bernstein wrote on July 2, "Babe I thought I should let you know I'm also making masks with a detachable chain – similar to the sunglass chains I own – didn't want you to think I'm copying you!"
She added, "Still so excited for yours! Masks are a different shape too."
While E! News has reached out to By Second Wind for comment, Bernstein has since taken to her Instagram Story with a statement on the matter. 
"I wanted to address what's going on. I went into production on masks a few weeks before I was introduced to By Second Wind and her beautiful designs through a mutual friend," Bernstein said. "I was really excited to support her small business, but in the spirit of transparency, just wanted to let her know that I had already gone into production on linen masks with chains based off of leftover fabric from an overall run that we did and chains that are coming out in a future swim collection."
 
She continued, "I told her I still would love to wear her masks and support her small business because I think it's awesome what she's doing and there's a bunch of really cool small brands making masks with chains right now and I'll definitely be sharing those."
Bernstein concluded, "Wearing a mask is so important right now. I definitely encourage you guys to check out her brand, too. My goal has and always will be to help as many small businesses as possible. That's why I created WeGaveWhat and we'll just continue to do so."
WeGaveWhat is a platform the WeWoreWhat team launched in late April "to support charitable initiatives and raise awareness for small businesses," its Instagram account description reads. 
As she had mentioned, Bernstein also later shared on her Instagram Story several other brands selling versions of masks with chains.  
Later Tuesday, she addressed the public again via her Instagram Story. "This has gotten a bit out of hand because I'm now getting death threats, which is really scary and not cool, and so I wanted to let you know that I started the process of creating masks on May 19 and I'm gonna share the email that proves that," she said. Second Wind had reached out to me three times in June before we actually got in touch on June 29. I really love her masks and think you guys should still support her."
"A chain on a mask is not an original concept and I've never claimed for that to be my own," she continued. "I think that the point of all of this is that we're still in a pandemic and we've created these masks to not only protect ourselves, but others around us and we can't lose sight of that."
Following the new statement, she posted a screenshot of an email chain, which featured the date May 19, 2020 and the subject line "Re: Linen Masks." A PDF file was also included, showing white, beige and black mask design mock-ups with both gold and silver chain options.