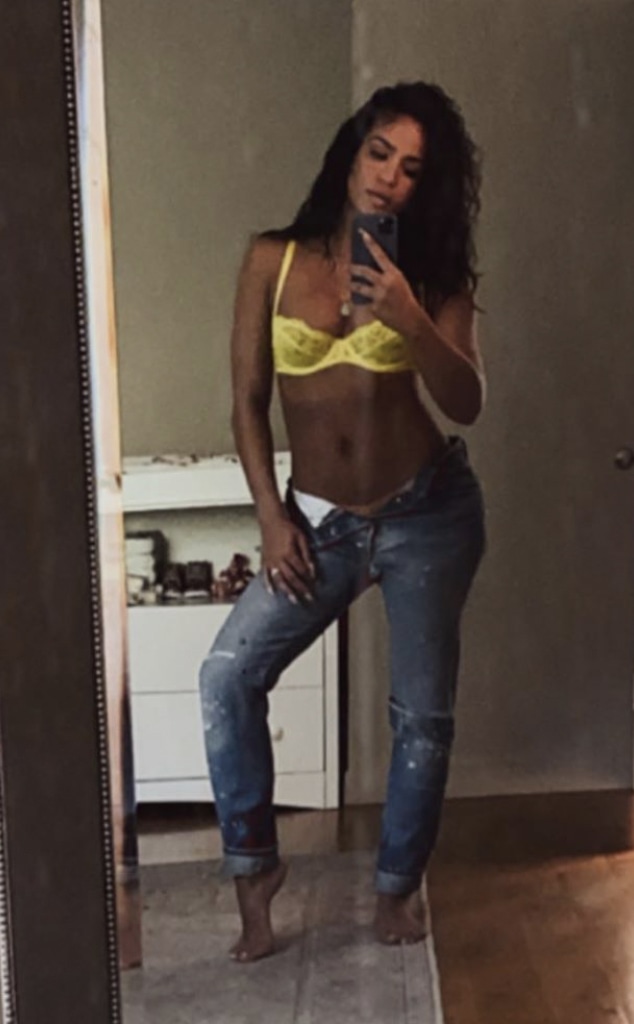 Cassie / Instagram
Cassie is glowing from the inside out!
Just over seven months have passed since she and hubby Alex Fine welcomed a baby girl, and the singer took to Instagram Stories to show off the progress she's made since making health and wellness a major priority in her life. 
"I haven't posted anything like this in a while, but I'm very proud of myself," Cassie, 33, wrote alongside a selfie of herself dressed in a lacy yellow bra and low-rise jeans. "The female body is truly an amazing thing."
"I didn't rush to lose weight after having Frankie in December, but when I was ready to I struggled with it for some months," she continued. 
So what's Cassie's secret to regaining her body confidence? 
As she put it, "I stopped putting so much pressure on myself and with less stress and healthier habits this is me today 7 months postpartum. Feeling really good, I'm healthy and working on my strength. Love your body!"
Since embracing motherhood, the "Me & You" songstress has shared insight into life at home with Alex and baby Frankie with her 7 million Instagram followers. Over Father's Day, Cassie paid special tribute to her leading man, who she wed last September during an intimate Malibu ceremony. 
"Happy First Father's Day to my best friend, my love, my husband," she gushed on Instagram. "It's been the greatest joy and experience to be able to see you become the absolute best Daddy to Frankie. You are so caring, loving and kind and I couldn't have even dreamed of having a partner as amazing as you. Frankie and I are so lucky to have you!! Thank you for loving us and protecting us the way that you do. We love you sooooo very much and we celebrate you everyday!"
Watch:
Kate Hudson's Spring Weight Loss Goal After Baby No. 3
Cassie is looking good and—most importantly—feeling even better. Congrats, mama!