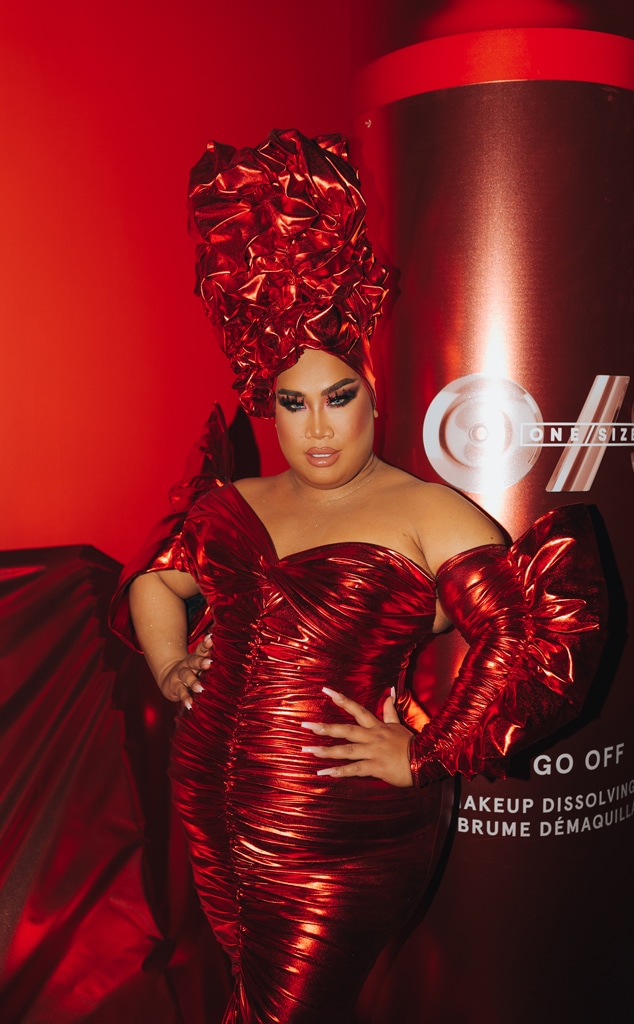 Jesse Tam for ONE/SIZE
Patrick Starrr is just getting started.
The beloved YouTube personality has shaken up the world of beauty with the debut of his cosmetics company One/Size. As the name suggests, Patrick's brand is meant for everyone and anyone. 
"Makeup is a one/size fits all," he shared when announcing his line on July 10.
In true Patrick Starrr fashion, he came out with a bang. Instead of launching the typical complexion products for his first collection, the YouTuber took a different approach and released makeup removers: The Go Off Juiciest Makeup Remover Wipes ($15) and Go Off Makeup Dissolving Mist ($24). 
As if that weren't exciting enough, Patrick also dropped an accompanying music video and song with the same title as his initial collection. But before jaws could lift up off the floor from One/Size's debut, the beauty guru has already released new goodies.
Patrick's latest collection, Visionary, features a wildly colorful eyeshadow palette, shimmery shadows in jewel tones and eyeliners in both gel and liquid formulas. The line is already available on One/Size and Sephora's websites and ranges from $19-$42.
Speaking to E! News, the makeup mogul opened up about the significance of his brand, whose support has meant the world to him, how he keeps a positive attitude in the beauty community and so much more.
Read our interview with Patrick below!
Watch:
"The Rundown": Patrick Starrr Defends Celebrity Makeup Faux Pas
E! News: Why was it important for you to start your own brand?
Patrick Starrr: "It was everything for me to start my own brand. Just understanding that I had an opportunity to tell a global story... not for me, but for the unseen and the unheard. That's what One/Size stands for."
E! News: Your brand comes at such an important time. How does it feel to create something that adds representation and inclusivity to the market?
PS: "It's so crazy because I didn't look at it like it was anything different. I have been so fortunate for that past decade, you know, living in the land of the free and home of the brave. I have been fortunate enough to have this privilege [and] to be accepted for who I am. It means everything to me that other people get to resonate with that. A lot of people have DM'd me... Someone said: 'Continue to be who you are, you are the epitome of exceptional and I'll continue to pray God brings miracles for you.' I was like, 'These people are deep!' This is just incredible to see the validation that I'm getting and [people] showing so much love."
E! News: Whose support has surprised you the most?
PS: "Yesterday, Kylie Jenner, Khloe Kardashian, Naomi Campbell, Skai Jackson... We're talking a plethora of diversity—we got a supermodel, we got a childhood Disney star, we got the Kardashians and a Jenner—[reached out] in one day. Meghan Trainor, too. She was like, 'Oh my god! I love your makeup removers. They are amazing. And that music video.' And it was so crazy because [the day before] she was like, 'You're dropping a music video?!' I was like I don't want to brag about the music video, so I'm just not going to send it to her. It turns out one of her dancers was in my music video and she saw the post and she texted me, 'It's the best thing ever!' Here I am not a recording pop star by any means, but just doing it for the kids to show that they can do it, and here's a legit pop star texting me that 'I'm doing amazing, sweetie.'"
"For a plus-size, bald, Filipino YouTuber that happened to come out with a brand of makeup removers like... what the hell is going on?! This is so crazy and the love is real. It's just so great because the brand is red [and] I intentionally created red and pink because it's a coat of love. It means power, it means love, it means passion and I want everyone to feel that. And I felt it."
E! News: Most people come out with complexion products for their initial launch, what inspired you to do something different?
PS: "I wanted to come out with something that is a must-have and that has never been seen. I wanted to set the bar high for myself. I realized there was a space between skincare and color cosmetics that I could maximize, and that was makeup removal. The number one question that I have received over many, many years is 'What is your No. 1 secret to beautiful makeup?' And I say, 'Removing your makeup.' Removing your makeup and clearing it from your pores and not tugging your skin is the best thing, so I felt no influencer or no brand has emphasized innovative, easy, hands-free, mess-free makeup removal. The meaning 'Go Off' is true to One/Size and it's true to Patrick Starrr. Like we will go off, bitch!"
E! News: What other products can fans expect to shop from One/Size in the near future?
PS: "The beauty about One/Size is that I wanted to come out with something to remove the makeup to show to our authentic selves. Now that we have the canvas, we can paint with whatever we want. So I'm launching an eyeshadow palette, pencils, a pen and five liquid eyeshadows. The point of the collection, Visionary, is that I want people to see themselves in the collection. It's not about my vision but about them seeing themselves in our brand, One/Size."
E! News: In what ways do you think beauty helps during these uncertain times?
PS: "It's everything. It's self-expression. I always thought of makeup similar to cooking. You want to get ingredients, you want to make something of it and you get a little reward. You get to feed your tummy. But with makeup, you get to put it on and you see your soul. When you look good, you feel good. And you know what? At the end of the day, it comes off. Makeup has empowered me to be who I am. If you were to look at Patrick, not Patrick Starrr, I'm an overweight, bald, Asain-American man, you know, just doing my thing. But when it comes to makeup, it's Patrick Starrr."
E! News: How do you stay positive and inspired when there's so much negativity around, especially in the beauty community?
PS: "Just understanding that I'm digitally needed. I was born in the digital sphere and I have never forgotten the access we have through the power of technology. I've had amazing conversations with different friends like Nikita Dragun, Angel Marino, Manny MUA [and] it's just cool to speak with other founders too. I was DM'ing Khloe Kardahian and she made my day. She was like, 'You're so blessed.' And I was like, 'Oh my god! Say hi to True for me.' Just to keep connected while practicing social distancing is something so powerful. I encourage everyone to use social media in a good way."
E! News: Can fans expect to see more music videos?
PS: "Not music videos, per se. But what you can expect from One/Size is that we will have an original sound. All of my music I'm co-producing with Joela Puss. She is the most fabulous hit-maker in the LGBTQ+ community. She has been so gracious to lend her talents to me [and] One/Size. We have more jingles coming out. In terms of what the essence and the brand feel is, we're not just an aesthetic. We are a personified brand. That is something that I think will set us apart from all the other brands. Rihanna, you ain't the only one girl!"
This interview has been condensed and edited for clarity.