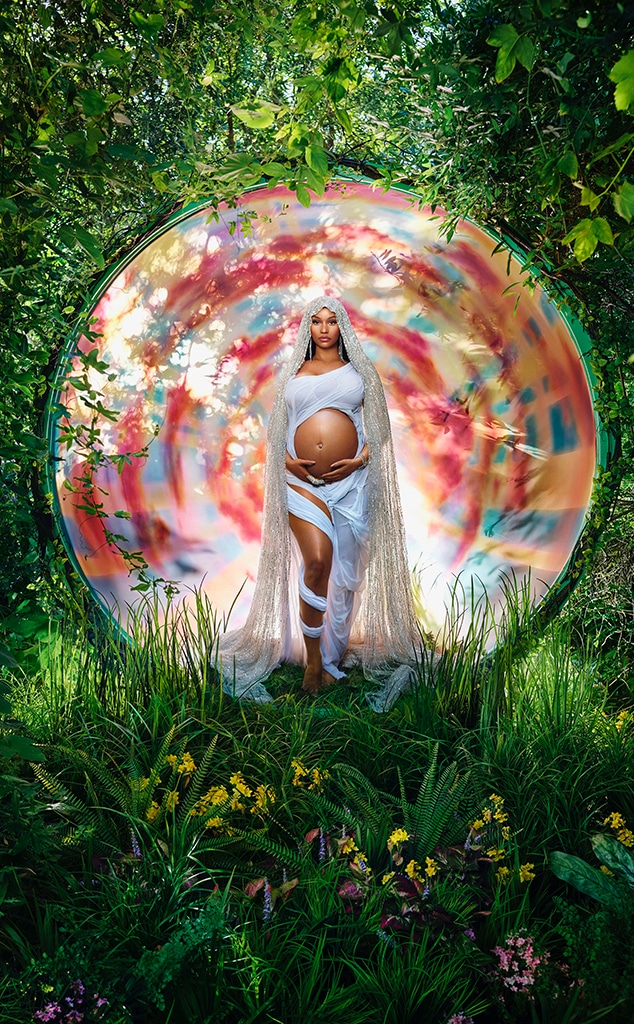 David LaChapelle
Nicki Minaj is pregnant!
The Grammy nominee is expecting her first child with husband Kenneth Petty, she announced on social media Monday, July 20. Along with her "#Preggers" post, Minaj also shared a series of photos with her baby bump, including one shot by famed photographer David LaChapelle.
This pregnancy announcement comes nine months after Minaj confirmed her marriage to Petty. As fans will recall, Minaj took to social media to share the relationship update, writing, "Onika Tanya Maraj-Petty 10•21•19." Three months prior to Minaj's big day, E! News confirmed that the couple had officially obtained a marriage license at the Beverly Hills Courthouse.
Speaking out about her relationship with Petty, the 37-year-old rapper previously confessed, "I think I have what I was striving for, just happiness. It was so hard to get to a happy place. Now that I'm there, I don't want to compromise that for anyone or anything."
Petty and Minaj, who made their romance Instagram official in Dec. 2018, have shared a number of happy moments together over the years. And in more difficult times, she has stood by her man.
In the early days of their relationship, Minaj defended Petty after details about his past surfaced online. In April 1995, he was convicted of attempted rape in the first degree and reportedly served four years in New York state prison.
"He was 15, she was 16. In a relationship," Minaj wrote on social media in 2018. "But go awf Internet. Y'all can't run my life. Y'all can't even run y'all own life. Thank you boo."
Petty was also sentenced to 10 years in prison in 2006, after pleading guilty to first-degree manslaughter in a separate case.
Watch:
Why Nicki Minaj Fans Think She's Pregnant
According to court documents filed on Feb. 25 and obtained by E! News, Petty was indicted by a grand jury for failure to register as a sex offender upon his relocation to Los Angeles from New York. In early March 2020, Petty surrendered to federal authorities and later pleaded not guilty. He was released on $100,000 bond and, days later, officially registered as a sex offender in California.
Through everything, Minaj has been by his side. Now, as Minaj and Petty enter this new chapter together, let's take a look back at their relationship over years.