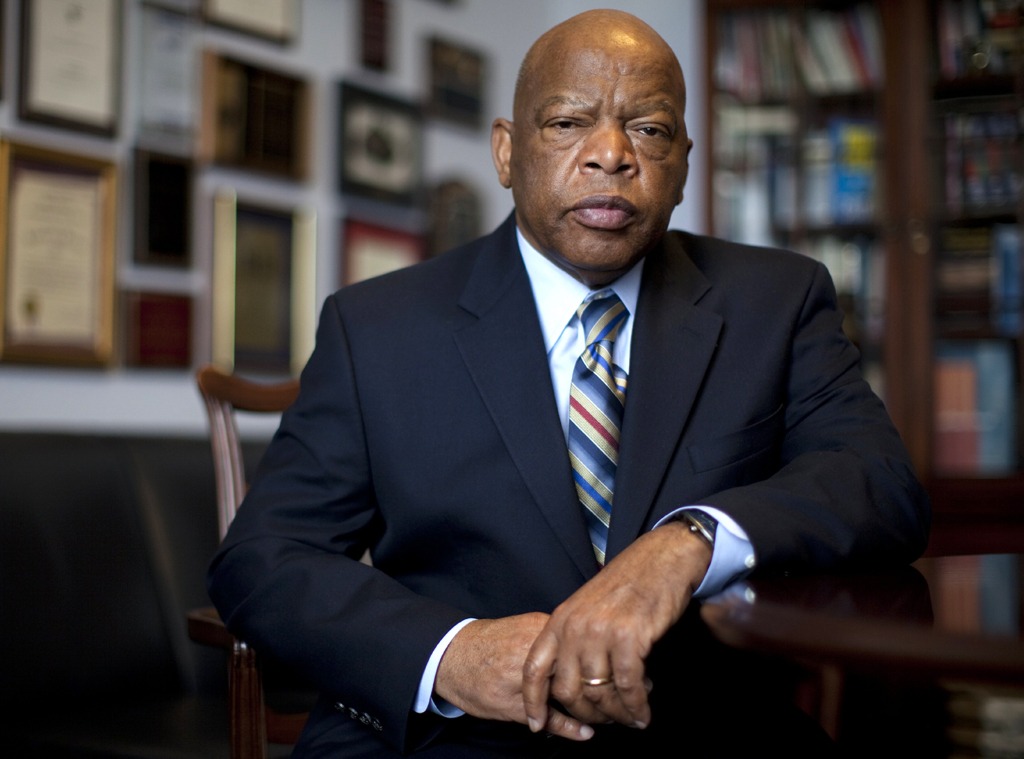 Jeff Hutchens/Getty Images
The world has lost a legend.
Rep. John Lewis, who became a monumental figure in the civil rights movement and later a U.S. congressman, passed away on Friday night. According to CNN, the legendary public figure died after a six-month battle with pancreatic cancer.
He was 80 years old.
"It is with inconsolable grief and enduring sadness that we announce the passing of U.S. Rep. John Lewis," his family shared in a statement, per CNN. "He was honored and respected as the conscience of the U.S. Congress and an icon of American history, but we knew him as a loving father and brother."
"He was a stalwart champion in the ongoing struggle to demand respect for the dignity and worth of every human being," the statement continued. "He dedicated his entire life to non-violent activism and was an outspoken advocate in the struggle for equal justice in America. He will be deeply missed."
Lewis was the last surviving speaker from the 1963 March on Washington. He joined the Freedom Riders and delivered an unforgettable speech at the historical event in Washington.
He was a colleague of Martin Luther King Jr. and participated in peaceful protests during the Civil Rights Movement in the '60s. In fact, Lewis helped lead the march for voting rights on the Edmund Pettus Bridge in Selma, where he and others were attacked by police offers. CNN noted that Lewis' skull was fractured. 
Following the march, which shocked the nation as they watched the vicious attacks unfold in real time, the Voting Rights Act of 1965 was signed into law by President Lyndon B. Johnson.
Lewis' activism didn't stop there. He served as the U.S. representative for Georgia's 5th Congressional District for more than three decades.
Watch:
Black Lives Matter Protests That Are Changing The World
In light of the 80-year-old's death, many celebrities and public figures took to social media to pay their respects.
"Thank you for your care and kindness, your advice and understanding," Ava DuVernay shared on Twitter, alongside several images of her and the congressman. "Will never forget what you taught me and what you challenged me to be. Better. Stronger. Bolder. Braver. God bless you, Ancestor John Robert Lewis of Troy, Alabama. Run into His arms."
Rihanna wrote, "Thank you my brother. Thank you! Rest easy John Lewis."
"Not many of us get to live to see our own legacy play out in such a meaningful, remarkable way. John Lewis did," Barack Obama expressed.
Francis Miller/The LIFE Picture Collection via Getty Images
"There are simply no words to capture the enormous life and leadership of John Lewis," Alexandria Ocasio-Cortez wrote. "From his youth, John Lewis gave his blood, sweat, tears, and life in the struggle for a better nation. To honor that gift is to fight for future generations, just as he fought for us."
Bill Nye shared, "John Lewis will be missed. He felt the right to vote was sacred. With his help, we've made progress — but we have a long way to go. His life proves that one person can indeed change the world."
Elizabeth Warren captioned her post, "John Lewis was a giant and a moral compass. I can't wait to see what kind of good trouble these kids get into."
"Today we lost one of the great titans of democracy. It is so sad," Barbra Streisand said. "At a very young age John Lewis was a fighter for civil rights for all Americans. His long career in Congress was exemplary of his commitment. May he rest in peace, although I can't guarantee that he won't still be fighting for the cause up there.
Just one week ago, Lewis shared images from his arrest in 1961.
"59 years ago today I was released from Parchman Farm Penitentiary after being arrested in Jackson, MS for using a so-called 'white' restroom during the Freedom Rides of 1961," he wrote.
Earlier this month, the John Lewis: Good Trouble documentary released in theaters and on-demand. It's clear Lewis' legacy will continue to live on.
At this time it's unclear if there will be a public memorial service held in Lewis' honor.