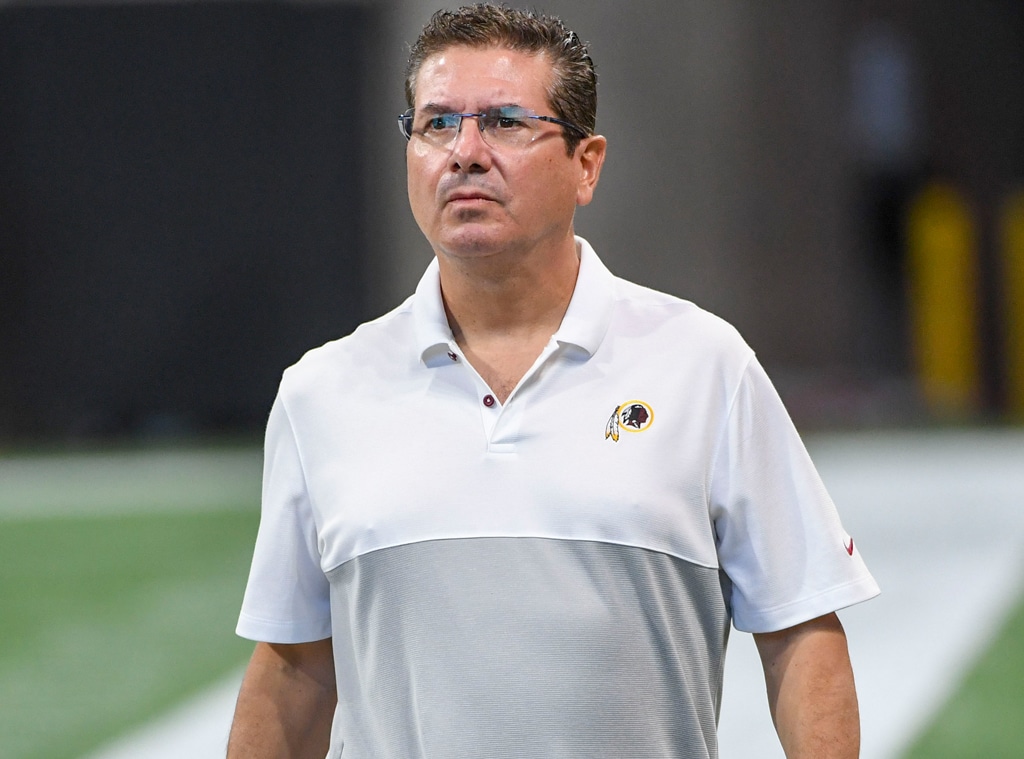 Jonathan Newton / The Washington Post via Getty Images
On Thursday, The Washington Post published an article highlighting 15 women's accusations of sexual harassment against various men working for the Washington NFL team.
In the article, one woman named Emily Applegate, who worked for the organization as a marketing coordinator from 2014 to 2015, alleged that she and other female co-workers endured "frequent sexual harassment and verbal abuse" at the hands of male executives. Applegate claimed the instances of sexual harassment and verbal abuse varied from the men requesting she wear "revealing clothing and flirt with clients," to calling her "f--king stupid." She also claimed she never filed a formal complaint because she feared losing her position.
Other female staff members, who spoke out on the condition of anonymity, allegedly shared similar experiences, with some claiming that men "pinched" their backside. According to The Washington Post, the women wished to remain anonymous for fear of legal retribution as they signed a non-disclosure agreement regarding their employment. The publication stated, "The team declined a request from The Post to release former female employees from these agreements so they could speak on the record without fear of legal reprisal."
The Post wrote that team employees Alex Santos, Richard Mann II, Mitch Gershman and Larry Michael were each accused of some form of sexual harassment, along with Dennis Greene. Michael abruptly retired this Wednesday, while his colleagues Mann and Santos were fired last week. Gershman left the Washington team in 2015.
Additionally, Greene's time with the NFL team ended in 2018 when he resigned after an internal review found that the then-president of business operations had sold access to a 2013 photo shoot of the team cheerleaders, who were required to pose topless, according to a 2018 article from The New York Times.
In the exposé all but Gershman declined to comment on the allegations. He told The Post, "I barely even remember who she is... I thought the Redskins was a great place to work … I would apologize to anyone who thought that I was verbally abusive."
According to The Post, Michael is the only individual mentioned in their report who was the subject of a formal complaint. Multiple employees claimed he was reported for discussing the appearance of a college intern, an incident that the Washington team confirms was recorded in a video they have in their possession.
Applegate and her anonymous coworkers claimed they didn't file formal complaints out of fear for their job, or their belief that "nothing would be done," as sports reporter Nora Princiotti suggested to The Post. Moreover, the Washington Post didn't state if complaints were filed with outside entities. 
Watch:
Washington's NFL Team Retiring Name & Logo
The Washington team told E! News in a statement that reads in part, "The Washington Redskins football team takes issues of employee conduct seriously… While we do not speak to specific employee situations publicly, when new allegations of conduct are brought forward that are contrary to these policies, we address them promptly." They added that they've hired D.C. attorney Beth Wilkinson and her firm, Wilkinson Walsh, "to conduct a thorough independent review of this entire matter and help the team set new employee standards for the future."
The NFL released a statement, as well.
"These matters as reported are serious, disturbing and contrary to the NFLs values," the organization stated. "Everyone in the NFL has the right to work in an environment free from any and all forms of harassment. Washington has engaged outside counsel to conduct a thorough investigation into these allegations. The club has pledged that it will give its full cooperation to the investigator and we expect the club and all employees to do so. We will meet with the attorneys upon the conclusion of their investigation and take any action based on the findings."
In a statement obtained by E! News, the team's owner, Dan Snyder, said the "behavior described in yesterday's Washington Post article has no place in our franchise or society."
"This story has strengthened my commitment to setting a new culture and standard for our team, a process that began with the hiring of Coach Rivera earlier this year," he continued. "Beth Wilkinson and her firm are empowered to do a full, unbiased investigation and make any and all requisite recommendations. Upon completion of her work, we will institute new policies and procedures and strengthen our human resources infrastructure to not only avoid these issues in the future but most importantly create a team culture that is respectful and inclusive of all."
The Washington Post's report comes as the team announced their intention to change their name and logo from the Washington Redskins after years of backlash. The organization stated they will announce the new moniker after completing a review and consulting with the franchise owner. 
For free, confidential help, call the National Sexual Assault Hotline at 1-800-656-4673 or visit rainn.org.