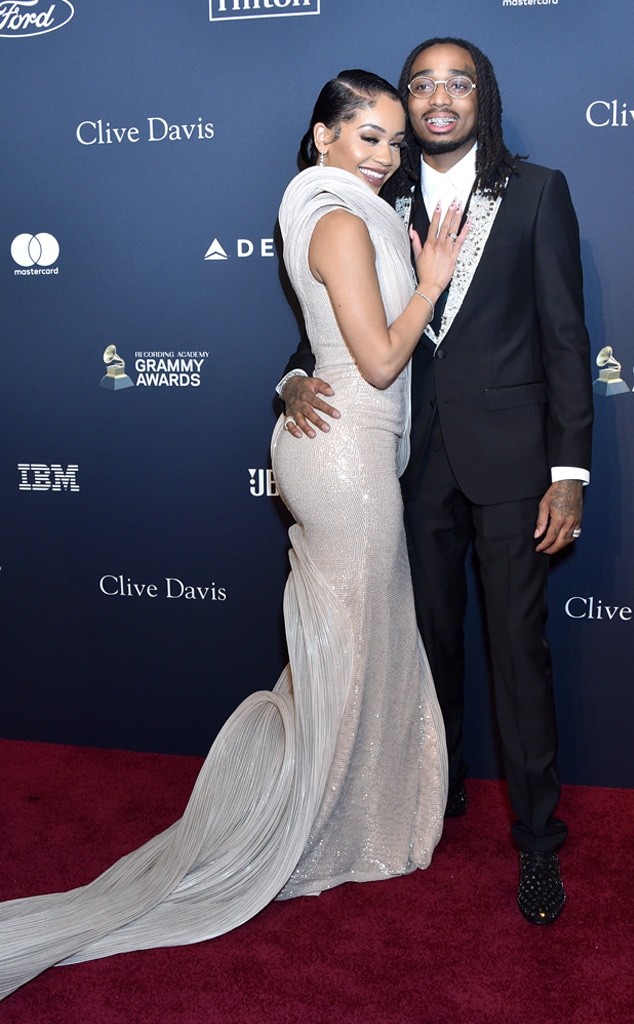 Gregg DeGuire/Getty Images for The Recording Academy
It's no exaggeration to say that Saweetie and Quavo's relationship is what love songs (or raps) are written about. 
It all started when the Migos rapper slid into the artist's DMs on Instagram two years ago. Quavo tells GQ that when he saw a picture of Saweetie on his Discover page, "I was like, 'Damn! Who is this?' So I did my research and I DM her. I was like, 'How she going to call herself icy and she don't talk to me?'"
They took things to the next level when they had their first date in Atlanta, which was a wild ride from beginning to end. Saweetie recalls having an "awkward" dinner where Quavo choked on a crabcake, before they headed to a party at a strip club. The night ended after a fight broke out sending attendees scrambling, including Quavo who lost Saweetie in the mad dash. But Quavo says, "We ain't look back since."
According to Quavo, being with Saweetie has helped him become a better man in many respects. "When she talk to me and when we started talking to each other, the Saweetie shit go out the window and the Quavo shit go out the window. I give her Quavious. I give her what my mama calls me," he shared. "I don't let people inside my life, and I let her inside. And she's helping me grow up. She's showing me how to love a woman."
Watch:
Migos Teases Quavo's Debut Solo Album at 2018 AMAs
If people require proof of how Quavo is giving Saweetie the affection she deserves, then look no further than his recent surprise for his girlfriend. According to GQ, he rented a Los Angeles home with a pool, so they could cool off during one of the city's frequent heat waves, a true act of love in these trying times.
Likewise, Saweetie says that he's helped her improve in any areas she previously "struggled" with, like communication. She explains, "I feel like I'm growing and I'm maturing because of him—not the music, not Saweetie, but Diamonté… I don't know how I would be as a person if I would have never met him."
And while the pair was more than willing to gush over each other and the influence they've had on each other's life, GQ says they wanted to keep their hopes for the future private. 
Though one can surmise from their actions and words that they're in this for the long haul. For Saweetie's recent birthday, Quavo bought her not one, but two pricey Birkins from Hermès, a move that had her doing the splits. Literally. A viral video shows the artist dropping into a split after she opened the gifts.
Clearly, Quavo knows his way to a girl's heart.