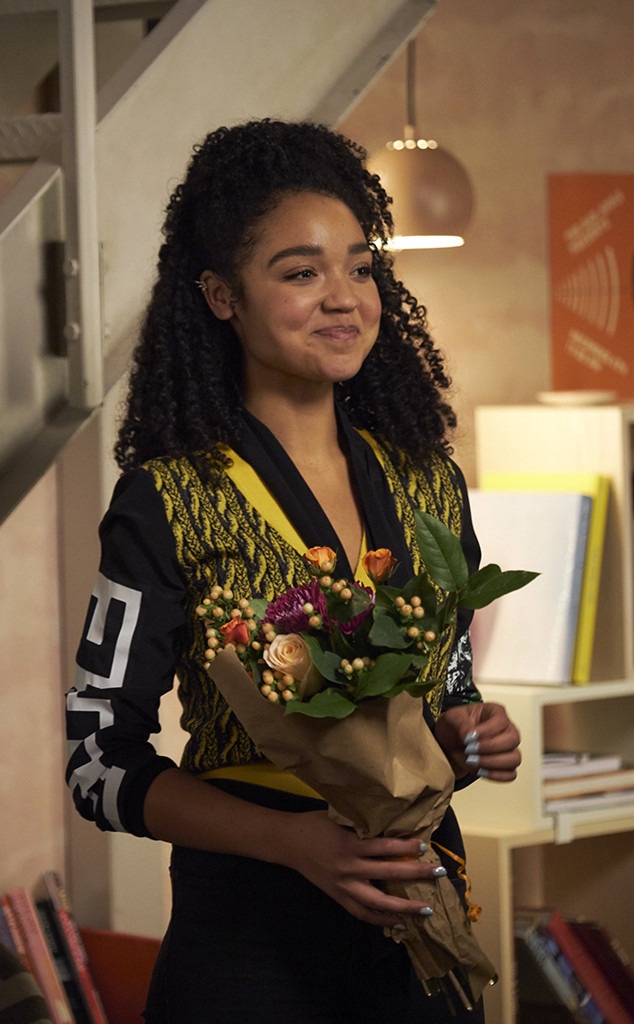 The Bold Type's Aisha Dee is calling out her own show. 
Dee, who plays Kat Edison on the Freeform drama, posted an open letter on Instagram, calling for the show to "really practice the things The Bold Type teaches, by acknowledging mistakes and making commitments to be better in the future." 
Over 10 slides, Dee recalls some of her experiences as a star of the show, pointing out that it "took three seasons to get someone in the hair department who knew how to work with textured hair," and two seasons to get a single BIPOC in the writer's room, "and even then, the responsibility to speak for the entire Black experience cannot and should not fall on one person." 
As the show was telling the story of a queer Black woman and a lesbian Muslim woman falling in love, there were no queer Black or Muslim writers on staff, Dee says. 
Dee also brings up one of the show's current storylines, where Kat has fallen into some sort of romantic situation with Ava (Alex Payton-Beesley), a woman whose father ran a gay conversion camp. 
"The decision to have Kat enter into a relationship with a privileged conservative woman felt confusing and out of character," Dee writes." Despite my personal feelings about the choice, I tried my best to tell the story with honesty, even though the Kat I know and love would never make these choices. It was heartbreaking to watch Kat's story turn into a redemption story for someone else, someone who is complicit in the oppression of so many. Someone who's politics are actively harmful to her communities." 
"I'm critical because I care, because I've seen firsthand the incredible impact of this show, and I believe in its potential to be better. The Bold Type has done so much good, but it struggles to understand the intersections many of its characters live in," she continues. "The truth is, these issues are not exclusive to The Bold Type. The entertainment industry has operated this way since its inception." 
Dee goes on to say that on her first TV show when she was 14 years old, "my stand-in was in brown face with a curly-haired wig." 
"Over the years, makeup artists often didn't have the right shade of foundation for my skin tone and blamed me for the inconvenience, an experience all too frequent among artists with non-white skin tones. Agents and casting directors encouraged me to stay out of the sun because if I got too dark, I wouldn't be as 'marketable.'" 
"I could list every microaggression and example of problematic behavior I've encountered throughout my career, but I'm not writing this for sympathy or to incite anger—I'm writing this in the hopes that the people who come next don't have to experience the things I have," she continues. 
Dee says she is writing this because of her love of the show and its fans.
"These characters found their way into my heart and joined all other fictional friends who've made me feel less alone over the years. I hope that we get to continue telling their stories to do right by them, and all the people who have found refuge in the arts," she says. 
"Over the last few weeks I've had conversations with the writers and producers, as well as the executives at Freeform and Universal TV," she continues. "I'm hopeful we will have the opportunity to tell more authentic stories by hiring, promoting, and listening to diverse voices across the entire production of The Bold Type and beyond. This is an opportunity to walk the walk, to really practice what The Bold Type teaches, by acknowledging mistakes and making commitments to be better in the future." 
Watch:
"The Bold Type" Ladies Give Tipsy Dating, Sex & Life Advice
You can read Dee's full letter, which was also shared by her Bold Type costars Katie Stevens and Meghann Fahy. 
The Bold Type's producers, Freeform, and Universal TV responded with a statement of their own. 
"We applaud Aisha for raising her hand and starting conversations around these important issues. We look forward to continuing that dialogue and enacting positive change. Our goal on The Bold Type is and has always been to tell entertaining, authentic stories that are representative of the world that Kat, Jane and Sutton live in—we can only do that if we listen."
The season four finale of The Bold Type airs tomorrow night at 10 p.m. on Freeform.