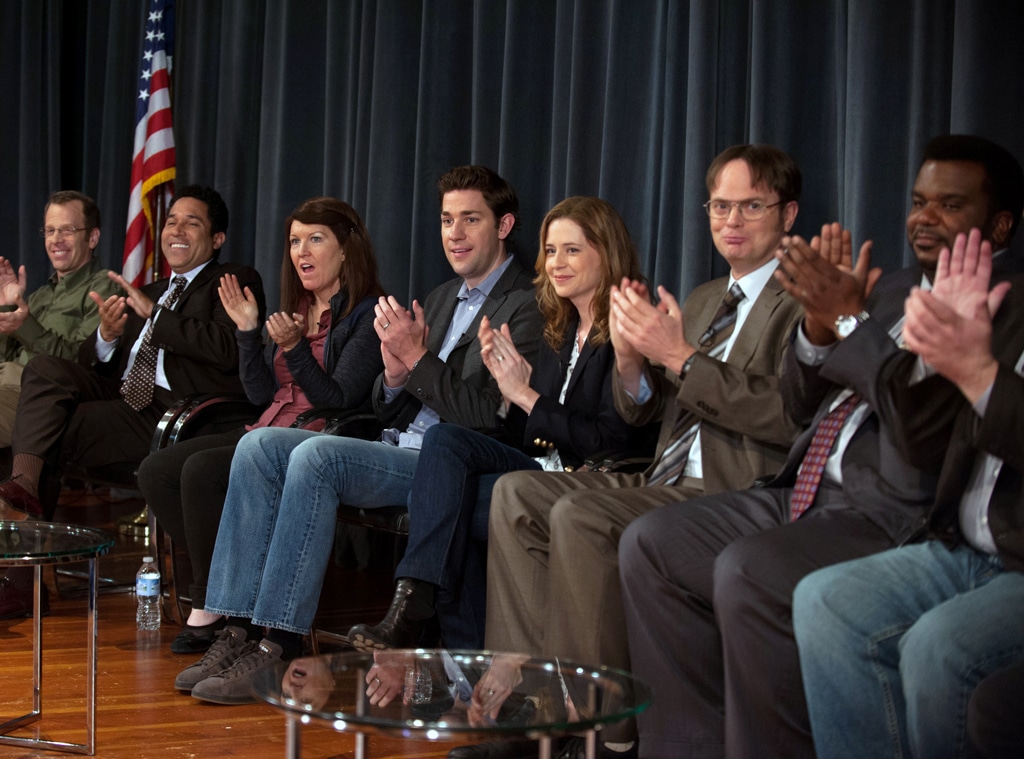 Colleen Hayes/NBCU Photo Bank/NBCUniversal via Getty Images via Getty Images
Chances are one of your favorite shows from the past has already been revived or remade, or been subject to revival or remake speculation. That's just the current state of Hollywood.
It's easier to break through the clutter and noise of TV options with established properties, but just because it's easier doesn't mean everybody is chomping at the bit to do it. Just ask Greg Daniels, creator of the US version of The Office and co-creator of Parks and Recreation and King of The Hill.
The Office is one of the most popular shows streaming on Netflix. Year after year it has found new generations of fans. It's so popular that NBCUniversal reportedly paid big bucks to get it over to Peacock, the company's new streaming service. The continued popularity—and rumors of remakes and desire to see more from the Dunder Mifflin employees—still surprises Daniels.
"Yeah, I mean, it's super gratifying. I have to say, I always loved the show, it's like my favorite work experience. We were successful when we were on NBC, but I agree with you, this seems a lot bigger," he laughed. "When we were on the air, we always used to get a lot of very positive feedback from people who were struggling with different things, like illness. And I always thought that it was because the show was not, like, too in your face, didn't have a laugh track and it let you find the jokes on your own. So, I always thought that might have been one key to the longevity. The other thing is, of course it's a character comedy, like we were saying. So, where we weren't making jokes about today's headlines, it was all…you got to know who Dwight is and then you get the character comedy."
For years, rumors have swirled about a new version of The Office or some kind of reunion. What are the ideal circumstances that would lead Daniels to revisit the series again? He turned the question around.
"Well, what do you think? What's your vision of what it would be? 'Cause to me, if it was only half the characters and you tried to recreate the set, but there was only half the characters in there, it would be a bit sad, you know? We got a chance to end it on our own terms, and in the ending we saw the future for a lot of different people, and they were all going in different directions," he said.
"I can imagine there are various events that would reunite them, so we could just kind catch up with what's going on. But I think when people start talking about rebooting the show, I think what they have in mind is something similar to Will & Grace where they just get everybody back together and make more episodes...I mean, it's sort of like not taking into account our ending, but I also don't feel like we'd ever be able to get all the actors back together in the same room when they're all doing different things, pretty busy. But I don't know. I just feel like I don't want to do like a less—like the crappy version of it, and not while everybody is starting to show over again the moment that they finish season nine," Daniels concluded.
While the door seems slightly ajar for some type of The Office reunion, another of Daniels' fan-favorite creations, King of the Hill, got a lot closer to revival.
In 2017, Dana Walden, then head of Fox, revealed the network was in preliminary talks with Daniels and series co-creator Mike Judge to revisit King of the Hill, the animated slice-of-life comedy that ran for 13 seasons. According to Daniels, revival talk happened after the cast reunited for a live reading of the "Husky Bobby" episode to celebrate the show's 20th anniversary at SF Sketchfest.
"And it went over huge. So, Mike and I started to say, 'Well, you know, what if we did a reboot of this show?' We started meeting about it. We kind of got a pitch together and we went in and pitched it," Daniels said. "So, there is this vision of a reboot that's out there and it's sort of in their court if they want to turn it into a show."
Daniels recently returned to TV with two shows, Space Force and Upload, the first shows he's created since wrapping The Office in 2013. While some creators look to continue or tell new stories with past hits, Daniels said he needs a reason to revisit a work from yesterday.
Watch:
"The Office" Turns 15: E! News Rewind
"I think you've got to figure out what's the reason to do it now. I don't think it's worth doing if the reason is just because you can't sell anything else or nobody wants to take chances. I don't think that's a good reason. But if you can say to yourself, 'Alright, I really want to see what Hank Hill thinks now. I missed that point of view and I don't see it around.' That would be a reason," he said.
"I always thought that The Office was— I really bought into the purpose of the documentary. I felt like, 'OK, this is a documentary. People are trying to examine how we work and what it's like to have all these different people get together and try and be professional and try to get along with each other.' If society has changed enough where that would still be really interesting to go say, 'Hey, we've changed. We don't work the same.' Or, 'What's life like now for normal people put together.' If that feels like that's still an interesting thing to ask then I would say, yeah, then that would maybe spark," Daniels said.