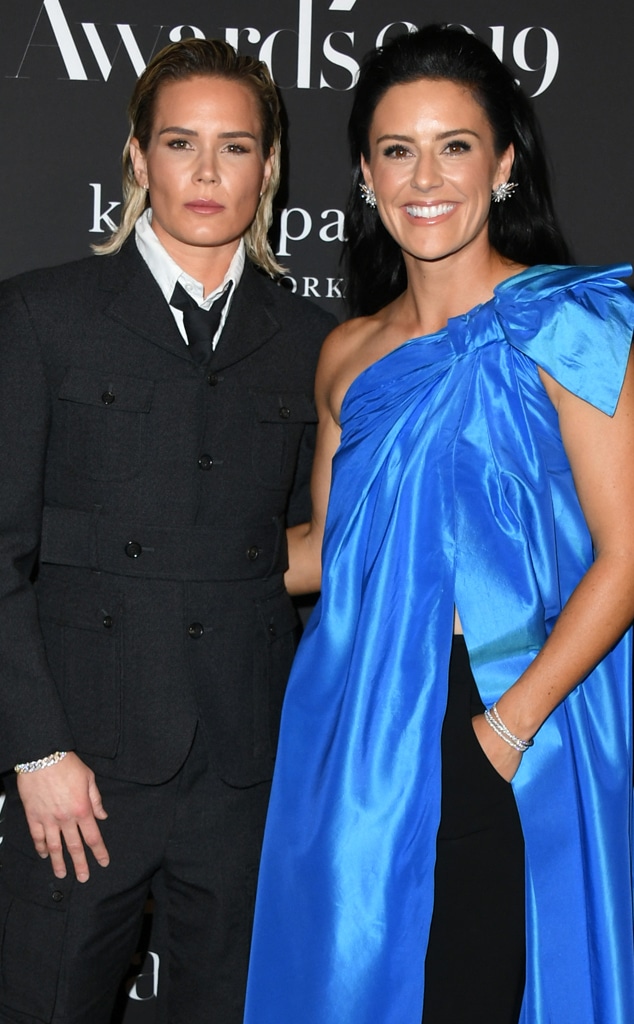 Jon Kopaloff/Getty Images
When you're soccer and couple goals...
It's safe to say Ali Krieger and Ashlyn Harris are powerful forces on and off the field. When the pair isn't winning Olympic gold medals or World Cup championships, they're making us swoon with their candid moments on Instagram.
The dynamic duo, who tied the knot in December 2019, recently opened up about their marriage, their plans to start a family and how they're both balancing their careers. Ali and Ashlyn kept it real and honest in their joint cover and interview with Allure for its August 2020 issue.
While it's crazy to think the couple went public with their relationship only last year and wed a few months later, the couple shared the significance of their special day.
"Originally, we just wanted to have a private ceremony," Ali told the publication. "We were like, 'Let's save our money and worry about our future kids' education.' And it ended up being like, 'Listen, let's share our love with the world. We can make this [wedding] an event for our community.'"
She added, "Sometimes I did feel like, 'What are we doing?' But no, we're saving people's lives [with our visibility], and that's what matters most. We can put our privacy aside for a moment and just be like, 'This is worth it.' "
For the pair, having visibility is something that's important to them. "I know what it's like to not have a community and not be a part of something," Ashlyn said. "It's all about visibility and what you see."
Explaining her younger years and what was shown, she explained, "We saw Michael Jordan. We saw Tony Hawk. We saw Shaquille O'Neal. Penny Hardaway. What was visible to me is what I envisioned I could become, never anything related to a female. I know that what I've strived to do from the beginning is to create a safe place where people feel a part of something."
Watch:
Female Athletes Who Dominated 2018
Ali shared the same sentiments and pointed out that her huge platform is due to her devoted fans.
"It's my duty, I think, to appreciate the fans and to keep making them want to come back," she expressed. "We need them to love the sport and to continue to show up for us, because it's only going to help the game grow."
When it comes to their career, the couple said soccer is the top priority. As many fans know, the duo plays for Orlando Pride, however, that doesn't mean they spend a lot of time together when they're on the road and focused on their next game.
"The team comes first. We actually don't [often] stay in the same room [on the road]," Ashlyn revealed. "If we are in the same room, we're in separate beds because sleep is a huge part of our recovery. I think that's the hardest part."
She added, "We don't get really good time together. We have to make time even though we see each other all the time. It's tricky."
While the pair is still in their newlywed phase, they've had conversations about starting a family.
"We talk about having kids a lot. The unfortunate part is someone's going to have to give in their career. Which is not fair," Ashlyn shared. "Because we both love our jobs and have waited our whole lives for these moments. Just taking a year off... where does that fit in? I can't even take a weekend off."
Adding, "We've talked about surrogates, we've talked about adoption, and it's just really tough because what... are we going to take the child everywhere? I mean, we've been home for seven days in the last three months."
No matter their decision when it comes to having kids, right now, they're both cherishing each moment spent together—big and small.
"Sometimes, when we go to bed, we will say, 'What was your favorite part of today?' or 'What do you want to accomplish tomorrow?' This is a good way to check in," Ali expressed.
Read the couple's full interview on Allure's website.