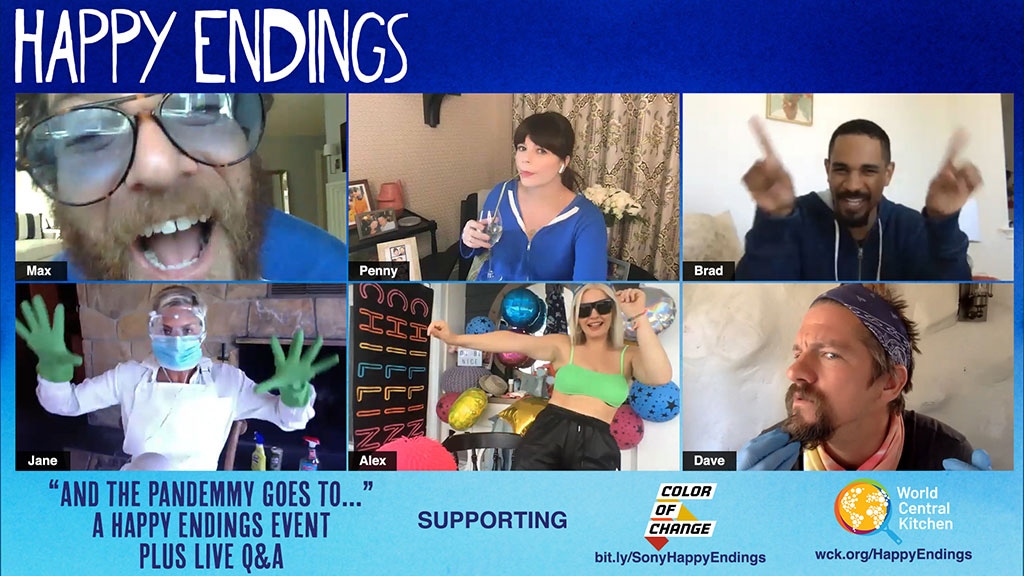 Sony Pictures Television
Some ah-mah-zing news to brighten up your 2020: Happy Endings is finally getting a reunion.
Happy Endings stars Eliza Coupe, Elisha Cuthbert, Zachary Knighton, Adam Pally, Damon Wayans, Jr., Casey Wilson and a special surprise guest will reunite and perform new scripted material from the writers of the series. The special is titled "And The Pandemmy Goes To…" and it will drop on Sony Pictures Television's YouTube page. Following the event, there will be a special live fan question and answer session with the cast. Fans can submit their questions using #AskHappyEndings and tag @HappyEndings.
The reunion is to raise money and awareness for Color of Change, an online racial justice organization, and José Andrés' World Central Kitchen supporting Black Lives Matter and COVID-19 relief efforts.
Watch:
"Happy Endings" Actors Dish on Guest Stars
"For years, the people (and multiple networks) have spoken: they do not want this show to continue. Undeterred, we were finally able to convince them to at least let us do just one weird Zoom thing, as long as we did it ourselves and it was for charity," series co-creator David Caspe said in a statement. "So if you wanna watch, please donate to Color of Change and World Central Kitchen, two incredible organizations fighting to make the world a safer, more equitable, just place for all."
Happy Endings ran for three seasons on ABC. The series followed a group of six friends with varied intertwined relationships in Chicago. Since its cancellation in 2013, revival and reunion talk has been rampant. The cast has previously reunited for panels and live reads, but not for filmed new material.
Happy Endings is currently streaming on Hulu. The reunion will premiere on the Sony Pictures Television YouTube page on Monday, July 20 at 4 p.m. PT, followed by the live question and answer session. Parks and Recreation recently aired a scripted socially distanced reunion special to raise funds and awareness for Feeding America. NBC has a new scripted 30 Rock reunion set for Thursday, July 15.