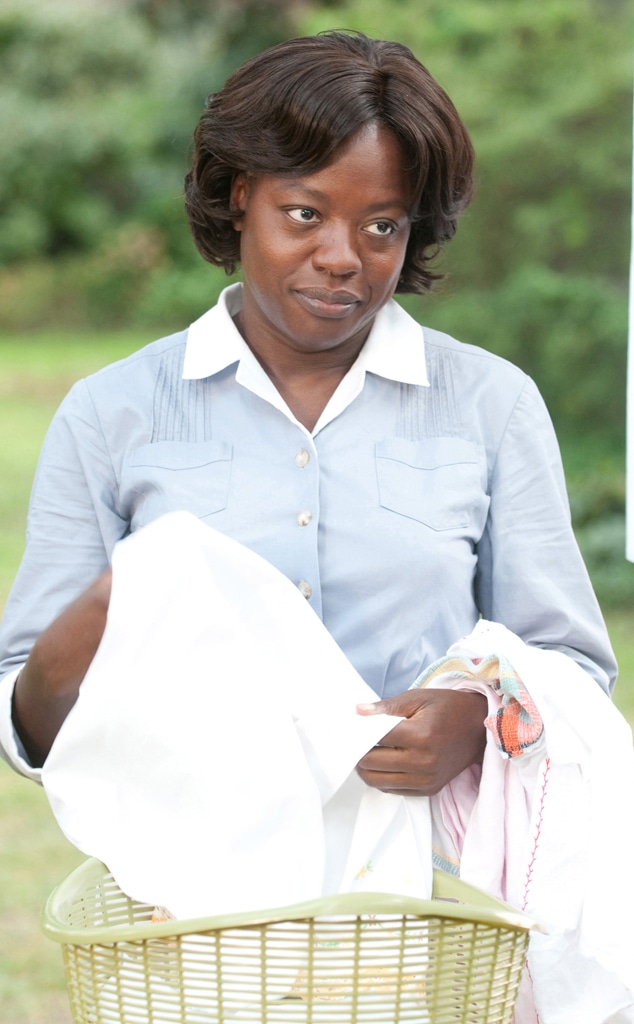 Dreamworks Pictures/Kobal/Shutterstock
It's been nine years since Viola Davis appeared in The Help. In a new interview with Vanity Fair, the 54-year-old actress looked back at the movie and explained why she feels like she "betrayed" herself by acting in the film. 
The Help was released in 2011 and included a star-studded cast. In addition to Davis, the film featured Octavia Spencer, Emma Stone, Cicely Tyson, Jessica Chastain, Bryce Dallas Howard, Allison Janney, Sissy Spacek, Anna Camp and more. As Vanity Fair put it, Davis took on the role of Aibileen Clark because she was "hoping to pop."
"I was that journeyman actor, trying to get in," she told the magazine for its July/August cover story.
The film became a huge success. Davis, Chastain and Spencer all earned Oscar nominations for their performances—with Spencer winning in her category—and the movie was up for Best Picture. However, the movie also faced criticism from critics, with The Atlantic's Alyssa Rosenberg writing "the film downplays the ugliness of Jim Crow and fixates on the goodness of its white protagonist." Davis even told The New York Times she "regretted" accepting the part.
"I cannot tell you the love I have for these women, and the love they have for me," Davis told Vanity Fair, referencing director-writer Tate Taylor and her cast. "But with any movie—are people ready for the truth?"
Davis said many narratives cater to white audiences.
"Not a lot of narratives are also invested in our humanity," she explained. "They're invested in the idea of what it means to be Black, but…it's catering to the white audience. The white audience at the most can sit and get an academic lesson into how we are. Then they leave the movie theater and they talk about what it meant. They're not moved by who we were."
She also said The Help, like other films, was "created in the filter and the cesspool of systemic racism."
"There's no one who's not entertained by The Help," Davis said. "But there's a part of me that feels like I betrayed myself, and my people, because I was in a movie that wasn't ready to [tell the whole truth]."
Watch:
Viola Davis Talks Boundary-Breaking Emmy Win
Recently, the film started trending on Netflix. After hearing the news, Howard spoke out on social media. She pointed out that "The Help is a fictional story told through the perspective of a white character and was created by predominantly white storytellers." She also urged viewers to watch "powerful, essential, masterful films" that "center Black lives, stories, creators, and / or performers," and shared a list that featured 13th, Just Mercy, Selma, When They See Us and more.
To read Davis' full interview, check out the July/August issue of Vanity Fair.