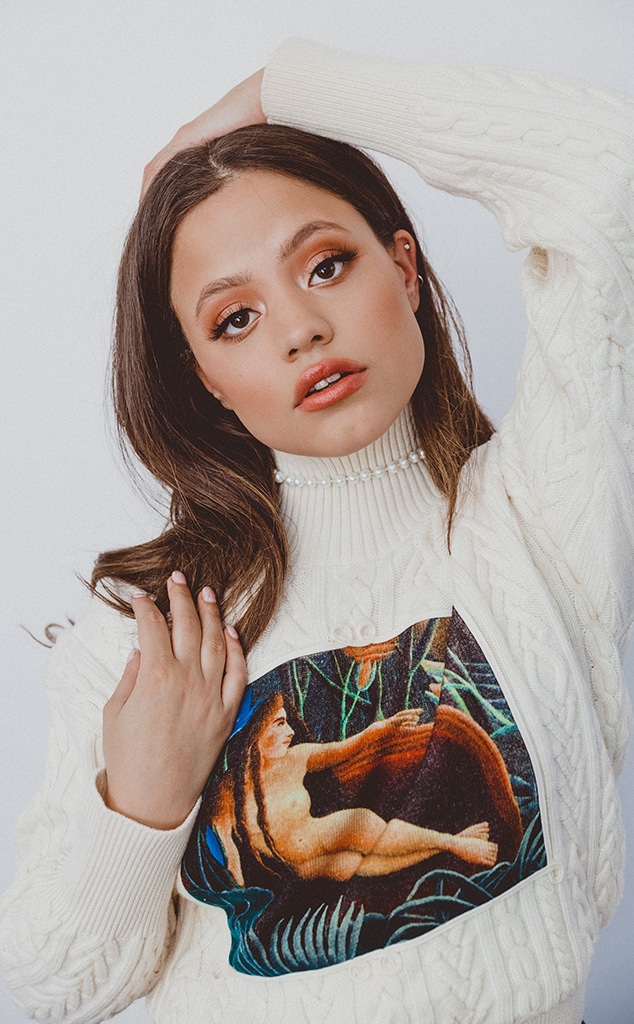 Jerry Maestas
Sarah Jeffery is striking while the iron is hot.
After a banner 2019 that saw "Queen of Mean," her solo song from the hit Disney Channel Original Movie Descendants 3, reach No. 49 on the Billboard Hot 100—becoming the first solo track from a DCOM to chart that high since Camp Rock over a decade ago—she's ready to go full pop star.
Known primarily for her acting work on shows like Shades of Blue and Charmed—where she currently stars as youngest witchy sister Maggie—Jeffery's just released "Even the Stars," her first single independent of a film project. And she has the success of the Descendants track, written and produced for her character Audrey by Rock Mafia, the prolific production duo comprised of Tim James and Antonina Armato, to thank for it.
"I've always been very passionate about music," Jeffery told E! News exclusively on the eve of the tracks' release. "I did musical theater as a kid growing up and, obviously with the Descendants films, that was a big part of it. And so it has always been, in my mind, that that's something I wanted to pursue. But it actually kind of worked out perfectly. Rock Mafia, who wrote 'Queen of Mean' and wrote a surplus of songs for descendants and other DCOMs, they approached me and, [after] the success of 'Queen of Mean,' were like, 'We would love to work with you again.' And it just made sense to me."
As Jeffery explained, Rock Mafia came to her with "eight or so songs" and asked her which ones resonated with her. She said that her connection to the inspiring pop of "Even the Stars" was immediate. "It has a strong message, I think, especially for the time we're in right now," she said, adding, "It's just sort of talking about how there are dark times and light times and you can't have the light without the dark—which I think is such an important reminder. And for myself, I'm very open about my struggle with mental health. And that's another reason that I connected to the song...An important thing to keep in mind when you're going through ups and downs in your own personal life is that you have to have dark times to sort of feel and see the light."
While working on the Descendants franchise gave her some experience in the recording booth, Jeffery said that working on her own material with Rock Mafia allowed for the process to slow down a bit in the effort to get everything just right. 
"Descendants was my first experience in the sound booth, the vocal booth. It was my first experience recording and it's pretty quick turnaround," she explained. "But with them working on these tracks, it was like, 'Let's really take our time. Let's do as many passes as we need to.' I was at their studio which is just so comfortable and so large, and I felt right at home. And it was just a really nice relaxed experience, especially because, you know, I had nerves, naturally. This is like my first solo endeavor and they were just really great with collaborating with me and making sure everything worked for my voice. Just like really taking our time to nail it and get it to the place we want it to be."
As for where that place is, Jeffery explained that she's drawing influence from Selena Gomez—"When I was sort of thinking about what I wanted my sound to be like, I used a couple of her songs as an example," she explained. "I think she does pop really well."—the indie pop band Litany and alt-pop queen Banks. 
"Combining those...worlds would be ideal for me," she added.
While she's still reveling in the success of "Queen of Mean"—Actually my RIAA-certified gold plaque came in the mail the other day, which was a cool thing as well," she said. "Very, very surreal."—she's keeping her eyes on the future. There's more music to come, she revealed. It's just a matter of when.
"Obviously, the world kind of came to a screeching halt," Jeffery told E! News, referring to the global effects of the coronavirus pandemic. "So that definitely complicated things, but the goal is to definitely release more music and I can't wait. I have some more stuff that I'm really passionate about."
Until then, she's making use of the sudden free time she found herself with up in her home province of British Columbia in Canada. "At the beginning of this, it was just like, what do you even do with yourself? I guess I was using this overwhelming amount of free time I had to do the things that I usually don't have time to do because of my busy schedule," she admitted. "So like, exercise, meditate, read, all that kind of stuff. Because I usually don't have much time for that. So it was kind of nice, actually."
She's "itching" to get back to work and begin production on the third season of Charmed, due at midseason (whatever that means in this post-COVID world) on The CW, she said, adding that she and her "sisters"—co-stars Melonie Diaz and Madeleine Mantock—are "constantly checking in on each other" via group chat. "It's just kind of like our girl time, a little girl time," she said.
For now, though, she's turning to music to get her through. Litany's discography and the Lady Gaga-Ariana Grande collab "Rain on Me" have been in heavy rotation as she relies on Apple Music and Spotify to turn her on to new artists, she revealed. "I feel like music is important during this time," Jeffery said. "It's just filling the space, filling the silence."
Luckily for fans, with "Even the Stars" out, that space just got a little fuller.
Watch:
"Charmed" Reboot Costumer Explains Character Pieces