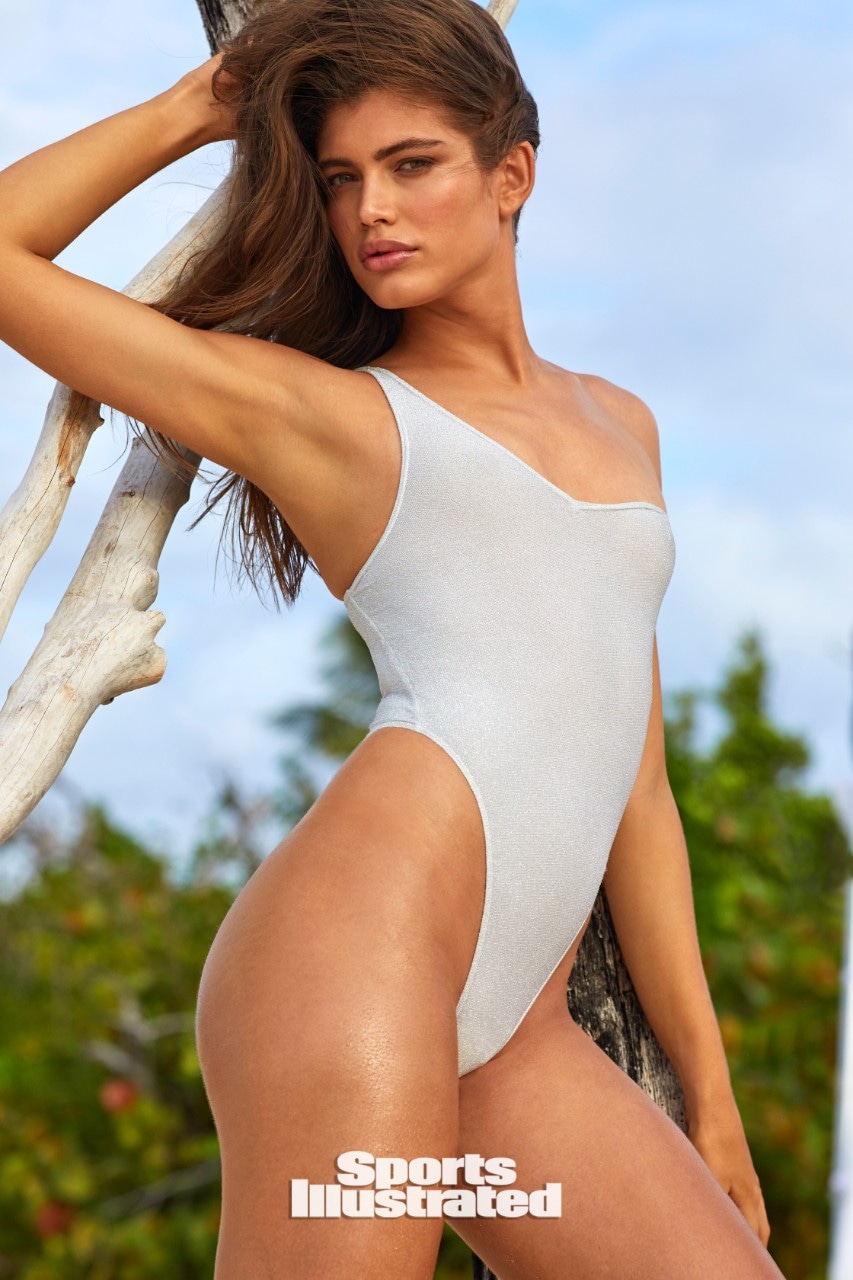 Josie Clough/SI Swimsuit Issue
Valentina Sampaio continues to make history.
It was just announced that the 23-year-old will be featured in the 2020 SI Swimsuit Issue, making her the first transgender model to appear in the company's famous edition.
"Our goal in selecting who we feature in the SI Swimsuit Issue is centered around identifying some of the most inspiring, interesting and multi-dimensional women that we can find," MJ Day, editor of SI Swimsuit, said of the edition. "Valentina has been on our radar for some time now and when we finally met face to face it became apparent that besides her obvious beauty, she is an impassioned activist, a true pioneer for the LGBT+ community and just simply embodies the well-rounded woman we are proud to have represent SI Swimsuit across our platforms."
"We are deeply moved that Valentina was willing to put her trust in us and we didn't think twice about wanting to amplify her voice, her message and give her a platform to advocate from on behalf of her personal aspirations and the trans community," Day continued. "That is what we can do as a brand, especially during these uncertain times- support her and celebrate her."
Sampaio is one of eight "Rookies" included in this year's issue alongside Lorena Duran, Kim Riekenberg, Brooks Nader, Marquita Pring, Anita Marshall, Hyunjoo Hwang and Jospehine Skriver.
"The moment my agent, Christiana Tran, from The Lions Talent Management told me I was blown away by excitement and shock that SI Swim was really going to happen. It was always a dream of mine that was finally coming to fruition," Sampaio tells E! News. "The first thought that came to my mind was this is not only an achievement for me as an individual but for the whole Trans community. WE did this! WE are making a change in the world and I am so honored that SI thought of me to be in the upcoming SI Swim Issue."
Josie Clough/SI Swimsuit Issue
Sampaio says this historic moment "represents to me that we ALL matter regardless what gender or race you are."
"We are all human and we all want to be accepted and loved. I realize I have been very fortunate and I am forever grateful," she shares with E! News. "I also think it is extremely important to share positive milestones and victories. I advocate for people who face prejudice and are not given the basic level of human rights to exist with minimal dignity. If anything I say or do can plant a seed of love, that  is my goal and life's work."
Talking about how she hopes to inspire transgender youth and anyone who sees this SI issue, Sampaio says, "I hope that transgender youth and everyone sees within themselves that we are all physically unique, yet all united in a common desire to be accepted and loved as we are. The most important thing no matter who you are, is to know yourself. To understand your essence and trust it enough to live it- regardless of judgement and prejudice. Being in the SI Swim Issue, I hope it also gives young women a comforting feeling of acceptance, recognition, freedom and inclusivity when they open the issue."
It was one year ago that Sampaio was hired by Victoria's Secret, making her the first openly transgender model in the company's history.
Reflecting on her earlier years in the modeling career as a child, Sampaio says "it had not always been easy."
"Early on, I had a high profile modeling job where, once they realized I was trans on set, I was suddenly fired," she recalls. "To share the excitement and pride of a job with friends and family, only to then be shamed and rejected- it was heartbreaking. From that moment on, I decided that whatever I would do in life, I would do it not just for myself, but for all those who face discrimination."
Watch:
5 Things You Didn't Know About VS Model Valentina Sampaio
Looking to the future now, Sampaio tells E! News, "Being trans often means facing a closed door to people's hearts. It often means facing family rejection, traumatizing bullying at school and very limited, dignified professional opportunities. I would love to see people, brands and companies more open to fearlessly embracing the trans community with compassion and respect. I know there is plenty of room in the world for all of us to exist in our own unique way- as long as there is respect and humanity. My goal is to live that for myself and hopefully encourage that desire in others."
The 2020 SI Swimsuit Issue will be on stands July 21. You can check out swimsuit.si.com on July 21 for all exclusive content from the issue.