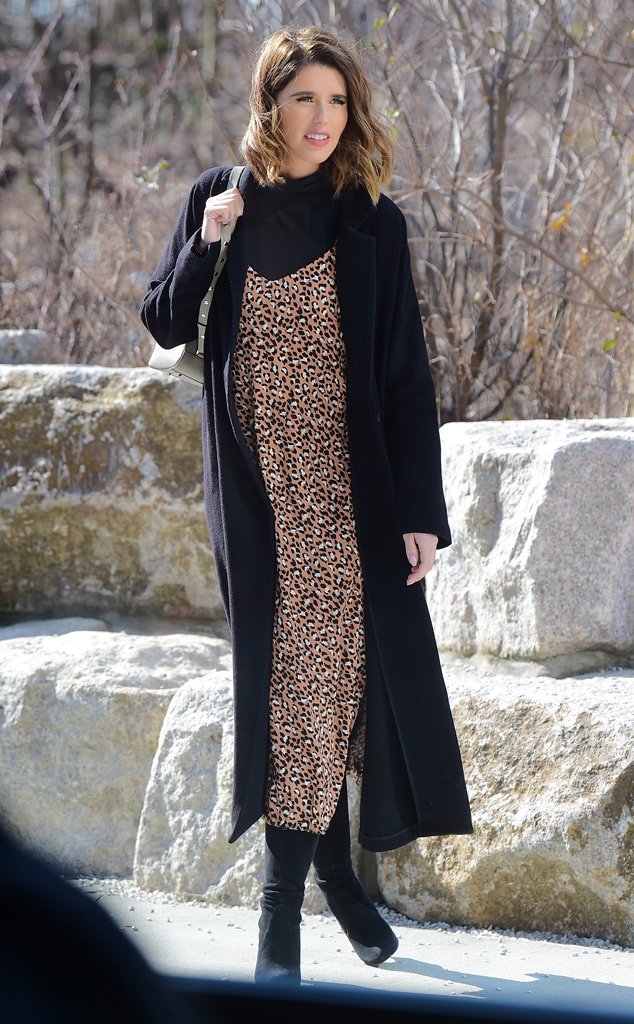 DIGGZY / SplashNews.com
Katherine Schwarzenegger Pratt is revealing how she's maintaining a positive outlook on her pregnancy amid the coronavirus pandemic.
The world first learned that the author and her husband, Chris Pratt, are expecting their first child nearly two months into the stay at home order in California. And while the pair kept much of the details about those early days to themselves, a source previously shared, "[Katherine] is very much enjoying being at home and having this time to relax and really enjoy being pregnant."
Now that over a month has passed however, Katherine herself is telling E! News all about how she's been passing the time. She shares that like most expectant mothers, her days are largely spent nesting and growing more comfortable in the kitchen, a space she previously used for baking rather than cooking. 
To read everything that Katherine had to say about her preparations, as well as her partnership with Rubbermaid, check out the Q&A below!
E!: You mentioned experimenting in the kitchen during quarantine, is that something you do with Chris? Does he help you cook? Do you experiment together?
KSP: Yeah, he's a very good cook like very, very experienced in the kitchen. So I have been learning from him for sure, especially while we've been quarantined. I'm more of the baker in our house and he's the cook so I'm very, very lucky when it comes to being able to enjoy really yummy, good food because he's very, very good at all of that. And to be able to have a fun day where we go and get everything that we need at the grocery store and cook everything on a Monday and have everything kind of planned throughout the week by storing it in the Brilliance collection just makes eating healthy and eating well really easy, simple and effortless. So it's been really fun and helpful to do that together.
E!: And congratulations, you're expecting, that's very exciting.
KSP: Thank you.
Watch:
Chris Pratt & Katherine Schwarzenegger Debut Baby Bump
E! News: How are you preparing to give birth and care for a newborn in this time? I can't imagine its easy in a normal time but there has to be some challenges that come with it right now. How are you preparing for that?
KSP: I am preparing definitely by learning to do things in the kitchen because that's something you need learn how to get very familiar with when you have little ones to cook for. And I've been organizing a lot in our house because I feel like that's again something that everybody's been doing in quarantine, it's just this desire to organize. I think that's part of my nesting. It's been really fun and really interesting. Definitely an interesting time to be pregnant but a really fun time to also find the silver linings and to be able to organize and find more experience in the kitchen has been a big part of that.
Courtesy The Women's Alzheimer's Movement
E!: What have you learned from your mom that you'll hold onto for your baby?
KSP: Everything. My mom is the best mom ever so to be able to learn, I definitely have learned a huge amount from her when it comes to organization. I want to be a sponge always around my mom and just observe as much as I can from her because she has been the greatest mom and continues to be the greatest mom to all four of us. We're really lucky so if I can be just a little bit of the mom that she is then I'll be lucky.
E!: Talk to me about your Rubbermaid partnership and why this was a great fit for you.
KSP: Well I felt it was a great fit because I feel like all I've been doing in quarantine is trying to get more comfortable in the kitchen. And being able to have access to this amazing Brilliance collection from Rubbermaid has made the whole thing so much easier because you can really dedicate one day, or two if you get excited, to cooking or baking and then just meal planning for the rest of the week and having that stored in your refrigerator, and having access to everything.
This interview has been edited and condensed for clarity.