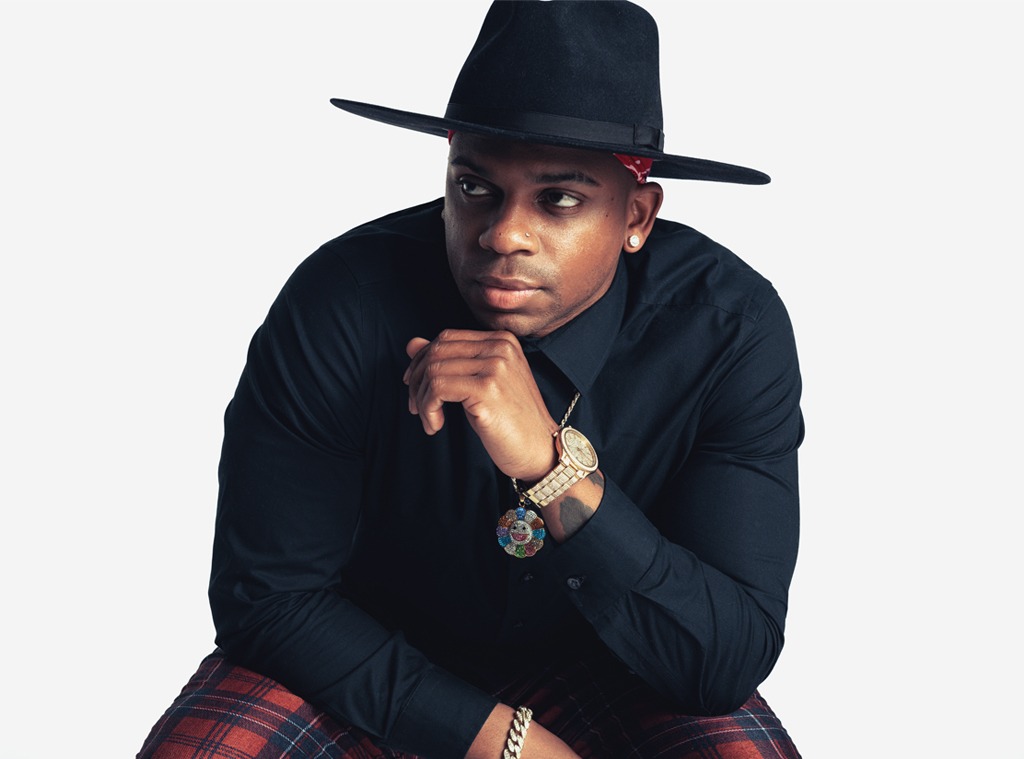 DUSTIN HANEY
For Jimmie Allen, family is everything. 
So it is only fitting that the country artist's star-studded EP Bettie James is a tribute to his late father and grandmother. "I named the EP after my grandma who died in 2014 and my father who passed September 2019," Jimmie exclusively shared with E! News. "I kind of wanted to start leaving legacies, leaving their legacy through my music. They inspired me so much...the man I am and who I hope to be one day."
While his grandmother's lessons on patience encouraged him to take his time with the tracks, it was his dad's advice that taught him to think outside the box. "My father got me into country music," he explained. "That's all he listened to and he was all about taking risk, so I feel like I was able to be patient in creating but taking risk and putting together artists in times people would never even think about mixing."
Indeed, his latest songs—out now—feature an array of familiar names, including Tim McGraw, Brad Paisley, Darius Rucker, Charley Pride, Nelly, Rita Wilson, the Oak Ridge Boys and Noah Cyrus among others. "I'm excited for people to hear this project and hear the different voices involved," the 34-year-old said. "My musical palette is pretty diverse and I was able to capture some of that."
And for Jimmie, collaborating with Darius and Charley was a dream come true. "Those are two guys that are on my Mount Rushmore of my favorite artists," he raved. "And to have Charley being pretty much the first black artist in country music....growing up listening to him, watching him, learning. Then Darius, being in one of the biggest rock bands ever, Hootie and the Blowfish, to be able to do a song with those two people who I consider icons, to call them friends now is amazing."
Watch:
Brad Paisley Talks Summer Romances
He certainly learned a lot about his friends throughout the process. "I didn't realize how much of a perfectionist Brad Paisley was," Jimmie said. "When Brad does something, he actually cares about it. He did a few different versions of his solo on the phone. He would send me a version and redo it, send me another one and redo it. He really cared. Everybody really cared."
"Those are legends right there," he continued. "They didn't need to do it, but the fact that they wanted to be a part of it is still mind blowing."
These days, there are plenty of milestones for Jimmie to celebrate. His 4-month-old daughter Naomi Bettie Allen (with fiancée Alexis Gale) is starting to talk and his son Aadyn, 5 (from a previously relationship), couldn't be happier to have a sibling. "My son Aadyn is loving being a big brother and my fiancé is loving being a mom," he gushed. "My fiancée calls it talking but I call it noise, she's making noise now. It's her way of communicating and I have no idea what she's saying. She's awesome."
Professionally, he's unstoppable. He recently landed his second no. 1 single with "Make Me Want To" and made history as the first Black artist launching their career with two consecutive no. 1 singles on country radio.
"It means a lot," he said. "You know for me, I look at it more as the changing of times we're in for the better, for everyone. Also it shows younger kids that look like me that there are no limitations. If you're Black or Asian and you want to be a country artist and hopefully have a no. 1 record, you can. I somehow did it. As long as you work hard, you're consistent, show up every day and you're good to people, there are tons of opportunity no matter what your career might be."
He encourages all his fans to follow their dreams and lead with love. "It's about educating yourself and realizing that there are things we have just become numb to because it's always been done," he added. "I try to keep in mind that just because something might be traditional and it's always been done doesn't mean it's always right."
While he celebrates his triumphs, he knows his father and grandmother are watching. "I think they would be proud of it," he told E!. "I think my dad would definitely blast it in his truck."