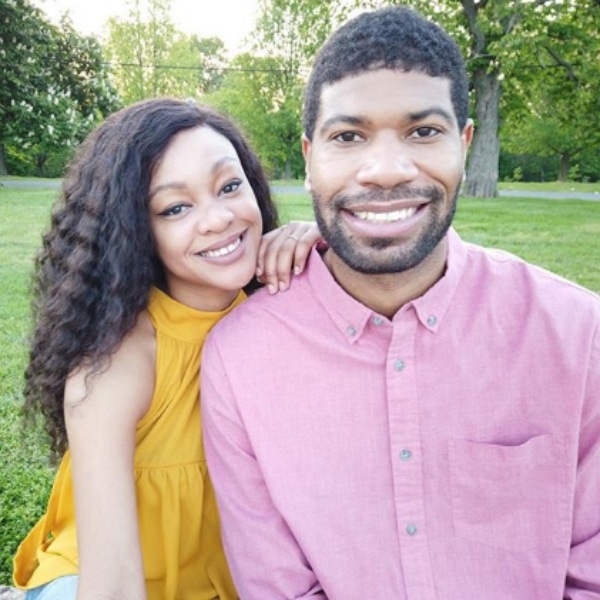 Instagram
Kristine Killingsworth and Keith Dewar remember their wedding day like it was yesterday.
Sure, the ceremony was being filmed for Lifetime's hit reality show Married at First Sight. And yes, the nuptials were the first time both parties would meet their spouses for the very first time. But the celebration also served as a brand-new chapter for two complete strangers.
"I didn't think I was going to get picked to be honest. I didn't think I was a real candidate but I got picked," Keith shared with E! News exclusively. "It gives me goose bumps to think of the day before and the day of my wedding. I couldn't sleep the night before."
Kristine added, "I was so scared. I remember being scared. But I made the commitment and I didn't want to run.  I still get butterflies thinking about it. It felt like everything was going wrong that day."
Between rainy skies, a wedding dress sized a bit too big and a garter out of place, there were plenty of signs that this couldn't be a happily ever after. But three seasons later and this couple is proof that Married at First Sight really works.
"You just have to work it. You can't be the same old you and try to have a new life with someone new," Keith explained to us ahead of tonight's season premiere on Lifetime. Kristine added, "Because the same old you was not working out for yourself."
During their season, the Philadelphia couple put their trust in Dr. Pepper Schwartz, Pastor Calvin Roberson and Dr. Jessica Griffin. And when cameras went away, the pair still followed their advice. 
Kristine and Keith praise Pastor Cal for reminding the pair to "always attack the problem and not each other" when having issues. 
"It's helped us cut through issues a lot better," Kristine shared. Keith continued, "We're definitely two opposite people. We both have an understanding to try to understand the other person as best as we can. That's how our marriage works."
Watch:
E!'s Famous Reality TV Families: Where Are They Now?
And while no relationship is perfect, both parties are grateful to have signed up for a show that provided so much more than a husband or wife.
"I had confidence issues and of course Kristine is Kristine and that will draw stuff out of me that would have never come out of me if I didn't meet her or get married to her or have to live with her. It brings out something that you're meant to be for better or for worse. It definitely made me stronger," Keith shared. "I appreciate that because I was a good person. I was always a nice person but I got taken advantage of so with more confidence, I appreciate Married at First Sight for that."
Kristine added, "I got a best friend and a partner out of this experience. I got to see issues of my own come to the forefront and be able to confront those and just push myself beyond what I felt like was my personal boundaries and limits."
Married at First Sight (produced by Kinetic Content) airs Wednesday nights at 8 p.m. on Lifetime. And follow Keith and Kristine's love story when Married at First Sight: Couples Cam returns July 23 at 8 p.m.