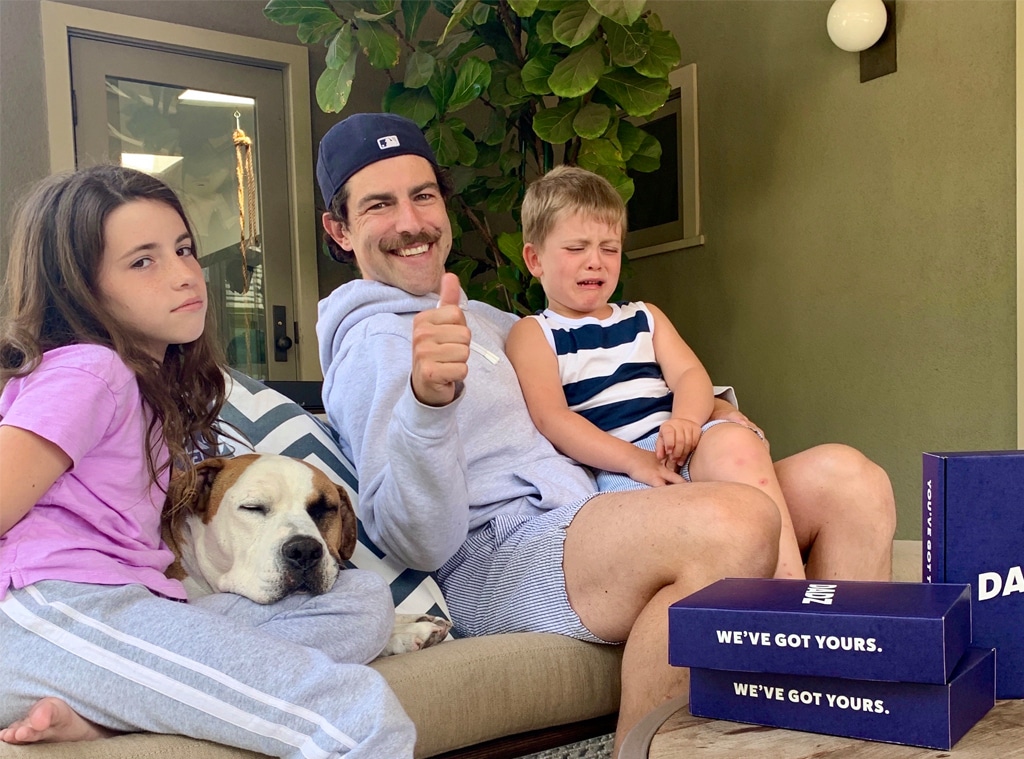 Max Greenfield
Like so many parents around the world this year, Max Greenfield had to get used to a new normal in record fashion.
With the COVID-19 pandemic shutting down schools and production on most shows, the star of The Neighborhood moved any and all business to Zoom and just started hanging out constantly at home with his wife, Tess Sanchez, and their kids, Lilly and Ozzie.
Suffice it to say, all that time spent together has been a blessing—as well as a real eye-opener as to how much energy is needed to be both a constantly present parent and, for some (including Greenfield), a full-time teacher. Max started comparing notes and sharing tips with other dads in regular video chats, and while they've agreed that being with their families is wonderful, without school and other regular activities to mix it up it's been an exhausting time as well.
Greenfield told E! News in a recent interview, "There is this feeling of like, 'Am I really supposed to be a parent 24 hours a day? I used to get breaks, and now I don't get any breaks.' And then you realize, Yes, you did this yourself. You are supposed to be a parent 24/7."
Enter DADZ, the company the actor and three fellow dads have launched to help ensure that all the fathers out there can keep firing on all cylinders throughout the day. They introduced their first product, Lightning Sticks—a vegan, plant-based energy supplement powder—on Father's Day.
"I am doing nothing other than being a dad," Greenfield told E! News. "For the first seven and a half years, and it might be for the next seven and a half, I don't know," he quipped. "And I think a lot of people are in that situation." He was already used to being home a lot, thanks to the shooting schedule he's been enjoying lately, but he admitted to his friends "that I've already been doing this and this is overkill for me."  
At the same time, he continued, "you can just feel how many parents are really enjoying the time with their kids and embracing it. And, you know, as difficult as it is, there's a real positive aspect of it in that regard." So they started doing their research and asking themselves, "Well, how can we help support Dad? Because everybody involved in this company is a dad."
Eventually, he and his three co-founders (they have six kids between the four of them) want to "branch out and create a company that just includes everything that a dad does."
The Lightning Sticks formula, according to the product announcement, is "optimized for on-demand alertness, mental clarity, and focus but without the negative effects of large doses of caffeine, sugar and artificial flavorings typically found in most energy drinks."
Greenfield further explained, "One of the first things you grapple with as a new dad is an overwhelming lack of sleep and the toll that takes on your work, home life and overall health. The dads we spoke to all agreed. If we could start by helping them clear the mental fog, it would go a long way to giving them and their families more quality time together."
And, yes, people without children can benefit from DADZ products, too.
"Again, this [current] situation has really put focus on [how] every day feels like 48 hours," Greenfield told E! News. "I feel like there's no end in sight, but it's mixed with these rewarding moments within it. That doesn't get talked about that much, but that fuels you forever, you know?"
Incidentally, Greenfield had already been doing his part to keep our spirits up by sharing videos of his adventures in homeschooling with Lilly, which basically turned into a limited series that in our humble opinion should be Emmy eligible.
"It was a moment where it felt like, Oh, this is what social media was meant for," Greenfield recalled the moment where he decided to get a little more personal in a public forum. "I'm isolated from the rest of the world. I'm completely overwhelmed. I have a feeling there's other people who are feeling the same way I am right now who are scared and alone and just feeling like there's no way that's going to go well.
"And so we threw up one post and said, 'Let's see what happens.' And the response was so overwhelming...We got a great response from parents, the teachers, and so many people out there. It was rewarding, for sure, and it was exciting for Lily—who really enjoys doing the video much more than she enjoyed doing any work that we actually had to do." 
Asked if the obvious talent his daughter has evinced during quarantine is going to lead to a potential part-time career when the world opens back up again, he acknowledged that Lilly was "definitely made for that" should she decide to pursue acting.
Watch:
Max Greenfield's Experience With Kid-Friendly CrossFit
But in the meantime, everyone is getting schooled in the Greenfield household these days.
"I've been asked a couple times, like what kind of advice can you give?" he told us. "And the truth of the matter is, I don't think I've learned anything. Just when I think I've figured something out, it turns on me. And I go, Oh my god, I was totally wrong! Or that didn't work, or I'll be like 'I'm going to do this every day because this thing has had a really popular effect.' And then I'll do it the next day, and [Lilly will] give me the exact opposite reaction. I just don't know."
Meanwhile, DADZ has also partnered with Fathers Incorporated, an Atlanta-based nonprofit which works with organizations around the country to identify and advocate for social and legislative changes that support all fathers and their involvement with their kids, regardless of marital or socioeconomic status. And this is only the beginning, with more products and partnerships to follow.
Sharing his homeschooling experience with the world has been rewarding, Greenfield said, and what's been amazing about launching DADZ so far is that "it's created a support system and a dialogue for parents. You know, I think there's a lot of ego involved with the parent thing. You want to be doing a great job and you want to be doing it right, and this has allowed people to sort of communicate and laugh and lighten up and really express their vulnerability."
Sounds like the makings of a community that will help sustain them through quarantine and beyond.