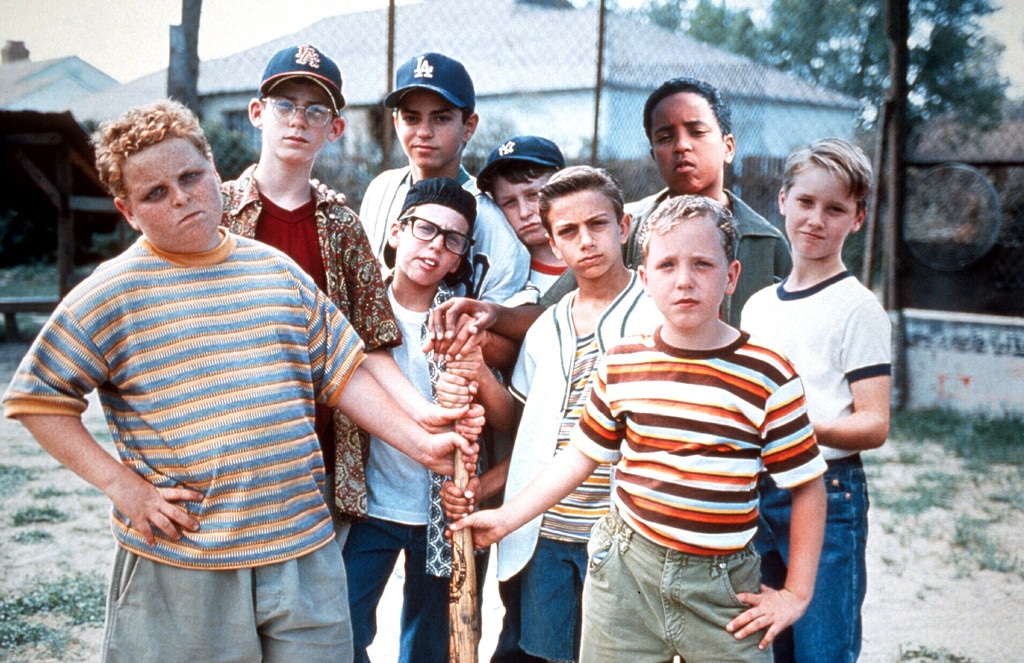 20th Century Fox
Raise your hand if you'd like s'more Sandlot in your life. Same. 
Thankfully, for fans of the cult 1993 classic, Patrick Renna (a.k.a. brash catcher Ham Porter) has gotten the team back together. The upcoming special, dropping on the actor's YouTube channel later this month, was inspired by the response to their 25th anniversary reunion on the Today Show back in 2018 and the seemingly endless parade of successful reboots (hello, Fuller House, Will & Grace and the forthcoming Gossip Girl redux). "Just seeing other cast reunions I was like, 'Gosh, I've got to do one with the guys,'" he reasoned to E! News.
But one of the biggest drivers in this trip down memory lane is his inability to grow a beard. Stick with us on that one. 
The lack of facial hair has left the 41-year-old both perpetually a bit baby-faced and, unmistakably, that guy from millennials' favorite coming-of-age baseball flick. "Looking exactly the same, whether fortunately or unfortunately, it's always present," he explains to E! News. "So to put it into something creative has been a lot of fun for me."
Watch:
Happy Birthday Geena Davis: E! News Rewind
That something is his YouTube channel, You're Killing Me with Patrick Renna (named for his character's oft-repeated catchphrase) and, more specifically, the July 15 special. A grab bag of interviews, movie reenactments and behind-the-scenes dish, it features the whole gang: Tom Guiry (Smalls), Brandon Quintin Adams (Kenny DeNunez), Chauncey Leopardi (Squints), Grant Gelt (Bertram Weeks), Marty York (Yeah-Yeah), Shane Obedzinski and Victor DiMattia (Tommy and Timmy Timmons), plus Marley Shelton (dreamy lifeguard Wendy Peffercorn) and The Babe himself, Art LaFleur. 
Throw in the fact that it's hosted by Dodgers third baseman Justin Turner and serves as a fundraiser for his Justin Turner Foundation, benefiting homeless veterans and children battling illnesses, including COVID-19, and it's a double play of feel-good warm and fuzzies. Says Renna, "It's an opportunity to have some fun and also see if we can give back to people who need tons of help."
Coming together for a good cause, the team truly swung for the fences. "All the guys really got into it," he tells E! News. "We reenact one of the scenes and the director does the narration on it, which is fitting because he is the narrator of the movie. There's some fun stuff with Squints and Wendy and all the guys. We even got Will Horneff, who played Phillips, my archenemy, he jumps on for a second." 
Another sweet moment saw them taking the graham, sticking the chocolate on the graham, then roasting the 'mallow. "We all make a s'more together," he shares. "I'm sure you can guess who led the way on that one. I've still got it!"
Back in the early '90s, Renna was a Boston-area teen with one uncredited appearances on Nickelodeon's underrated camp comedy Salute Your Shorts when he got the call he was headed to Utah to claim his position in the 60s-set comedy. "I was actually one of the last people hired for the film," he recently told Fox News. 
Throughout the 40-day shoot, "We really were best friends," he tells E! News, attributing just a bit of their success to their brother-like bond "which I think really comes through on the screen." 
While little else in his life changed in the aftermath ("I didn't switch schools when I started acting and I kept the same friends," he told Fox News) his professional future was set, Renna following up Sandlot with similar sports content—1995's soccer flick The Big Green—and other fare, including spots on Home Improvement, ER and The X-Files and, more recently, 2015's Bad Roomies.
Though his resume is stacked with some 50 credits, he never quite eclipsed the notoriety of his first role. And, to be honest, he's completely fine with it. Really. Asked if he ever gets tired of fans uttering his signature line, "You're killing me, Smalls!" he insists to E! News he truly doesn't. 
"Every time someone comes up, it's just yet another time where you realize the impact it's had on people," he explains. Plus it leads to fun moments like that summer day in New York City when he and Guiry spotted someone wearing a shirt bearing his likeness. 
"I think Tom and I kinda creeped him out for a second because I just called out to him, 'Hey, bud, nice shirt.' And then we got closer and then we sort of switched sides and started walking backwards away from each other and he just had no idea," Renna recalls. "And then when we started taking the photo, I think he started to realize."
It's that kind of love from fans that inspired his YouTube channel, chock full of nostalgic content, including his series "Secrets of The Sandlot", featuring interviews with Leopardi, Obedzinski and DiMattia and Guiry who, to be clear, kills him in only the best of ways. 
"He's a really special guy," he gushes of the New Jersey-bred actor. "He's got a brilliant mind and I didn't realize that until I hung out with him more recently." He remains grateful for the Today reunion bringing him back with his teenage besties. 
"I hadn't seen him or a lot of the guys for 25 years," he explains. "So, since then we do some appearances together and things like that. And we've got a group chat going and we get to see each other once in a while. And we fell right back into that old friendship we had."
Not all of them are still acting. Mike Vitar (i.e. "Benny the Jet" Rodriguez, the only member of the game with true MLB aspiration) is a firefighter; Gelt is a music manager and Obedzinski owns a Florida pizzeria, but Renna is among the half still playing the Hollywood game. 
A typical industry multi-hyphenate, he's got producing, directing and writing credits to his name. "It's my triple threat because I can't sing or dance!" he jokes. And he's still booking acting gigs, including a two-episode stint on the second season of Netflix's Glow that saw him fielding accolades from the Sandlot-loving cast. "When you guest star on shows, it's a little nerve-wracking because you don't know if the stars are going to be welcoming or if they're going to be a little standoffish. I've had both experiences over the years," he recalls. Fortunately, this was more of the former: "They all freaked out seeing me and loving Sandlot and we just had a big love-fest. It was pretty great."
Acting remains his first love. And though he has his hands a bit full now, wife Jasmin having just given birth to their second son, Liam on June 6 (at 3-years-old, big sib Flynn is "so sweet with his brother," says Renna), he has a whole game plan for what to tackle next. 
"I have a fun idea for something I want to team up with Major League Baseball on and do," he shares. "And then I have a web series idea that I want to film and put out on the channel, which I think will be fun, too. It has some baseball ties and some sports ties." For as much as he enjoys delving into his origin story, he says he's itching to add "some original content that's fictional, where I'm playing a character" to his channel. 
Though, he knows that to a lot of '80s and '90s kids, he'll always be Ham. (And, thankfully, the planned Disney+ reboot is still very much in the works.) 
"I understand the passion," he says, sharing why he takes joy out of every on-the-street encounter. "You know, the one thing it shows me is 99.9 percent of people on this planet are good people. And I think, especially in this day and age, it's something to remember, that most people are good and it really shows when you meet them. Politics goes out the window, whatever stance you have on anything goes out the window. It's just you and someone that loved something you did chatting and saying hello. And it's pretty great."
That's a legacy that will truly never die.