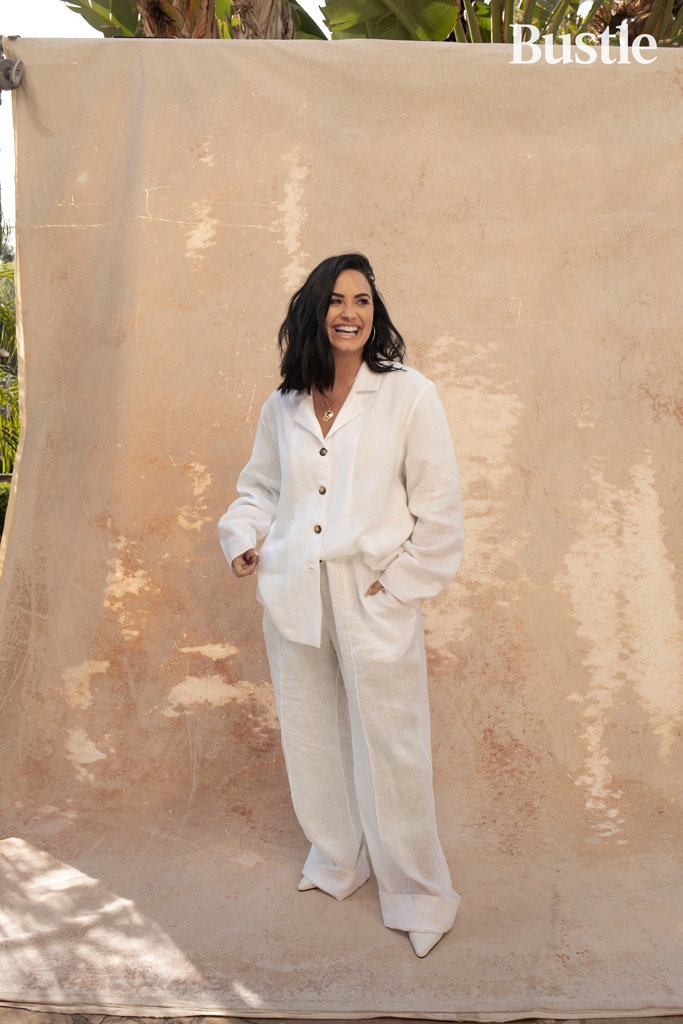 Angelo Kritikos for Bustle
It's okay to give your heart a break in quarantine.
While fans know by now that Demi Lovato has been spending more time with boyfriend Max Enrich, the music superstar has partially been using the Coroanvirus pandemic to also focus on herself.
In a new profile with Bustle, Demi sat down with the publication to discuss how far she's come from her teenage years in the spotlight.
At the same time, she also gave fans a glimpse into her positive mindset today. After all, what's wrong with being confident?
"I used to have people watching me the night before a photo shoot to make sure that I didn't binge or eat and be swollen the next day. It's just a totally different world now," she shared with Bustle. "I don't prepare for photo shoots, even. I can eat Subway for breakfast."
We compiled some of Demi's most personal confessions in her latest interview. Take a look at what she had to say below.
It's Okay to Cry: Before the Coronavirus forced many Americans to spend more time at home, Demi admits she wasn't one to tear up. Things, however, have changed in recent months. "Before quarantine, it was very difficult for me to cry. I had programmed the thought into my head when I was 16 that I'm only going to cry if people pay me to," she shared. "I started doing all this work, allowing myself to feel the pains of all the losses that I've had or the adversities or traumas that I've faced. I think my ability to be vulnerable and be more intimate with people has really heightened."
Angelo Kritikos for Bustle
Steps Toward Forgiveness: Lovatics may know that Demi was estranged from her birth father who ultimately passed away shortly after Father's Day in 2013.  But according to Bustle, Demi decided to write a letter to her late father earlier this summer. "I am who I am because of you. And I'm grateful for that," she wrote. "Because of your absence, I am an independent woman now. Because you were a pathological liar, I am honest to a fault." 
Her Inner Circle: In recent months, Demi has tried to keep her circle tighter with a few close friends, family and manager Scooter Braun. "The people that are there with me every single day, I have to feel very connected with them and that I can trust them," the "Cool for the Summer" singer explained. "That I can be totally vulnerable, transparent and honest. And if I'm having a panic attack in the middle of a photo shoot or something that I can sit in the dressing room with whomever is there, and they can help me with it."
Working on Herself: In her latest interview, Demi admitted to working with spiritual advisers including one who warned her a pause was coming in her career. The pandemic soon followed allowing Demi to grow even more. "It's very common for people to only really work on themselves when crisis happens or when they notice that they're slipping into old patterns or behaviors. So to be able to walk into this experience without a personal crisis and just be like, I can do the work on myself now because I have the time…It was a beautiful thing," she explained. "I wasn't in rehab; I was outside in the world with Netflix. So when I was too tired of therapy, I'd put on Schitt's Creek. I was given this opportunity and I was like, I'm going to adapt. I'm going to shift to this. I'm going to learn from it."
Music Over Image: When looking ahead at her career, Demi hopes the industry will embrace who she is from the inside out. "I want a career that has nothing to do with my body. I want it to be about my music and my lyrics and my message. And I want a long-lasting career that I don't have to change myself for," she declared. "Music brought me so much joy when I was younger and I lost that joy throughout the hustle and bustle of the music industry. I got miserable. And I don't ever want it to be like that again. That's what I want."