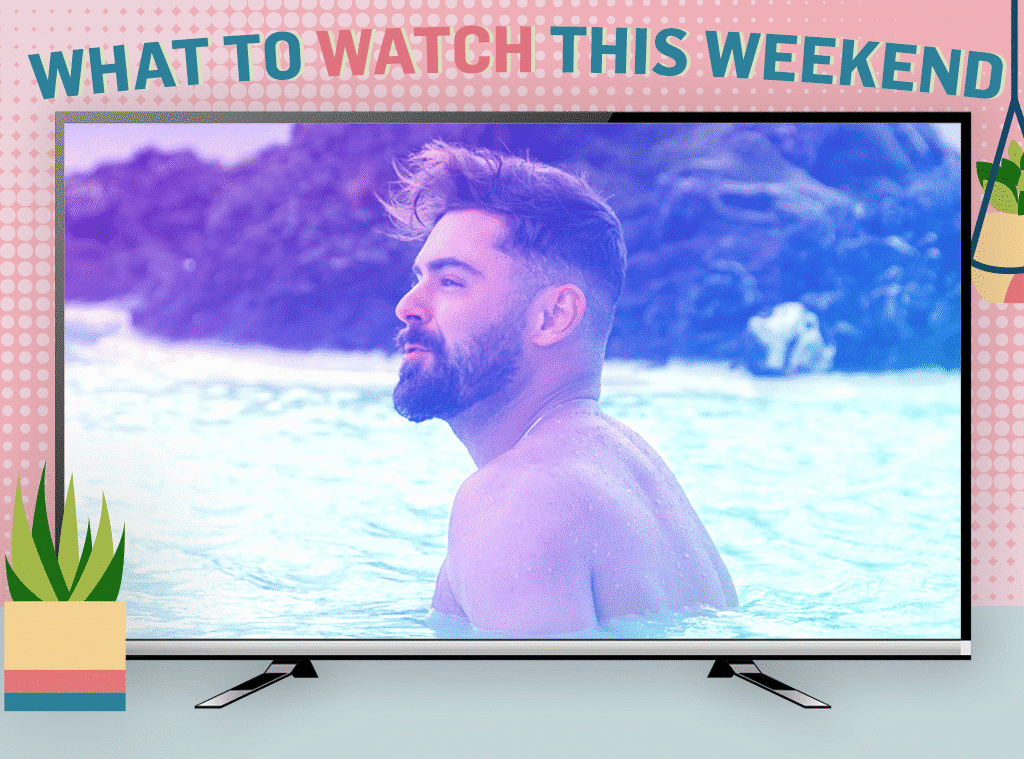 E! Illustration
TV fans, we're eating good this weekend.
While the summer, and July in particular, used to feel like the TV off-season, this Saturday and Sunday is jam-packed with major new releases, including a hot new comedy from Andy Samberg and an action flick starring Charlize Theron. And did we mention a new docu-series starring Zac Efron and another one centering on Amy Schumer are also being gifted to us? 
Aside from those three options, we're also recommending several other new binge picks for the weekend of July 11-12, including the best new reality competition series of the year, a new musical series featuring original songs from one of our favorite artists and a new Netflix drama everyone will be talking about very soon.
Plus, we hope you've been good this year so far as it's officially the holiday season over on Hallmark Channel...so break out the stretchy pants because, like we said, you are eating good this weekend...
If You've Been Missing Zac Efron More Than Your Family During Quarantine: Rejoice, Zac is ba-aaack baby, and he's traveling the world with a wellness expert, Darin Olien, to try new things, eat new things, explore new things, all hopefully without a shirt on! Yes, this is the show that caused the stat to be rushed to the hospital with a typhoid or other bacterial infection while filming in Australia, so the least we can do is watch every episode multiple times. (Where to Watch: Netflix)
Watch:
Zac Efron Reportedly Rushed to Hospital for Deadly Bacterial Infection
If You Are Kind of Relieved to Not Be Spending All of Your Money on Weddings This Summer: Listen, we love our friends but our bank accounts were breathing a sigh of relief over the lack of wedding events going down. Fortunately, we can get our fix in with Andy Samberg's fun new movie Palm Springs, with the Saturday Night Live vet and Cristin Milioti (aka How I Met Your Mother's mother) playing two strangers who end up stuck in a time-loop after meeting at a wedding in Palm Springs. It's like Groundhog's Day but with cake and awkward dancing. (Where to Watch: Hulu)
If You Can't Stop Voguing: The most entertaining ball of the summer has now closed, with the final two episodes of Legendary being released and the winning House getting to keep the Legendary trophy. While we're sad for the inaugural season of the reality competition series to end for many reasons, No. 1 is not getting to see judge and ballroom legend Leiomy Maldonado do her thing each week. Come on, vogue! Seriously, catch up now and thank us later. (Where to Watch: HBO Max)
If You Live and Breathe for Sara Bareilles' Music: The great news: Little Voice features original music created by the Grammy and Tony winner. Even greater news: The show, which follows Bess King, (Brittany O'Grady) a performer struggling to make her music dreams come true in New York, lives up to the hype. (Where to Watch: Apple TV+)
Crown Media United States, LLC
If You Are Already Counting Down Until December 25 and Have Listened to "All I Want for Christmas" in the Last Week: Merry July, everyone! Hallmark Channel's annual Christmas in July programming event kicks off tonight with Christmas at Dollywood, with the holiday-loving network airing their original Christmas movies for 17 days, concluding on Sunday, July 26. It's the (second) most wonderful time of the year! (Where to Watch: Hallmark Channel)
If You Are Looking for a Drama Inspired By a True Story: Co-created by Cate Blanchett (Yes, that Cate Blanchett), Stateless tells the story of four strangers—a woman on the run, a brave refugee, a driven bureaucrat and a struggling dad—who find their lives intertwined in an Australian immigration detention center. Starring Yvonne Strahovski (delivering a career-best performance inspired by Cornelia Rau, a real woman and permanent Australian resident who was unlawfully detained for a period of ten months in 2004 and 2005), Dominic West, and Blanchett, it's shaping up to be one of the buzziest, most riveting and most timely new dramas of the year. (Where to Watch: Netflix)
If Badass Charlize Theron is Your Favorite Charlize Theron: How fitting that the seemingly ageless Oscar winner is playing an immortal warrior in The Old Guard. Adapted from the 2017 graphic novel, Theron stars as Andromache the Scythian (aka Andy), the leader of a group of immortal mercenaries who fight to keep their team together when a new immortal emerges. If Beale Street Could Talk star Kiki Layne also plays an immortal and we're definitely ready for these two to lead a new guard when it comes to hit action franchises. (Where to Watch: Netflix)
If World-Class Athletes Are Your Version of the Avengers: Think you know everything about LeBron James, Tom Brady, Alex Morgan and other sports superstars? You'll likely learn something new about each of them and the rest of the athletes featured in The Greatness Code, with each episode dedicated to a different star and focusing on a pivotal moment in their lives and careers. Prepare to feel inspired. (Where to Watch: Apple TV+)
If You Want to Go Inside Amy Schumer's Mind Like Never Before: "There's women who would kill to be in my position and be pregnant, and it makes me feel selfish," the star tells the camera, "but you also need to have space to feel for yourself." And she's inviting viewers into that space with her as comedy and pregnancy complications go hand-in-hand in Expecting Amy. The new docuseries that follows the comedian as navigates touring, married life with husband Chris Fischer and her first pregnancy, with Schumer giving birth to son Gene Fischer in May 2019 after a "really scary" three-hour C-section. Hilarious and heartfelt, real and raw, it'll provide new and welcome insight into Schumer's life. (Where to Watch: HBO Max)