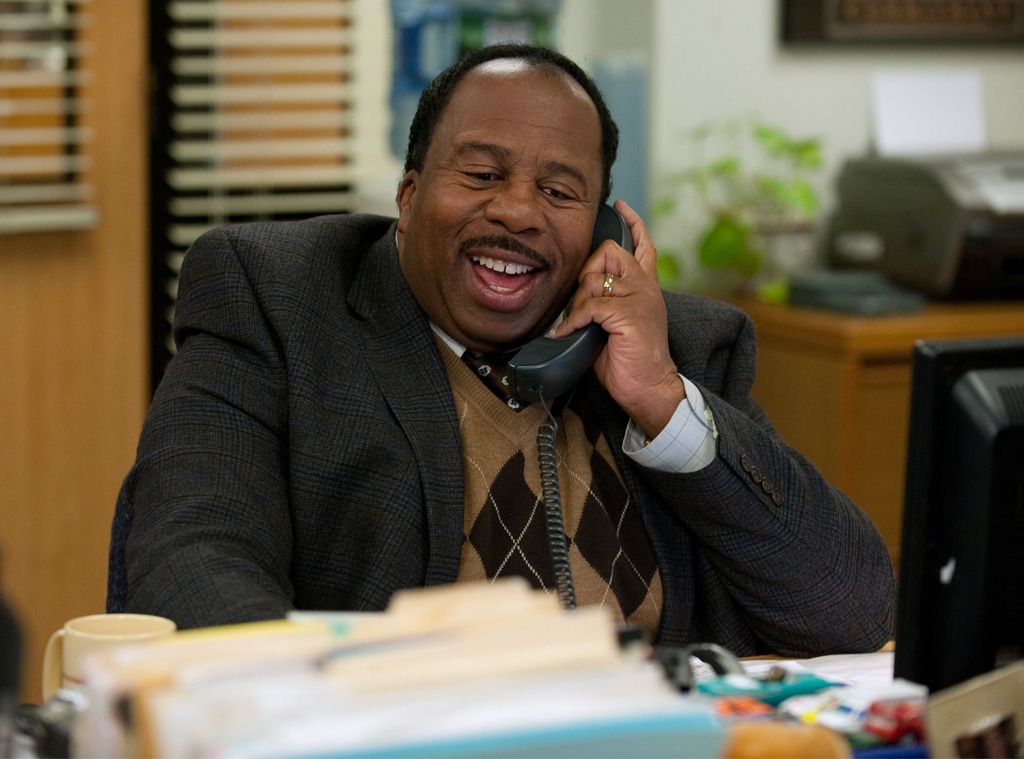 Colleen Hayes/NBCU Photo Bank/NBCUniversal via Getty Images via Getty Images
The Office star Leslie David Baker is on a mission to bring Stanley Hudson back to life on screen. Sort of.
Baker, who played the curmudgeonly Dunder Mifflin salesperson Stanley Hudson for all nine seasons of The Office, launched a Kickstarter campaign for Uncle Stan. He teased the project on Instagram with a video where he sure seems to be in character. At the end of The Office, Stanley retired to Florida, but returned for the premiere of the documentary and Dwight's wedding, as seen in the series finale in 2013.
In a post on Instagram, Baker announced Uncle Stan: Coming Out of Retirement.
"After several years of enjoying a relatively uneventful retirement lifestyle, Uncle Stan receives an urgent call for help from his favorite nephew, Lucky: a recent widower with two small children and a motorcycle repair/flower shop in Los Angeles. Soon Uncle Stan finds himself dishing out all the support and guidance he has to offer in his new California home," the announcement reads.
The Kickstarter to fund the potential series kicks off Thursday, July 2 at 12 p.m. PST.
Baker never outrightly says he is playing Stanley Hudson again, it's just implied.
Watch:
Will We Ever Get More of "The Office"?
Since its arrival on the streaming service, The Office has become one of the most popular shows on Netflix and in 2021 the nine-season series will make the jump to NBCUniversal's new streaming platform Peacock.
Chatter around a reboot or revival of the series has been constant, but never taken shape.
"I loved doing The Office more than anything. And if we were going to revisit it, I would want to do it. But I am doing these two shows now, so in the near term I'm definitely doing that. I think when all these rumors started flying around it was when they rebooted Will & Grace. I think people were assuming that an Office reboot would be pretty much like that, getting the entire cast back together and just continuing where we left off," series creator Greg Daniels told The Hollywood Reporter in April 2020.
"I went back to run the show in season nine after discussing it with the main cast and part of our idea was, we were going to wrap it up. We were going to write towards a finale and have an ending, so a lot of the characters left the office. We went forward by a year, we found out where everybody was. There was something that felt like we actually wrapped up the storylines, we didn't leave it hanging. I felt like we're probably not going to get every single character back, they're all doing all this cool things," he continued.
Daniels said he was hesitant to bring the show back in a way that didn't look like the show viewers have continued watching in reruns and on streaming.
"I don't think people's expectations of getting back in the saddle and doing more episodes of the same show was going to be realistic. But, I don't know. People seem so into the show still. At some point, maybe, it's unfair to be a priss and not give them what they want. I don't know," Daniels said.
(E! and Peacock are both part of the NBCUniversal family.)