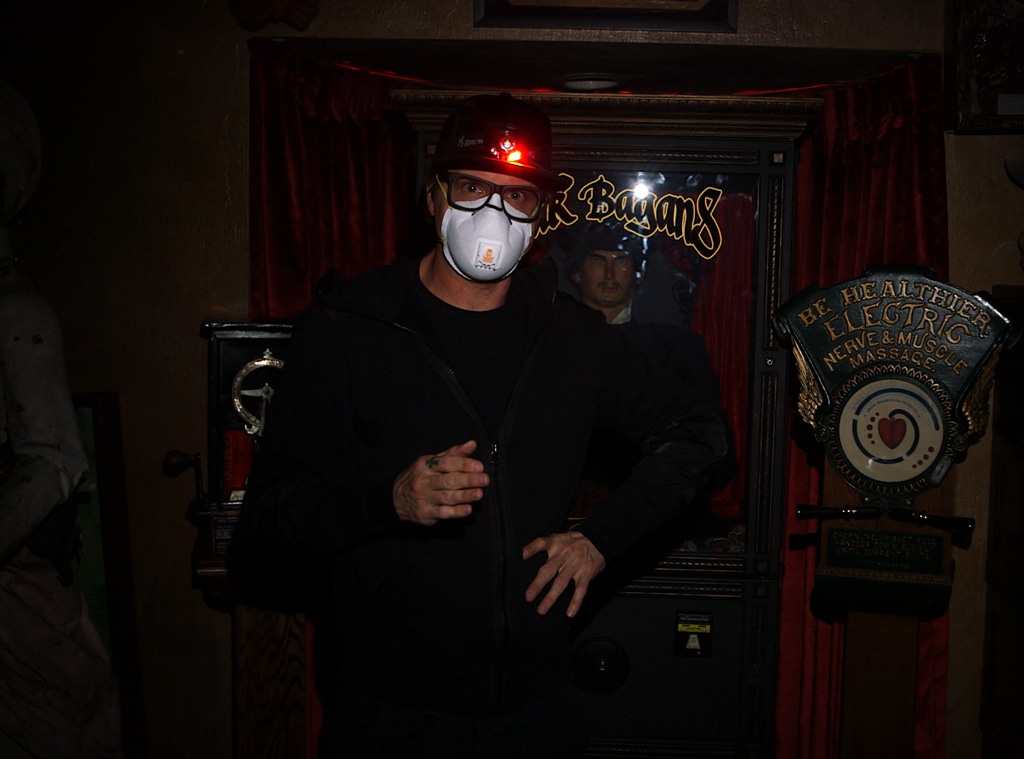 Travel Channel
Zak Bagans' work continues even in the middle of the coronavirus pandemic. He's back in the fourth installment of Travel Channel's Ghost Adventures: Quarantine and he's finally opened the infamous Dybbuk Box.
Bagans and a small crew quarantined themselves at his haunted museum for the investigation with everything self-shot in Las Vegas after the museum closed to the public due to the pandemic.
Get a sneak peek of the new Ghost Adventures: Quarantine installment below.
Ahead of the big opening of the Dybbuk Box, thought of as one of the most haunted objects in the world, Bagans and Travel Channel assembled 10 things you didn't know about the object for E! News:
1. "The Dybbuk Box is a vintage wine cabinet that is said to house a malicious spirit known in Jewish mythology as a 'dybbuk.' A dybbuk is an evil possessing spirit believed to be the dislocated soul of a dead person."
2. "The Dybbuk Box is believed to be the world's most haunted object. It even inspired the 2012 horror film The Possession."
3. "Ghost Adventures star and paranormal investigator Zak Bagans acquired the box for his Las Vegas Haunted Museum; shortly after its arrival, mysterious protruding holes began to appear in the walls around the artifact as if something was trying to break out from within the exhibit. Since it has been on display, Bagans, the museum staff and visitors have experienced black shadows, fainting, feelings of sickness, anger, anxiety and more."
4. "There are actually ten Dybbuk boxes in the world. Each one aligns with the Tree of Life concept from Kabbalah, the basis for Jewish mysticism."
5. "Zak Bagans owns two of the ten boxes, having recently acquired a second smaller one."
6. "The previous owner of the main and most famous Dybbuk Box purchased it from the estate of a deceased woman who survived the Nazi concentration camps."
Watch:
Post Malone Involved in Car Crash After Plane Emergency
7. "It is said that all the evil from the 20th century – WWII, the Korean War, Khmer Rouge and more—are contained inside the ten Dybbuk boxes, and that by opening the box it will summon all of this evil."
8. "Previous Dybbuk box owners have experienced horrific nightmares, strange smells, hives, welts and more."
9. "Eight of the 10 boxes are accounted for, with two currently inside Zak Bagan's Haunted Museum. The whereabouts of the two remaining boxes remain unknown."
10. "After being with Zak Bagans when he touched the Dybbuk Box for the first time, musician Post Malone believes he was cursed following a series of unfortunate events including his plane's tires blowing out, his Rolls-Royce was in a car accident and his former house being robbed."
Ghost Adventures: Quarantine airs Thursday, July 2 at 9 p.m. on Travel Channel.