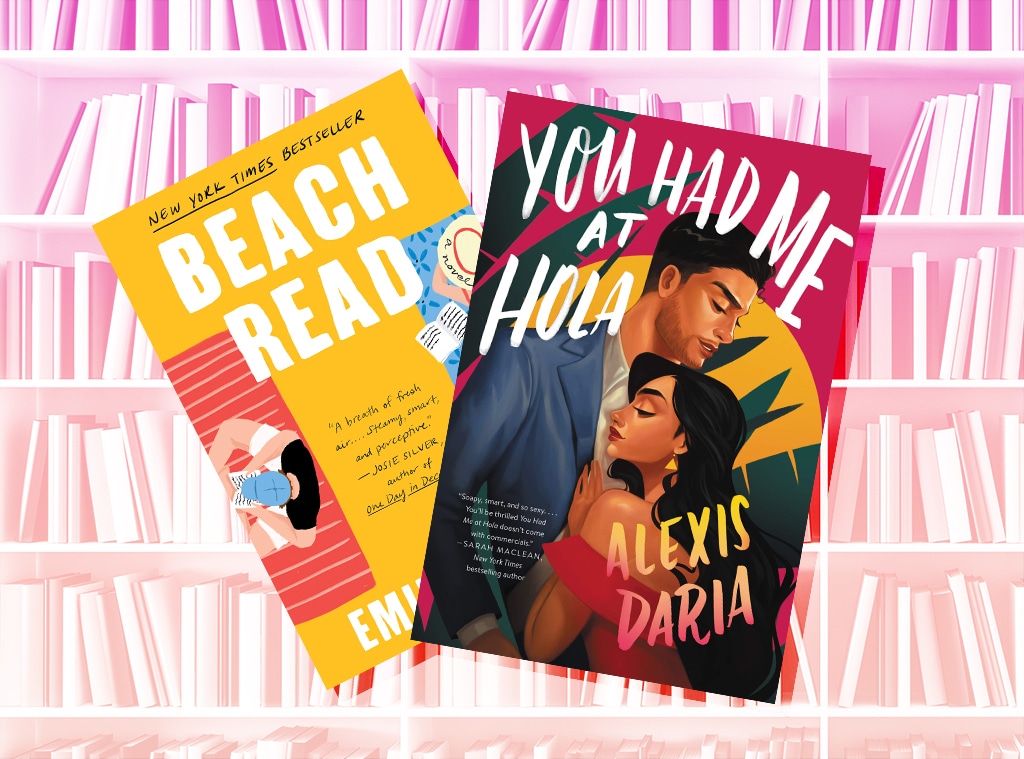 We love these products, and we hope you do too. E! has affiliate relationships, so we may get a small share of the revenue from your purchases. Items are sold by the retailer, not E!.
Summertime and the reading is easy.
There's just something about sitting by the water with a book in hand that feels magical during the summer season, right? And this summer, 17 new releases are the perfect beach reads to add to your list. 
From Brit Bennett's latest bestseller that is already being turned into a TV series at HBO to Elin Hildenbrand's new summer love story to Jasmine Guillory's rom-com you'll fall head over heels for, here are the new books we're throwing in our beach bag to devour through the season. 
Whether you prefer print, Audible or Kindle, they're all available at prices where you can stock up on several—or try Kindle Unlimited. So grab a refreshing drink, put on your sunnies (and SPF, of course!) and get lost in one of our 2020 summer beach read recommendations...
Clap When You Land by Elizabeth Acevedo
Imagine learning you have a sibling you never knew about only after your father died in a plane crash, revealing his dual lives separated by an ocean. A gripping tale of grief, loss, family and secrets, the two sisters' lives come together through dual narratives in Avecedo's must-read YA novel. 
Big Summer by Jennifer Weiner
Released on May 5, Weiner's latest novel, which centers on ex-best friends who reunite when one asks the other to be her maid-of-honor at the society wedding of the summer after not speaking for six years, became an instant best-seller, with the author's legions of fans unable to resist its look at the complexity of female friendships and the facade of social media. 
Beach Read by Emily Henry
Fortunately, the title of Henry's sexy rom-com isn't sarcastic as it's maybe the ultimate beach read of summer 2020. The novel centers on the love-hate relationship of January Andrews, a bestselling romance novelist, and Augustus Everett, a bestselling and critically acclaimed author of literary fiction. When the college rivals reunite unexpectedly years later when they end up in neighboring beach houses, they make a bet: He has to write a happy ending while she has to write the next great American novel. Tension of the sexual nature and deliciously witty back-and-forth inevitable ensue. You know what they say about opposites...
The Vanishing Half by Brit Bennett
Instant bestseller + No. 1 book on Amazon + 7-figure deal with HBO after an intense bidding war between 17 bidders = the book to read this summer.
Her debut novel, The Mothers became one of the most successful books of 2016, and her latest, The Vanishing Half, is—dare we say?—even better. A multi-general family saga, the novel takes place over the course of 40 years, following twin sisters and their racial identities. After running away from home at 16, they unexpectedly reunite as adults only to find one another completely different: One sister now lives in the same southern town they once escaped from, while the other is passing as a white women and hiding her identity from her husband. But what happens when their daughters' lives intersect? 
The Last Flight by Julie Clark
Two desperate women. Two fateful flights. One last-minute decision to switch tickets. One plane goes down.
That's the thrilling premise of Clark's novel, which follows Claire taking on Eva's identity after the plane she was supposed to be on goes down and the news of her death reaches the husband she was escaping form. But will Eva's secrets and past prove to be even more haunting? 
The Guest List by Lucy Foley
The one thing you can expect from Foley's novels? That you'll probably never guess the twist...or should we say twists when it comes to her latest bestseller. The Guest List finds an entire wedding's guest list in danger and in a suspicious light when one person turns up dead at the exclusive nuptials held on a remote island off the coast of Ireland. Alternating point of views between the bride, the maid of honor, the wedding planner, the plus one, the best man and the groom, you'll never see the ending coming. RSVP at your own risk.
A Burning by Megha Majumdar
Majumdar burst onto the literary scene with her scorching debut novel set in India about three characters who unlikely find their lives intertwined after a terrorist attack inextricably weaves them together. The novel's title is fitting as the themes it tackles—class, warfare, justice and more—will consume and stay with you long after you finish it, likely in one sitting.
28 Summers by Elin Hildenbrand
One weekend can change everything.
The reigning queen of summer beach reads has bestowed another gem on her loyal readers, telling the tale of an epic love affair that played out in secret for 28 years. 
Mallory and Jake meet and immediately fall in lust over Labor Day Weekend in 1993, vowing to meet each Labor Day thereafter for a weekend filled with love inspired by the movie Same Time Next Year. But their plan has unexpected consequences 28 years later when Mallory's son, Link, receives receives deathbed instructions to call Jake, who is married to a woman aspiring to be the next president. 
The Girl From Widow Hills by Megan Miranda
Any fan of Miranda's previous bestsellers, including The Last House Guest and All the Missing Girls, knows to clear your schedule when you start one of her page-turners. Make sure to do the same with The Girl From Widow Hills, a psychological suspense about a woman who became a national headline at a young age when she was miraculously found after she went missing for days due to sleepwalking during a terrifying rainstorm.
After retreating from the spotlight and changing her name because of the media attention and weird fan encounters, Arden Maynor finds herself once again sleepwalking in the lead-up to the 20th anniversary of her rescue, only to wake up one evening with a dead body from her old life at her feet. Like we said: clear your schedule. 
Party of Two by Jasmine Guillory
Much like a crisp glass of rose on a summer evening, Guillory's bestselling romance novels go down smooth. In Party of Two, Olivia's plans to focus on starting her new law firm in L.A. are thrown off-course when she falls for a handsome and kind man, only to find out he is junior senator Max Powell, a rising political star. Will Olivia be handle the spotlight when they finally go public with their romance? Will secrets from her past resurface? Will you be able to resist this love story? 
Sex and Vanity by Kevin Kwan
As fans of the Crazy Rich Asians book series know, no one does decadence quite like Kwan. And the love triangle at the center of Sex and Vanity is just as delectable: Lucie Churchill finds herself torn between her WASPY fiancé that her family adores and the man she is attempting to avoid falling in love with after a brief but passionate kiss years earlier. 
Set in sumptuous summer locations like Capri and the Hamptons and filled with delicious food, family complications and love and lust, Sex and Vanity may just be the sexiest book of the season. 
One to Watch by Kate Stayman-London
Excited for the first Black Bachelor? Now prepare for the first plus-size lead. Well, at least that's the premise of this charming debut from Stayman-London, centering on fashion influencer Bea Schumacher as she unexpectedly becomes the leading lady of Main Squeeze, a very Bachelorette-esque reality dating show, after her criticism of the series' lack of body and racial diversity goes viral. Timely, refreshing and delightful, you'll be rooting for Bea throughout her journey of self-love, drama and romance. (July 7)
Gatecrasher: How I Helped the Rich Become Famous and Ruin the World by Ben Widdicombe
New York society columnist Ben Widdicombe has written for Page Six, TMZ and The New York Times, going behind the velvet rope at nearly every gossip-worthy venue, from the Oscars and the Hamptons to the Met Gala and Mar-a-Lago. Now he's sharing secrets for how to crash the parties, climb the ladder, avoid the paparazzi or make small talk with the stars.
If you love celebrity dish, and we're guessing you do, you'll probably devour this book in one sitting. (July 7)
You Had Me at Hola by Alexis Dara
What happens when a telenovela leading lady swears off of men after finding herself splashed across the tabloids when her latest breakup turned messy? She is paired with a hot and hard to resist new co-star when she is cast in a bilingual romantic comedy for the hottest streaming service, of course. Jasmine and Ashton are sure to be your favorite new literary couple, thanks to their sizzling chemistry and will-they-or-won't-they tension in this swoonworthy rom-com we're totally expecting Netflix to bring to our screens in the near future. (August 4)
Big Friendship: How We Keep Each Other Close by Aminatou Sow and Ann Friedman
Obsessed with the hit podcast Call Your Girlfriend? Then this intimate, frank and hilarious book chronicling the joy and messiness of friendship from its hosts is a must-read. You'll laugh, you'll cry and you'll relate as they share stories of health scares, family drama and, of course, friendship. Plus, Sow and Friedman also interview friends and experts about the complexity of the bond between best friends. Forget BFF necklaces, buy two books and give one to your BFF. (July 14)
All the Right Mistakes by Laura Jamison
Adult friendships are tricky, especially when you became close in college and have grown up together but apart. In Jamison's novel, five close friends are turning 40 still bonded by two decades worth of memories and shared experiences...until one of them writes a women's advice book detailing the key life "mistakes" made by the other four friends, writing not what she knows but who she knows. (August 4)
Sisters by Daisy Johnson
Siblings July and September are born just 10 months apart and have a deeply close bond before a case of bullying forces the sisters to relocate with their single mom, causing ripple effects in their lives. Johnson's exploration of sibling love and rivalry is powerful and tinged with a hint of menace, and you'll feel a slight pit in your stomach as July and September's fraught relationship slowly and horrifyingly continues to fracture in this new kind of love story. (August 25)
One by One by Ruth Ware
The modern-day Agatha Christie is back in action with her latest thriller One by One, which centers on a group of co-workers at a tech start-up getting snowed in at a luxurious, rustic ski chalet high in the French Alp. While that may sound charming, the elements—natural and human—aren't ideal, with the group dwindling one by one as the storm continues to rage both inside and outside of the chalet. (September 8)
Looking for even more beach reads? Check out our list of previous summer releases that are a perfect pairing with your beach bag and towel for a summer selfie. 
If you'd like deals delivered directly to your in-box, sign up for the Shop With E! Newsletter!
—Originally published July 1, 2020, at 12 p.m. PT