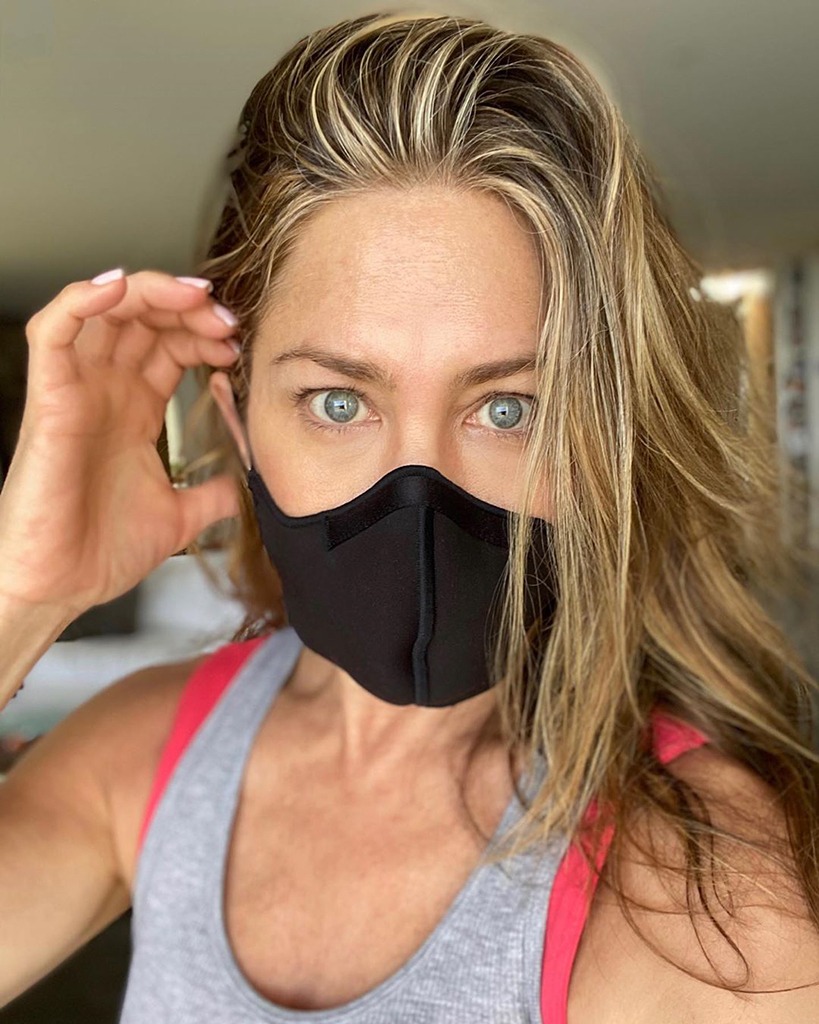 Instagram
Jennifer Aniston has an important message to share.
The Friends alum is using her massive platform on Instagram to talk about the importance of wearing a mask amid the ongoing Coronavirus pandemic.
"I understand masks are inconvenient and uncomfortable. But don't you feel that it's worse that businesses are shutting down... jobs are being lost... health care workers are hitting absolute exhaustion. And so many lives have been taken by this virus because we aren't doing enough," Jennifer captioned her post, alongside a selfie of her showing off her black mask.
"I really do believe in the basic goodness of people so I know we can all do this," she continued. "BUT still, there are many people in our country refusing to take the necessary steps to flatten the curve, and keep each other safe."
The actress pointed out that wearing a mask shouldn't be seen as a political act or something that's up for debate.
"People seem worried about their 'rights being taken away' by being asked to wear a mask," she said. "This simple and effective recommendation is being politicized at the expense of people's lives. And it really shouldn't be a debate."
⠀
Closing her message, she asked her 34.4 million Instagram followers to lead by example and embolden others to wear a mask.
Watch:
Teachers Share Uplifting Messages to Students Amid Coronavirus
"If you care about human life, please... just #wearadamnmask and encourage those around you to do the same," she concluded.
The Morning Show star also shared the same sentiments on her Instagram Stories. "Wear a mask and be responsible. Just because things are opening doesn't mean it's safe," she captioned her post.
According to CDC website, they recommend "that people wear cloth face coverings in public settings and when around people who don't live in your household, especially when other social distancing measures are difficult to maintain."
"Cloth face coverings are most likely to reduce the spread of COVID-19 when they are widely used by people in public settings," reads a statement on the CDC website. "Cloth face coverings may help prevent people who have COVID-19 from spreading the virus to others."
This isn't the first time Jennifer has discussed the pandemic, and has used her platform to help others during this time.
Back in April, Jennifer and Jimmy Kimmel surprised a nurse from St. George, Utah during a virtual Jimmy Kimmel Live! episode. The nurse, Kimball Fairbanks, found out she tested positive for COVID-19. After hearing her story, the Friends alum shared a few kinds words.
"I just have to say God bless you and all of you that are out there doing what you're doing," the actress said in the video. "I don't even know how to express my gratitude to everything you guys are doing and putting your health at risk and all of that. You're just phenomenal."
In addition to her message, Jennifer told the nurse she would receive $10,000 from Postmates. Kimmel noted that all of the nurses on Kimball's floor would get gift cards as well.
Jennifer isn't the only celebrity to speak out and give back amid the COVID-19 outbreak. To see a list of stars who've helped during this time, click here.