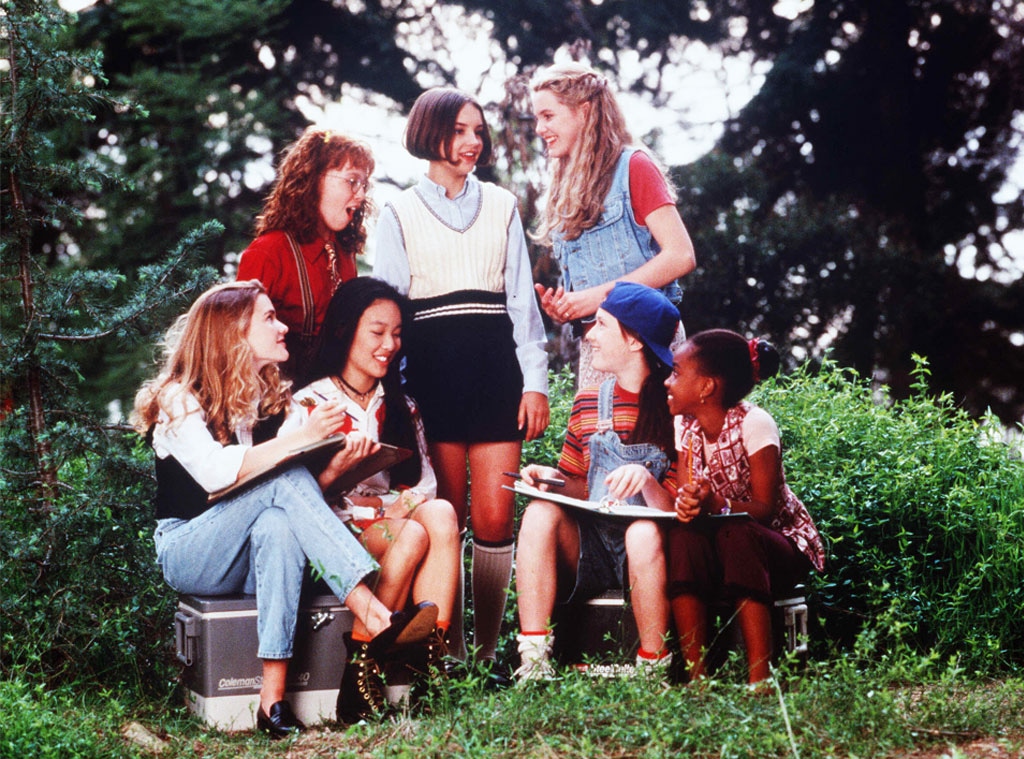 Sam Emerson/Columbia/Kobal/Shutterstock
"Good afternoon, Baby-Sitters Club."
Well before Netflix's current release and even the 1995 flick staring the decade's most ubiquitous young actresses, Rachael Leigh Cook and Larisa Oleynik, there was Ann M. Martin's anthology. A key part of most '80s and '90s kids' adolescences, the 131-book collection, debuting in 1986, told the tales of a group of resourceful middle school-aged entrepreneurs from the fictional town of Stoneybrook, Connecticut and invokes such nostalgia that even the sight of those instantly recognizable block letters can leave us feeling some type of way.
That's because long before we were adults proclaiming ourselves to be Carries and Charlottes or even teens choosing our Hogwarts house, we were debating which of our friends was the Kristy, the tomboyish, tell-it-like-it-is leader, the Mary-Anne, the quiet, but loyal friend, the Claudia, the artsy dreamer, and the Stacey, the impossibly sophisticated native New Yorker. (California girl Dawn, aspiring professional ballerina Jessi and bookish, practical Mallory came into play later.) And, together, we were dreaming that we, too, could take the neighborhood babysitting market by storm. 
For many millennial teens, the collection provided more than just a lucrative business idea and outfit inspo from OG influencer Claudia Kishi, the only girl we knew cool enough to pull off a hot pink tunic over an umbrella-printed shirt with a pink-and-yellow belt or "short, very baggy lavender plaid overalls, a white lacy blouse, a black fedora". It connected us to other girls dealing with first crushes, divorced parents, rifts with friends and ailing grandparents, helping us feel a little less vulnerable during a time filled with puberty, braces and insecurities a'plenty. 
Watch:
"Nancy Drew" Revival Will Honor Original Books
"In everybody's mind, my publisher included, we thought it would be a nice series. They had asked for four-book mini-series, with one book each about Mary Anne, Stacey, Kristy, and Claudia," Martin told Elle in 2014 of the original aspirations. "They did nicely, and I think after the fourth, Scholastic signed up two more, then two more, and I think either the sixth or eighth book turned up on the B. Dalton best-seller list, which doesn't even exist anymore. Everything snowballed, and they were signing up 12 books at a time."
By the time the 14-year original BSC era ended, there were several spinoffs (including Baby-Sitters Little Sister, an entree into the franchise for many a younger reader) leading to 176 million copies sold. The success meant Martin had to team up with some ghostwriters. "I obviously couldn't write them all," Martin told Bustle in 2016. "But I let go of them slowly. I was reluctant to let go."
Same, girl. Even now, decades removed from our childhood bedrooms stacked high with those pastel-hued beauties, we can still recall how much we wanted to dress like Claudia or have multiple ear piercings like Dawn, or simply have the best time with our closest friends. 
So as you enjoy the Netflix-provided serving of nostalgia, reflect back on how the story began for Kristy Thomas, Mary Anne Spier, Claudia Kishi and Stacey McGill.