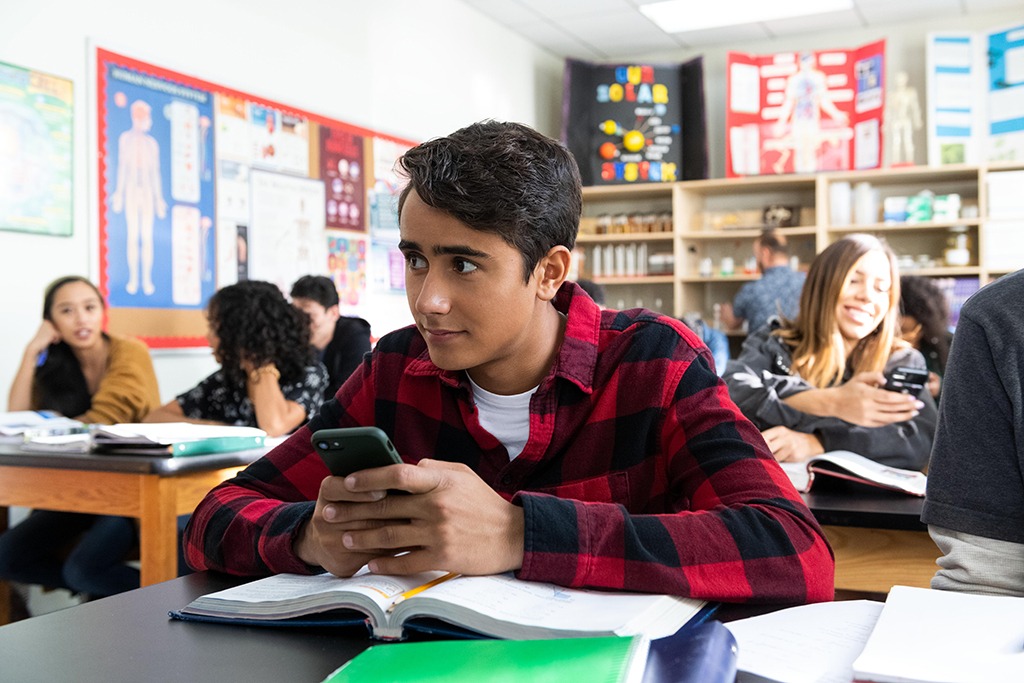 Hulu
Love, Victor made some Hulu 2020 history.
The sequel series to the flick Love, Simon, the show follows Victor (Michael Cimino) a high schooler struggling with his sexual orientation who reaches out to Simon (Nick Robinson) for guidance. Throughout the show, Victor and Simon write back and forth to each other while Victor navigates his conflicting feelings and navigates his new life at Creekwood.
According to Hulu, Love, Victor was the No. 1 most-watched drama on the streaming platform (licensed and original series) during its premiere week between June 17-23. Note, Love, Victor episodes are 30 minutes long as opposed to normal hour-long dramas. Additionally, Love, Victor was the most-binged original drama series on Hulu in 2020 during its first week and the second most-binged original on Hulu placing behind Solar Opposites.
On social media, Love, Victor got more new fans than any other Hulu original series in its first week and earned the second highest volume of Twitter conversations of all original Hulu programming to date behind only Veronica Mars. Remember that big Veronica Mars twist? That's why there was all that conversation.
Ahead of the premiere, series co-creator Isaac Aptaker said he was excited for viewers to experience Love, Victor, especially those who haven't seen themselves represented on screen.
"We released a couple little clips and the trailer, and just seeing the response where kids would post reaction videos and seeing kids of color, Latinx kids—LGBTQ Latinx kids in particular—just watching this one minute, fun little clip and having such emotional responses and saying, 'Finally, there's a show I can see myself in, I feel represented. I've never had like a fun, glossy high school show where a kid looks like me and is going through what I'm going through,' and the notion that we're putting out a program that not only those kids watch, but that it's something that they can hopefully sit down and watch with their parents," Aptaker said. "And we'll start conversations and encourage dialogue around issues that are still to this day tricky to talk about just feels really necessary and overdue."
Watch:
Nick Robinson Opens Up About "Love, Simon" Role
Love, Simon featured the main character embraced by his family and friends almost immediately. With Love, Victor, Aptaker and Elizabeth Berger, writers of the movie and co-creators of the series, said they wanted to explore different types of coming out stories. They heard from viewers that wanted to see "different versions of this story because coming out can look so different for all different kinds of kids," Aptaker said.
"We wanted to make something that sort of was similar in tone and feeling and had that uplift and was sort of a world where ultimately things were to going to work out and be OK, but that tackled a story of a kid who had the odds stacked a bit more against him as he came to terms with his sexuality," he told us.
On the heels of the Love, Victor premiere, Hulu celebrated its first-ever virtual PrideFest on June 28 with performances by Tyler Glenn, Isaac Dunbar and Greyson Chance, all of whom are featured on the Love, Victor soundtrack. PrideFest included a number of additional Love, Victor spotlights including featurettes, clips and easter eggs that allowed users to customize their avatars with outfits inspired by Love, Victor and Love, Simon.
All episodes of Love, Victor season one are now streaming on Hulu.