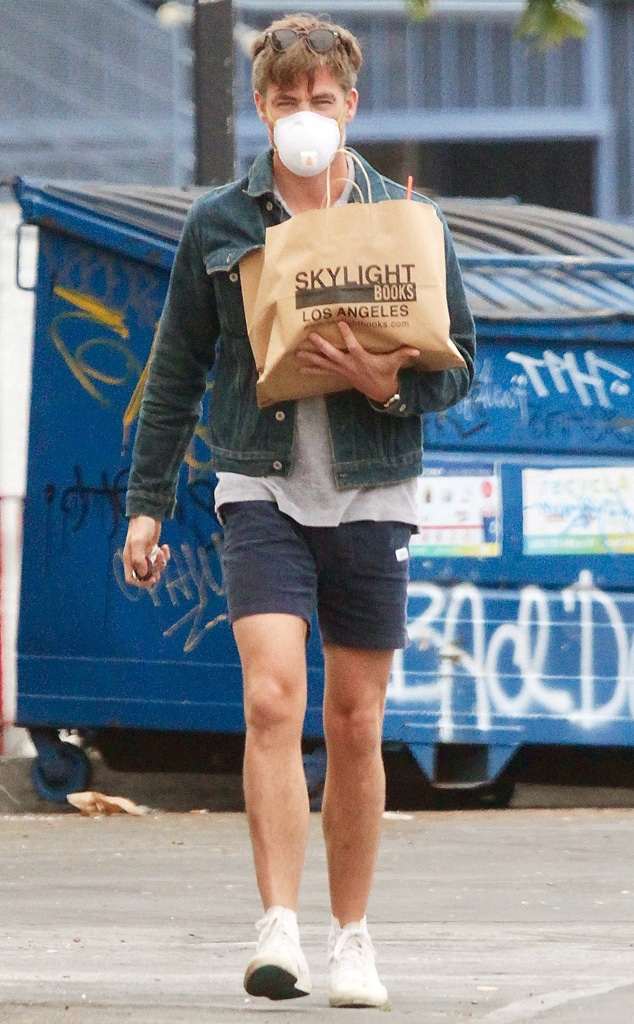 TheImageDirect.com
The Internet can't get enough of Chris Pine.
Over the weekend, the Wonder Woman: 1984 star became the Internet's favorite Chris after he was spotted out and about in Los Angeles. Pictures from Pine's outing show him carrying a brown paper shopping bag from Skylight Books, an L.A.-based independent bookstore, and donning a denim jacket, navy shorts and a grey tee, which he accessorized with a medical mask. He even had a sweet moment with paparazzi by pretending to click a camera in their direction.
Delighted to see Pine supporting a local business and being conscientious about wearing a mask amid the pandemic, fans were quick to celebrate to jump on the Team Pine bandwagon via Twitter.
"Chris Pine proving men who read and wear a mask are smokin' hot! Let's see some other #HotMenWearMasks," one fan wrote, followed by another who tweeted, "chris pine really pulled ahead and became the best chris, it happened so slowly I didn't even notice it was happening."
Reposting the snapshots for all to see, another fan wrote, "I don't know who needs to see it but here are some pictures of Chris Pine walking out of an indie bookstore with a GIANT bag of books while also wearing a mask." They added, "Chris Pine is (and has always been) the best Chris."
Watch:
"Just My Luck" Turns 15: E! News Rewind
For some, Pine's bookstore shopping spree made him surpass Chris Evans on the favorite Chris debate, which also includes Chris Pratt and Chris Hemsworth. Encouraging the Captain America star to join in, one fan tweeted, "@ChrisEvans you have 24 hours to respond with a picture of the stack of books that you've been reading during quarantine. Bonus points if they were purchased from an indie store!"
This isn't the first time that the Into To The Woods star has won over the Internet. During an outing with his girlfriend Annabelle Wallis, Pine had another playful encounter with the paparazzi and hid behind a trash can while pretending to hold an invisible camera.