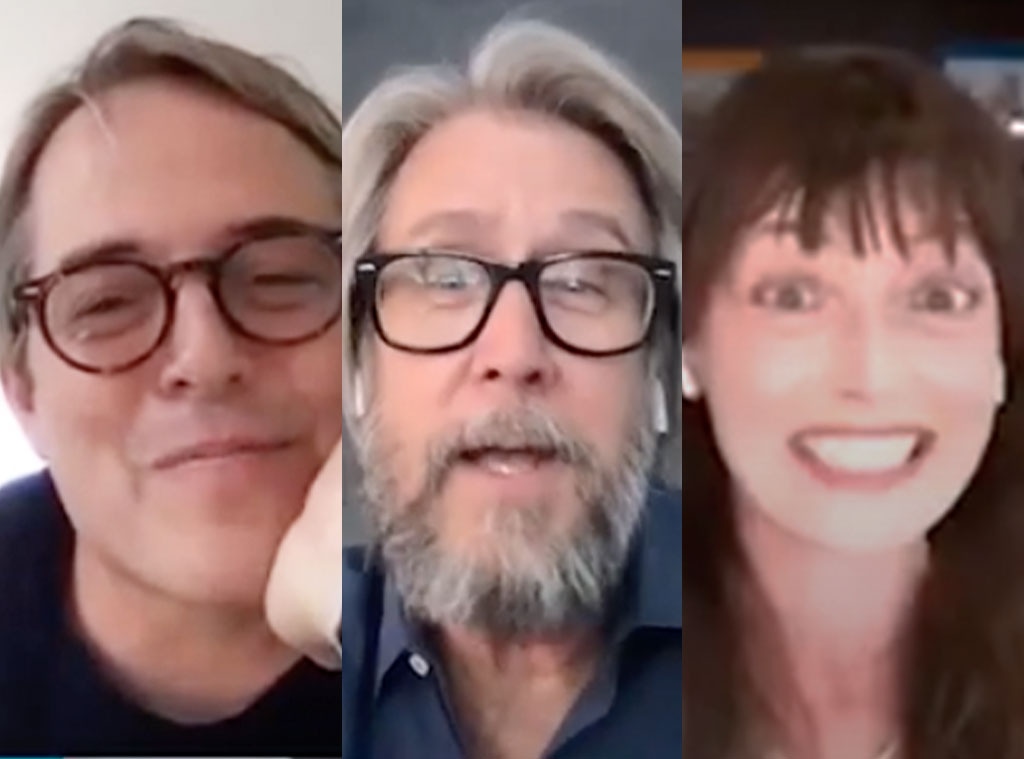 Josh Gad/YouTube
Talk about the ultimate throwback!
The cast of Ferris Bueller's Day Off virtually reunited for the finale of his YouTube Series "Reunited Apart." Sitting down with host Josh Gad for the nostalgic episode, Matthew Broderick, Alan Ruck, Mia Sara, Jennifer Grey, Cindy Pickett, Lyman Ward and Ben Stein reminisced about the 1986 classic, marking one of the first times the cast had been together in over a decade.
Kicking things off, Broderick recalled being offered the role of Ferris Bueller. 
"John Hughes, who wrote it and directed it, I got a call from my agent that said he wanted me to be in a movie," he told Gad. "I was in a play at the time and everybody said he's the Steven Spielberg of teen movies…And then I rented Breakfast Club and Sixteen Candles and loved them."
Then, the duo were joined by Ruck, who remembered an awkward day on set between the cast and Hughes.
"We did a wardrobe test in Chicago and we go into rehearsal the next morning and John's sitting in the corner smoking," he recalled. "And [producer] Michael Chinich says, 'I think we have a problem.' And John goes, 'Wardrobe test sucked!' Mia and I just start vibrating, you know, because we're like, 'We're gonna get fired. We're gonna get fired.'"
"And then Matthew walks in," Ruck continued, "He's like, 'Hi, how is everybody?' And then he goes, 'Apparently not well.' And then they lay this whole thing on Matthew and Matthew goes, 'Wow, I didn't do anyone was supposed to glow in a wardrobe test.' And it just like let the air out of this whole thing. So, I just think—Matthew came in and Matthew was like I'm a movie star and we're gonna be okay. And I think that's what John needed to hear."
Next up to join the reunion was Sara and the best friend trio reminisced over their scenes in the famous Ferrari, which unfortunately, ended up not being the actual car they filmed in.
Watch:
"Saved by the Bell" Cast Reunion: See Them Then & Now
"Well, there was a very nice Ferrari that we were only allowed to, like, step near—like, you weren't even supposed to breathe on it," Broderick began, followed by Ruck who added, "Just the insurance alone was so astronomical to have a real Ferrari that they ended up giving us these kid cars." Broderick chimed in, "Yeah, it was a Ford with a plastic Ferrari glued on top of it."
After reliving some of their favorite moments from Ferris Bueller's Day Off, the cast reenacted their most iconic scenes with one another and played movie trivia with a surprise guest. Watch them channel their alter egos in the epic video above!