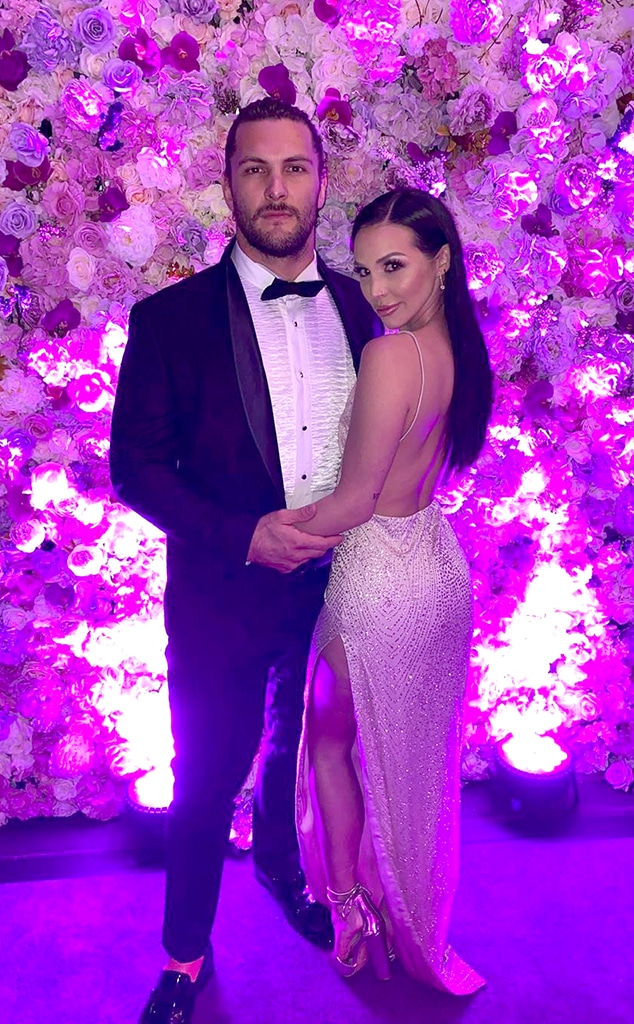 Instagram
Scheana Shay and Brock Davies have one unbreakable bond.
The couple is proving their relationship is stronger than ever, especially after the Vanderpump Rules star recently opened up about her miscarriage.
On Saturday, Brock took to Instagram to share a sweet message about his girlfriend.
"She has my back and I have Hers," the rugby player captioned his post, alongside an image of him and Scheana enjoying a romantic beach day.
In the heartwarming photo, the professional athlete can be seen carrying the reality TV personality, as the ocean waves hit them. Along with the swoon-worthy post, Brock also shared several Instagram Stories that showed him and Scheana eating at the Santa Monica restaurant, Élephante.
Brock's heartfelt Instagram message comes only one day after the Vanderpump Rules star shared her pregnancy story. On Friday's podcast episode of Scheananigans with Scheana Shay, she said she recently learned about her pregnancy. She would've been expecting her first child with her boyfriend.
Sadly, the Bravo star shared that her pregnancy resulted in a miscarriage.
"I have always been an open book and I've always told you everything going on in my life and so many of you have followed me on my fertility journey over the last year and a half and this is a part of it. It's just a sad part," Scheana said, holding back tears. "A few weeks ago, we found out that I was pregnant."
"I didn't think I could get pregnant on my own...," she continued. "My doctors said it would be close to impossible to get pregnant on my own."
Watch:
Scheana Marie Shay Is Open to Finding Love Again
Last season, Vanderpump Rules fans saw the reality TV star open up about freezing her eggs and her infertility struggles. That's why when she found out she was pregnant, she ended up taking five pregnancy tests to make sure the results were accurate.
Scheana explained that she began bleeding when she was "only five weeks," and decided to keep the baby news a "secret until it was safe to tell people." She said her doctor later performed an ultrasound, and told her there was no heartbeat and "nothing was progressing." 
"It's still been a lot to process because now I'm at home and I'm just waiting to naturally miscarry," Scheana said, while tearing up. "Although this one isn't working out and we don't know yet what's exactly going to happen, I know that I was able to get pregnant on my own and that is a miracle."
Despite her miscarriage, the Vanderpump Rules star isn't letting this discourage her from becoming a mom.
"I know that now I want this more than anything," she expressed. "The second that test said positive, I've never been more excited for something in my life. Now it's a waiting game."
(E! and Bravo are part of the NBCUniversal family)