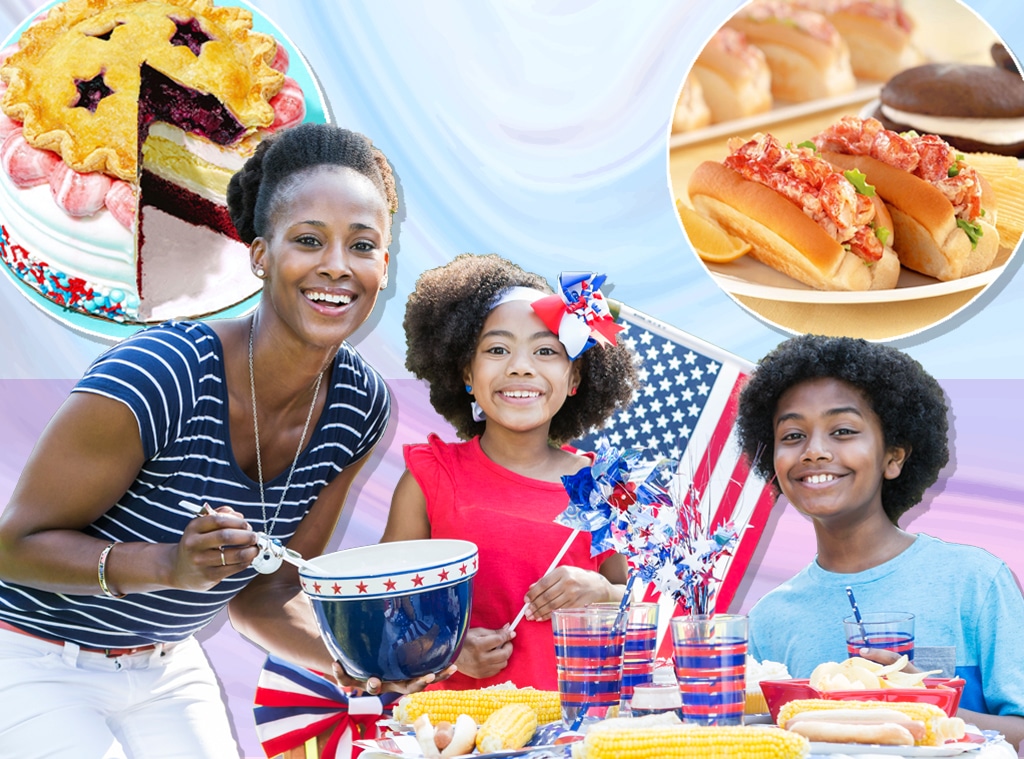 E! Illustration; Getty Images
We love these products, and we hope you do too. E! has affiliate relationships, so we may get a small share of the revenue from your purchases. Items are sold by the retailer, not E!.
Ah, iconic American eats. Who hasn't binged on a Food Network marathon and thought "Ooh, I wanna try that!"? Well, now you can, without planning a road trip, buying a plane ticket or even leaving the house, thanks to Goldbelly.
Goldbelly is a curated online marketplace for regional and artisanal foods crafted by local restaurants and food shops throughout the United States. They help small business grow by making their unique—and often iconic—eats available to foodies in all 50 states. Plus, most items are available with FREE SHIPPING.
And when better to sample their sweet and savory delights than Fourth of July weekend? Order some sides and desserts for your BBQ, or even better, have world-famous BBQ delivered too! Below are just some of the culinary creations we're currently craving...
Hancock Gourmet Lobster Co. Maine Lobster Rolls & Whoopie Pies - 6 Pack
As seen in Oprah Winfrey's O-List, Hancock Lobster Rolls are presented with a pound of fresh Maine lobster salad (a combination of Hancock's mouth-watering lobster and a touch of mayonnaise, salt and pepper) and six New England split-top rolls. The accompanying whoopie pies—rich chocolate cookie cakes filled with decadent vanilla cream—are handmade.
Primanti Bros Sandwich Pack (Choose Your Meat)
Featured on Man vs. Food and Adam Richman's Best Sandwich in America, the Primanti Bros. sandwich is stuffed to the brim with tangy coleslaw, crispy french fries, fresh cut deli meat and Provolone cheese—all smooshed between two gigantic slices of soft Italian bread. Having grown up in da 'Burgh, I can attest that the Primanti Bros. fries-in-the-sandwich method is indeed a Pittsburgh institution and a sammich revelation. Jon Stewart even recommended it to Barack Obama!
Carlo's Bakery Limited Edition Americana Cake
Chances are you know Carlo's Bakery from the hit TLC show Cake Boss. For the Fourth of July, they've created the dessert equivalent of fireworks with their gorgeous Americana Cake. Alternating red, white and blue cake layers are filled high with sweet vanilla buttercream icing and covered with celebratory sprinkles. In a word: Yum!
Joe's Kansas City BBQ Ribs, Brisket & Burnt Ends
Joe's Kansas City BBQ has not only stood out on a local level, but on a national platform as well. Featured on No Reservations With Anthony Bourdain and Man vs. Food, Joe's has also been named Top Roadside Eatery in the country by the Travel Channel and the Nation's Best BBQ by USA Today. So go whole hog (and cow) with this combo of Joe's famous ribs, legendary sliced brisket and authentic Kansas City burnt ends.
Loveless Cafe's Southern Mac & Cheese
Located in Nashville, Loveless Cafe has become a Southern landmark ever since the Loveless family opened its doors over half a century ago. Martha Stewart called Loveless' breakfast "The Best Breakfast I've Ever Had," so you can only imagine how mouth-watering their mac & cheese is. Dig in!
Junior's Cheesecake Best of Junior's Sampler
Junior's Cheesecake's orange-and-white boxes are as much of a New York icon as yellow taxi cabs, IMHO. The Brooklyn landmark has been featured on Food Network "too many times to count," Goldbelly notes, and for good reason: Junior's has baked cheesecakes from the same spot for over 65 years using the recipe founder Harry Rosen perfected in 1950. This delish sampler contains four of their award-winning New York Cheesecake flavors: Original New York Plain, Raspberry Swirl, Brownie Marble Swirl and Apple Crumb.
The Grey's Chicken Country Captain
We admit, we were ignorant about County Captain until we saw it on this season of Top Chef All-Stars, but this classic Savannah dish—slowly braised chicken thighs, bell peppers, onions, tomato and curried spices in a rich chicken broth—has been on the menu at The Grey since 2015. The Grey's chef Mashama Bailey was awarded "Best Chef – Southeast" by the James Beard Foundation. She was also featured on the Netflix's Chef's Table and was named as one of the "16 Black Chefs Changing Food in America" by the New York Times. Needless to say, you're gonna want to try her famous biscuits too.
Detroit Style Pizza Co. Choose Your Own Pizza 3 Pack
Oh, do we love Detroit pizza! Crunchy outside, light and airy inside, it's our Goldilocks pizza choice, if you will. Just right. And nobody does it like Detroit Style Pizza Co.'s Shawn Randazzo, who scored the title of World Champion Pizza Maker in 2012 at the International Pizza Expo (yes, that's a real thing), as well as winning Best Pizza. DSPC's pizza is hand-pressed into well-seasoned, square steel pans, then topped with their signature blend of mozzarella and brick cheeses before being baked in deck ovens. You can also request gluten-free crust. [Insert chef's kiss here!]
Nathan's Famous Hot Dog Meal Kit for 12
Every summer on the Fourth of July, the world's top competitive eaters flock to Coney Island to see who can down the most Nathan's Famous hot dogs in 10 minutes. Now, you could do the same at home this year, but we recommend savoring and sharing this pack with your safe-at-homies—especially those crispy crinkle-cut fries!
Tucson Tamale 16 Tamale Sampler
Featured on Alton Brown's Road Show and in Rachael Ray Magazine, Tucson Tamale has been a family-run operation since 2008. They use only organic, non-GMO corn and hormone- and antibiotic-free pork and chicken in their handmade tamales, along with with local ingredients like Hatch green chiles. This sampler includes vegetarian tamales and they offer vegan samplers as well. Delicioso.
Veselka Choose Your Own Pierogi - 2 Dozen
Veselka has been an institution in NYC's East Village since opening in 1954. Founded by Ukrainian refugees Wolodymyr and Olha Darmochwal, this 24-hour Ukranian diner is still family-owned and run today. Their pierogi have been included in Eater's New York City's 30 Most Iconic Dishes and Thrillist's Most Important Food Dishes in NYC History. (And if you're ever in the area, they make a mean chocolate milkshake.)
PieCaken Bakeshop Fourth of July PieCaken
Featured in Oprah's O-List and on Live With Kelly & Michael, Chef Zac Young's PieCaken is a sight to behold—and devour. This season, he's giving a tour of the United Cakes of America with a brand-new dessert mashup: the Fourth of July PieCaken. Wild Maine Blueberry Pie, New York Cheesecake and a Southern Red Velvet Cake are layered together with a light lemon frosting. All the flavors of summer in one bite!