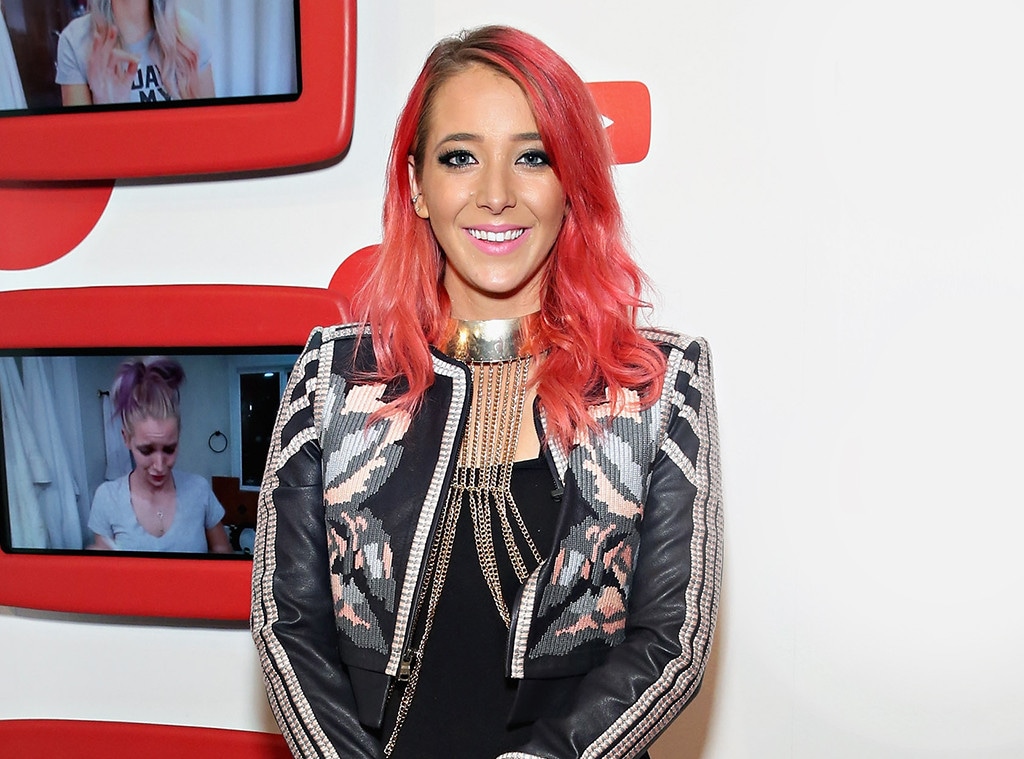 Cindy Ord/Getty Images
Jenna Marbles is leaving YouTube, 10 years after starting her popular channel. 
The famous personality posted a brief video titled "A Message" to her channel, which has over 20 million subscribers, on Thursday. In the video, she explained that some of her viewers requested for her to address past controversies and apologize for her actions.
"I'm happy to do that because what I want from the people that I support and that I like is to have accountability and to know that I am supporting someone whose morals and values align with my own," the 33-year-old explained. "Yeah there [are] things in my past I'm not proud of and I'm getting a lot of tweets from people saying, 'Why have you privated all these old videos and I have spent a lot of the last few days privating almost all of my old content."
She added, "I'm sorry if any of that holds any nostalgia for you but I'm literally not trying to put out negative things into the world."
Marbles said that those videos are proof of how she has "grown up" in the past 10 years, which she is "proud" of.
However, she said now people see those clips and are "offended" by the actions of the person she used to be. Marbles stated, "If that's the case where people will watch something and be offended now, I don't want it to exist. So I probably deleted a lot of my old content because I just don't want anyone to feel upset about anything. I don't want to contribute to that."
She then addressed numerous incidents that viewers took offense to.
One was a video from 2011 in which she impersonated Nicki Minaj. Marbles described the video as "incredibly crazy and embarrassing" and said that it has been "private for quite some time," but she still wanted to show an image of herself in what some called "blackface." 
"I do just want to tell you that it was not my intention to do blackface," she said of the image. "I don't know how else to say this but it doesn't matter because all that matters is that people were offended and it hurt them. For that I am so unbelievably sorry. This isn't okay and it hasn't existed on the Internet for a long time because it's not okay." 
The next incident she addressed was the video "Bounce that D--k" from 2011. She played a brief clip of the music video where she raps, "Hey ching chong ling wong shake your King Kong ding dong. That was racist. I'm bad at rap songs."
Horacio Villalobos - Corbis/Getty Images
Marbles reiterated that she finds this video "awful" and "inexcusable." She stated, "I'm incredibly sorry if this offended you then, now, whenever. It doesn't need to exist. It shouldn't have existed. I shouldn't have said that ever. It's not cool, it's not cute, it's not okay and I'm embarrassed that I ever made that. Period."
The 33-year-old prefaced her next video by sharing that she made it during "one of the hardest years" of her life. "[The video] came across unbelievably slut-shaming and I'm sorry... I ranted about girls that ran around and slept around and that's wrong. I had a lot of internalized misogyny I feel like at that time in my life and I'm sorry if I ever offended you with the things that I said. That video's been private for a long time—it does not reflect my attitude towards anyone in their bodies—that's really been eating me up inside for a long time and I just wanted to tell you that I'm sorry if I ever made you feel bad about yourself or your choices or anything."
The content creator admitted that "no one" was demanding an apology for that video, but she joked that she felt like she might as well "put it on my tab."
She also apologized for the type of content she used to make in years prior. Marbles described popular videos where she would make jokes about how the different genders act, but now she doesn't "think that making jokes about your gender is funny."
Marbles stated, "I know that there's a lot of people that struggle with their identity and that have varying fluid identities or anything and I just don't want content in the world that's like I don't know. It just doesn't make sense... it can be hurtful; can be harmful and I don't want it there."
She then acknowledged that she's had friendships or followed people who have been called "racist" or done "terrible things," but said she had no intention of hurting feelings by associating with those individuals. "I'm just a person trying to navigate the world the same way that you are so I don't always know what's right, what's wrong, what he truth is. I'm just trying my best," Marbles said through tears. 
Watch:
YouTuber Quarantine Routines: Jeffree Star, Try Guys & More
She continued, "As someone clearly with their own past that they're not proud of, I do just try to see people for who they are right now, today and that they're not defined by their pasts. And I understand. I'm trying to do the same thing that you are and support and be friends of people that I'm proud of and that I love and I just know that I'm doing my best."
Marbles explained that she never wanted to "offend anyone" and she has always created videos "for a good time," but after hearing about how she hurt people she doesn't think she can "exist on this channel."
"I think I'm just going to move on from this channel for now. I don't know if that's forever. I don't know how long it's going to be. I want to make sure that the things that I put into the world are not hurting anyone. And yeah, I'm just going to stop for now," she shared.
On social media, thousands are expressing their mixed reactions to Jenna's announcement. One tweet, which has over 5,000 likes, read, "I hope Jenna Marbles will still find joy in making podcasts and cooking vids with Julian. I know leaving for now is the best decision for her mental health but im not ready to let go."