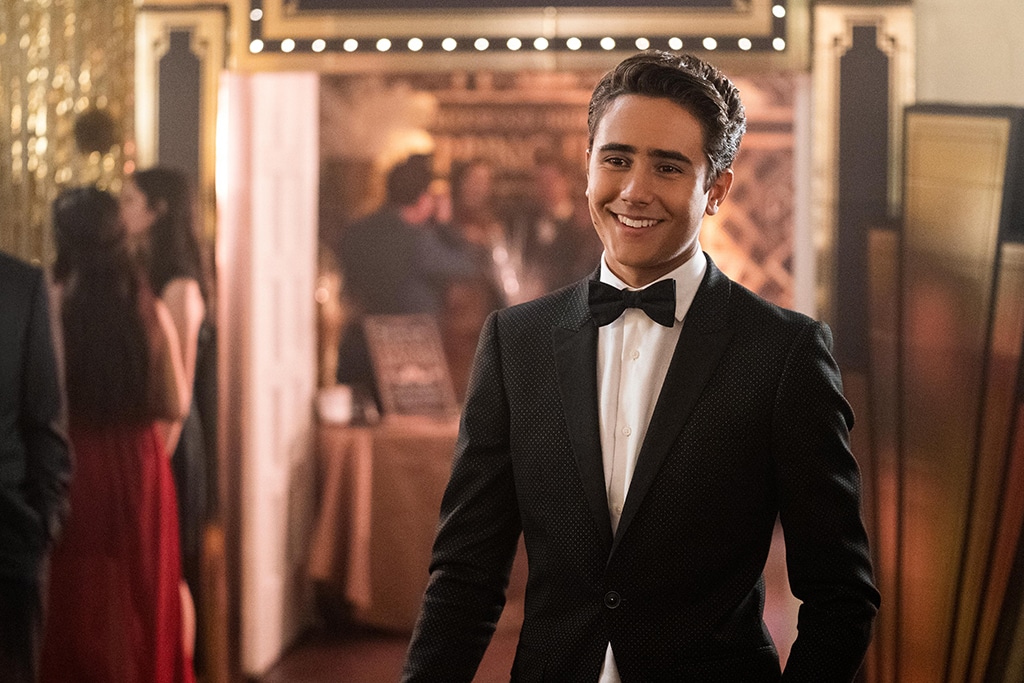 Hulu
Yes, there's a plan for what comes next after the Love, Victor season one finale cliffhanger.
Warning, spoilers follow.
The 10th episode of Love, Victor season one had Victor (Michael Cimino) at the big dance where he was there determined to give Mia (Rachel Naomi Hilson) a perfect night before breaking things off with her. And then she saw him kissing Benji (George Sear). Yep, Victor got the guy he was crushing on—and in turn a friend he cared about got hurt. Mia left the dance upset, went home and hugged her father's girlfriend Veronica (Sophia Bush) despite earlier friction with her. And Victor, sparked by a message from Simon (Nick Robinson), went home and prepared to come out, only to find out his parents decided to separate. Refusing to be deterred, Victor came out as gay to them.
The writers have already started work on the potential second season of the Love, Simon sequel series.
"We're just continuing his journey and we're really getting into all the complexities of what it is to be gay when you're in a religious family, when you're in a conservative family and letting that play out," series co-creator Isaac Aptaker told E! News. "We've been talking to real life parents who've struggled with their kids coming out, what that experience is like for families, and we just want to do a very authentic telling of what the next chapter of Victor's life would is going to be as an out gay kid in his family and now at his high school."
Watch:
Nick Robinson Opens Up About "Love, Simon" Role
Bush's casting made headlines before the show debuted, but she was barely in the series. When she did appear, she had some conflict as Mia adjusted to Veronica's role in her father's life. Their hug at the end of the season was a big step forward and there is plans to feature more of the character.
"She's the coolest person...Beyond how great she is as an actor, she's just so involved and so smart, and so pushing for change in our world and all the best ways. And I think that's why she wanted to be a part of this," Aptaker said. "So despite how busy she is traveling the world and speaking and working on all of her organizations, she's excited about coming back and we do have big plans for that character."
Elizabeth Berger, the show's co-creator, said Bush's appearances in the first season were just the start.
"It feels like we kind of just scratched the surface between her relationship with Mia. So, we have a whole journey for the two of them planned," Berger added.
Before Love, Victor dropped on Hulu, it was originally planned to stream on Disney+. It was deemed that the material about a high schooler struggling with his sexuality was too "adult" and the show moved platforms. That worked to the advantage of the show, Aptaker and Berger said.
"I think that we are mostly focused on that we feel like it is in the exact right spot now on Hulu. I think we all tried to sort of make the best version of it at Disney+ and it became really clear, kind of halfway through the process I would say, that it wasn't the best home for it. It wasn't the best fit," Berger said. "So, I think for a number of reasons, we're just grateful that it ended up this way. I have been mostly focusing on just as many people seeing it now that it has its new home as possible."
Aptaker said now with working on a second season knowing it'll be on Hulu "there's no ceiling for how mature we can get."
"Not to say that the show is all of a sudden going to become Euphoria, but I think about the shows that loved when I was a middle schooler or teenager, and it was the shows like Boy Meets World where the characters literally grew up with you. And in the first season they were a bit more innocent, and then as they got older and then as their audience got older, they were dealing with more complex, mature themes," he said. "We would never have been able to touch those on Disney+, but Hulu is very excited to see that, those stories."
Love, Victor season one is now streaming on Hulu.