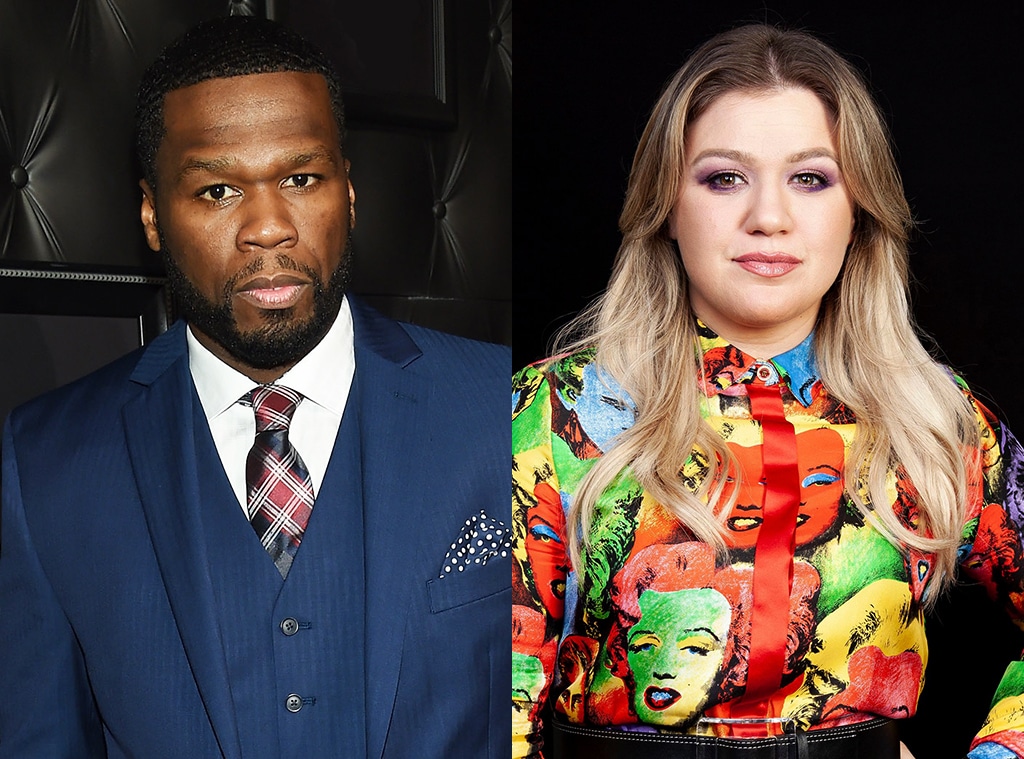 Dimitrios Kambouris for Getty Images, Rebecca Cabage/Invision/AP/Shutterstock
50 Cent and Kelly Clarkson are ready to have tough conversations.  
During Wednesday's virtual episode of The Kelly Clarkson Show, the "In Da Club" rapper and the "Since U Been Gone" singer opened up about how they've been addressing recent events pertaining to the Black Lives Matter movement with their young children. 
"I'm blessed with him only being seven," 50 Cent, who is dad to son Sire, said. "So, I have to explain why they're protests."
Clarkson chimed in, saying, "My little girl [River Rose] is six and it's like, you know, she catches something, like the news, or something, and I just have to explain it simple and it's just like, 'Well, there's just right and wrong. And this person was wrong and that's why they're crying.'"
"It's a very different thing and I think as a parent, now more than ever," Clarkson, who is also mom to son Remington Alexander, 4, continued. "And I think everybody needs to have that uncomfortable conversation that that exists and that it's wrong."
Speaking to the sensitive approach he often takes when communicating with his son, 50 Cent responded, "They're delicate and I always look at him and say I don't want to overexert these things to him and change his perspective on it at the same time."
Clarkson added, "Each kid is different and they know—even my boy and my girl, they're so different, like, how they receive information. It goes in and out his ear and she absorbs like a sponge, so yeah, they're all different." 
In recent weeks, Clarkson has been using her platform to inspire change. On June 15, she announced the launch of her #StartTheConversaion campaign, which strives to empower fans to speak out against racism via social media.
"Since the death of George Floyd and the protests that followed, our staff has engaged in honest and sometimes difficult dialogue," she told Kelly Clarkson Show viewers. "But we've always strived to be a show about connection and we wanna walk the walk every day even when it's hard, and to continue that as well."
Watch:
Black Lives Matter Protests That Are Changing The World
Clarkson continued, "I know that these conversations aren't always easy for people to talk about, one, or for people to hear; either they're exhausted by having to talk about it still or they're uncomfortable because they're afraid maybe it'll be taken out of context or won't be understood."
As she explained the inspiration behind the campaign, the "Breakaway" singer gave Kelly Clarkson Show staffers the opportunity to share their feelings on recent events in a moving video. 
"Thank you so much for sharing your stories. We are an inclusive set. We love everyone on our set and it's very lighthearted usually," Clarkson said. "But, just because we're a fun set doesn't mean we can't have serious conversations and be a part of the change, like I said, we wanna see. So, we want this to be an active and open forum, though, for you to share your experiences and thoughts as well. That's important." 
(E! and NBC are both part of the NBCUniversal family.)