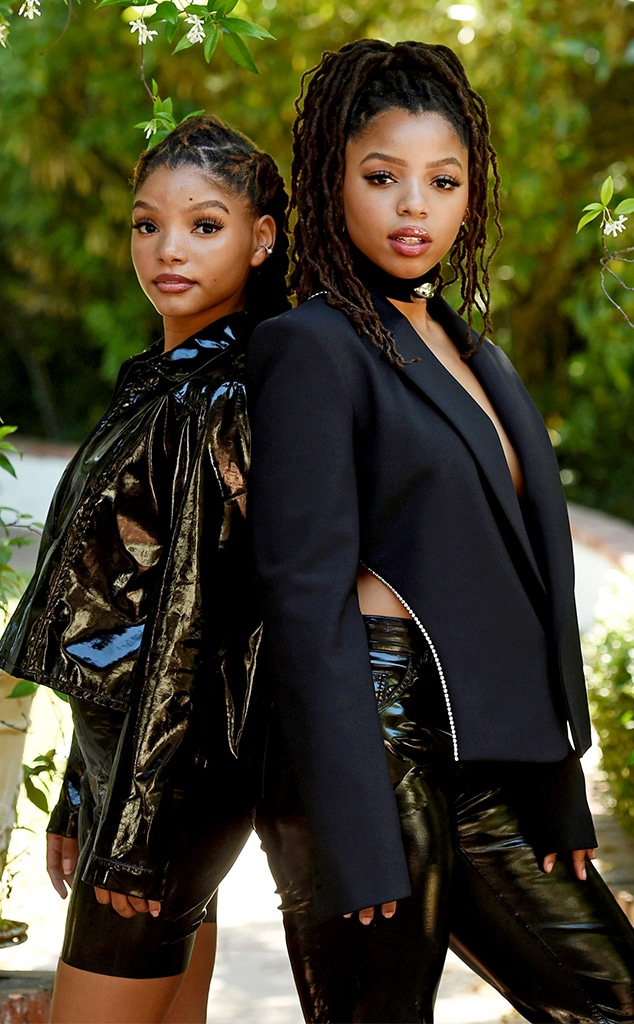 Chris Pizzello/Invision/AP/Shutterstock
What time is it, you ask? It's the Ungodly Hour.
It's no surprise that Chloe x Halle made jaws drop with their incredible performance for the 2020 BET Awards on Sunday night. Making their duet even more unforgettable? The dynamic duo performed two songs off their new album, Ungodly Hour.
First, the songstresses belted out the lyrics to their leading track, "Forgive Me." The vocal group was perfectly coordinated in matching, but not identical, black latex ensembles—which worked perfectly with the rightfully confident song.
The powerful performance of the breakup track featured the duo's pitch perfect harmonies, as well as, their subtly sensual moves.
Soon after, they played "Do It," which has arguably been one of the biggest hits off their latest album. For the special occasion, the sister duo dressed up in ultra-fashionable ensembles that deserve awards all on their own. Halle Bailey slipped into an all-white outfit, including parachute cargo pants, a bralette and a cropped jacket.
Chloe Bailey donned something uniquely different but still kept the same vibe as her younger sister's look. The 21-year-old singer also rocked an all-white look, but hers featured a crop top with fringe and parachute cargo pants.
From the R&B duo's knock-out performance to their stylish clothes, it's safe to say Chloe x Halle stole the awards show. In fact, at one point, we were seeing quadruple as the "Forgive Me" Chloe X Halle started dancing alongside the "Do It" Chloe X Halle.
The twosome certainly made the most of the awards show being virtual!
Ahead of their performance, the sister duo opened up about the Black Lives Matter movement and how they're using their platform and music to be part of the conversation.
"It wasn't right; we didn't want the attention on us. We wanted to shine a light on what matters the most to us at this time," Chloe told TIME in early June about delaying the release of Ungodly Hour in light of George Floyd's death. "These past two weeks have been very overwhelming; we've been hurting, we've been in pain. But we're also very hopeful, because our peers are raising our voices and we're letting ourselves be heard and not backing down and taking no for an answer."
She added, "The injustices have been going on for a very, very long time, but I'm happy now the entire world is paying attention."
Watch:
Chloe x Halle Talks First Grammys, Beyonce & Super Bowl Performance
Halle shared the same sentiments as her older sister.
"We think it's beautiful that people are using their voices to speak out and stand up for what they believe in. And we want to be a part of that as well," she explained. "It's O.K. to take breaks from social media. Especially for our Black brothers and sisters: it's traumatizing, some of the videos that you see. It's O.K. to just step away, meditate, have prayer, turn to music, turn to healing, turn to some art form that brings you peace."
"We truly believe music is a healer, and we hope that's what our album can do for anyone who's still feeling icky inside, and upset, and angry," Chloe expressed. "For the 45 minutes that the album is, we hope our album can be a release, in a way."
For more updates on the 2020 BET Awards, click here!