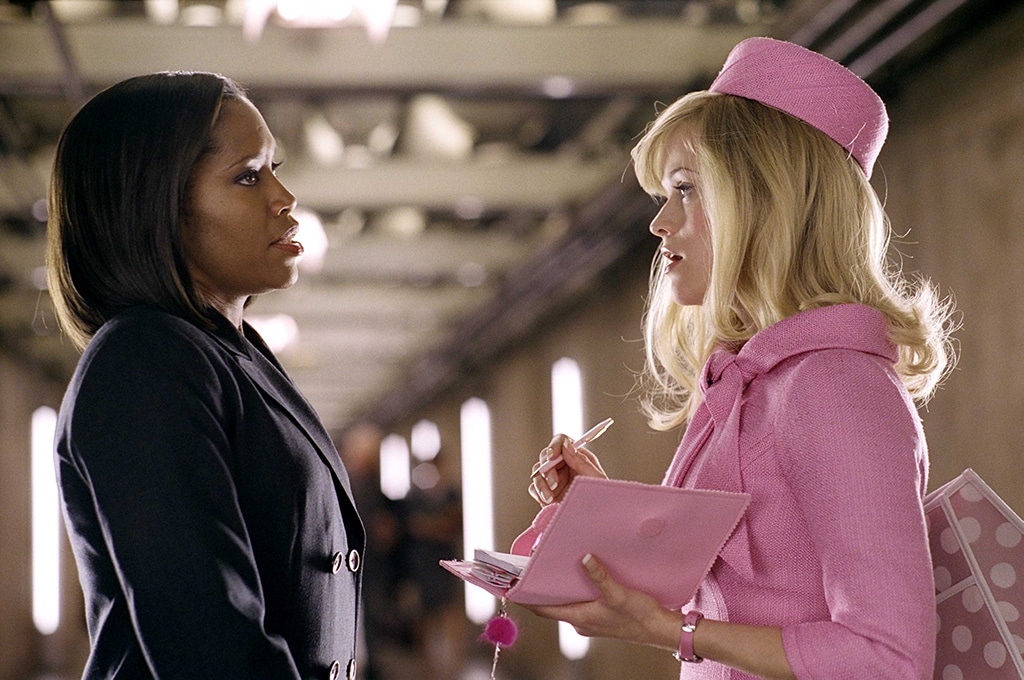 Moviestore Collection/Shutterstock
It's a Legally Blonde 2 reunion!
Almost two decades after the film's debut, Reese Witherspoon and Regina King virtually came together to talk about how Hollywood is changing with Variety.
As fans will recall, Witherspoon played Elle Woods in the 2003 sequel while King played Grace Rossiter.
"We met each other on Legally Blonde….Remember when you got Sally Fields to play that part?" King said, referencing Fields' role as Congresswoman Rudd. "I was like, 'Oh my God!' Fanning out! You got to do that again on Big Little Lies with Meryl Streep. You pulled another huge one. Just, how do you do it, girl?"
Witherspoon then said she tries to "make them an offer they can't refuse."
"I knew I wanted to work with you, too," the 44-year-old actress added. "I remember seeing you in Jerry Maguire, and I was like, 'I'm going to work with her….' You had a spirit inside of you and I was like, 'That woman is truth; she is intelligence; she is beauty; she is soul and she is honest.' And I was like, 'I have to work with her.' And I feel so lucky that I got to but we gotta do it again 'cause it's been too long."
King and Witherspoon have continued to have a lot of success since then. Not only have they each won an Oscar for their work in film, but they've also been recognized for their work on TV and behind the camera. King, for instance, has three Emmys under her belt for her performances in American Crime and Seven Seconds. The 49-year-old actress is also starring in the HBO series Watchmen. As for Witherspoon, she took home an executive producing Emmy after Big Little Lies won Outstanding Limited Series. She's also starred in programs like The Morning Show and Little Fires Everywhere.
"The thing I love about you is the stacking of achievements isn't just for your own gain and benefit," Witherspoon said. "That you are determined to make a lot of change in our business by committing to hire more women, more people of color—to put them in the driver's seat, you know? I think there's such an alignment between a lot of women of our generation about [how] we do not want to leave this business the way we found it."
Watch:
Reese Witherspoon Explains How She Picks Her Projects
However, this success didn't happen overnight. In fact, Witherspoon said it took her "three successes for people to say, 'OK, that's a real thing; she is a real producer.'"
"Even after we did our first two movies, Gone Girl and Wild, [we] weren't making any money. I could barely keep the company open. Even Big Little Lies," she said. "It wasn't like this economic boom until I started doing more audience engagement through book clubs, and getting on Instagram, and promoting women's stories that maybe wouldn't make to film and television but, you know, that it felt possible and that people, said, 'Oh yeah, that is something.'" 
She also said "it's actually audiences who've changed everything."
"They choose what shows they want to see, and they have chosen better storytelling by, you know, a more diverse group of storytellers," she said earlier in the discussion. "And the proof is right there. But it's amazing to see those opportunities open up for women. Honestly, I didn't think I'd see it in my lifetime."
Watch:
Why Regina King Feels Fulfilled as a Director at 2020 Oscars
At one point during the chat, King spoke about how motherhood has inspired her to drive change. 
"It's probably motherhood that had a big deal on being conscious of the need to be a part of creating a space that is telling more stories that…are reflective of the world that we live in," she said.
King said "there's something that opens your heart up when you become a mother—no matter how you become a mother."
"There is this thing that opens up that it's hard to put words to, but you, on an intrinsic level, know that you, as a mother, are a pulse—you're part of the Earth's pulse," she continued. "And recognizing that, you feel a need to want to be a part of change. When you know what things aren't right beyond the walls that you're in, as a mother, you can't help but [say], 'OK I can create this space here that is safe. How can I illuminate that [and] make that bigger, so that other women—other people, not just women—can feel the need or the desire to make their spaces bigger?' I know it probably sounds a little granola, but I definitely know that being a mother just, like, cracked me open and made me realize that my purpose is more than just being an actress." 
To watch their full discussion, head on over to Variety.