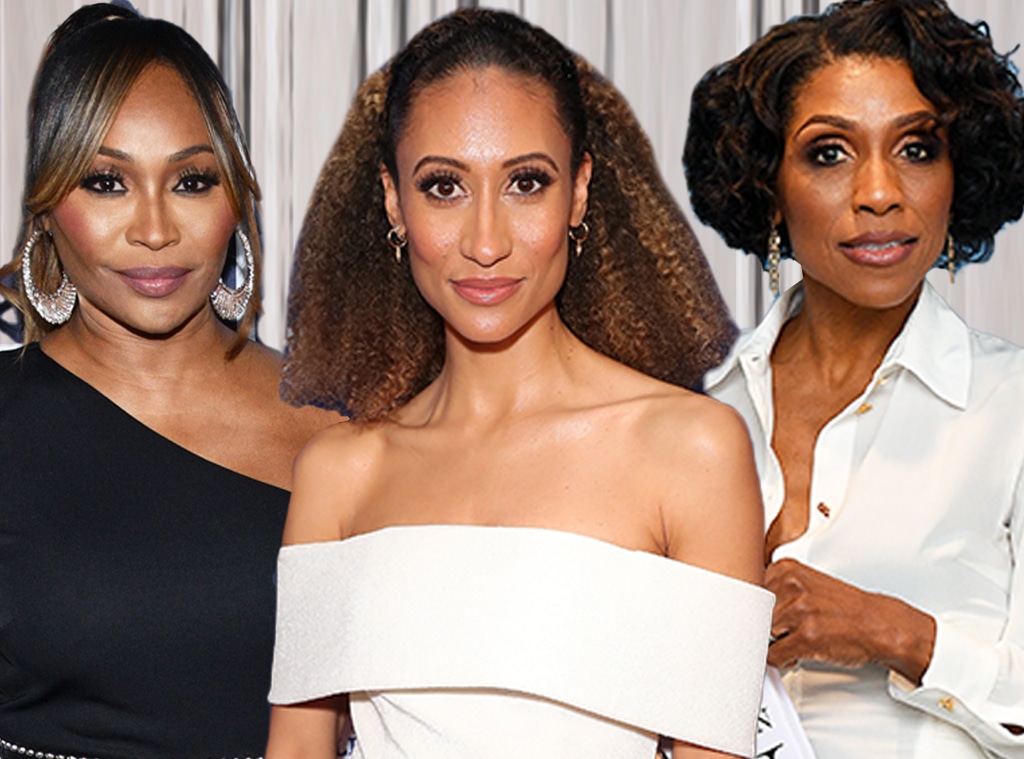 Leon Bennett/WireImage, Charles Sykes/Bravo/NBCU Photo Bank via Getty Images, Dia Dipasupil/Getty Images
An eye-opening discussion.
Tonight, Daily Pop co-host Justin Sylvester took to Bravo's Instagram Live to, once more, moderate a powerful conversation about being Black in America. The E! personality was joined by Project Runway's Elaine Welteroth, The Real Housewives of Atlanta's Cynthia Bailey and Married to Medicine's Dr. Jackie Walters.
In individual segments with the Bravolebrities, the Justin-led open dialogue touched on a variety of topics, including experiences with racism, the importance of representation and more.
"We have to keep this energy up because this is not over, this fight did not stop because all of George Floyd's officers have been arrested and charged," Justin said to those tuning into the latest live discussion, titled Amplify Our Voices: An Open Dialogue On Being Black In America. "We still have work to do."
This conversation comes amid the ongoing Black Lives Matter demonstrations in response to the deaths of George Floyd, Breonna Taylor and others.
For Elaine, Cynthia and Dr. Jackie's words on these topics, scroll through the quotes below.
On experiences with racism:
Elaine: "We dealt with different grades of racism in my childhood. I think I would say my brother experienced it more directly and overtly, he had multiple incidences at school where he was called the N-word. And what's fascinating is, any time my brother was in trouble, without fail they would call my mother, except for the times my brother was called the N-word. Those were the times that the principal's office would call my father…He would come and he used his white male privilege to empower his Black family in this community in these moments."
Cynthia: "I started in the [modeling] industry when I was 18 years old, I'm 53 years old now, it was a very different world back then. I mean, I literally signed with Wilhelmina Models in New York and it was maybe, three Black people signed with that agency and probably 300 white people that was signed with it. It was very common to go to try to get with different agencies back then and they would pretty much tell you, 'Sorry, we already have two Black girls.'"
Dr. Jackie: "I think it's so ingrained in people. I mean, you're not born racist, that's a learned behavior. You learn that along the way from home or wherever you get that and I don't think that people get it."
Watch:
Teen Activist Organizes Peaceful BLM Protest Amidst Adversity
On the importance of representation and inclusion:
Elaine: "We have to stand up and say, 'It's no longer business as usual.' We have to take a hard look in the mirror as individuals, but also collectively in our communities and in our corporations. I have the experience of being one of few, if not the only one, who looks like me in the room, in my workplace more than I'd like to. And I hope now that companies are going through this reckoning that they're taking inventory of what their board seats look like and what they're executive teams look like and what the complexion of their news rooms are—because they are going to be held accountable."
Cynthia: "I'm excited to use my Blackness and everything that I have that I can put out into the world to help uplift our race and just people, because I just think everybody deserves a fair shot, you know what I'm saying? If you're not qualified for a job, you're not qualified for the job, but it shouldn't be because of your skin color. Let's just level the playing field and just let everybody, you know, go for it and try to be great."
Dr. Jackie: "I'm so excited, my niece goes to the University of Mississippi Medical School, where I went too…To see a picture of those black students standing there with 'I can't breathe' and saying, 'Black Lives Matter,' I had tears. I'm like, I can't believe this is happening. 'Cause, I remember my first undergrad there in Med-Tech, there was seven black students [out of] 114…And too see them stand in solidarity and say, 'Black Lives Matter,' my heart."
On the Black Lives Matter movement:
Elaine: "When all these companies were coming out and making these statements that were saying they were standing with the Black community and, while it is groundbreaking that so many companies are coming out and saying 'Black Lives Matter' and 'We stand in solidarity,'…without action and without accountability it feels empty."
Cynthia: "When everything happened with George Floyd, it was just really depressing and hard to just stay in the house and just watch all this on the news. I felt like it was worth us going out there to support this cause. For me, you know, just watching everything that he went through, I didn't feel like we had a choice."
Dr. Jackie: "I was so proud to say that I'm a doctor. To see my sisters and brothers in the white coats stand, take a knee, put a hand up for Black Lives Matter reminded us that we're not fighting one disease, but we're fighting two…And the one thing we know as physicians, when you open a body, everybody's got red blood and a four chamber heart."
On the younger generation:
Elaine: "When I think about the movements in the '60s like, Angel Davis and the Black Panthers, they did not have this tool [social media] at their disposal. We have the power to mobilize, to galvanize our communities, our generation and we have the power to shift the culture around voting…This is something that we need to be proud of."
Cynthia: "Our kids, they're a different generation, they're very woke. They're like, 'Look, we need to be out there on the front lines, just showing our support in any way that we can.' And we wanted to share that experience with them and just make sure that they're safe."
Dr. Jackie: "So, let me shout out this generation. Oh my god, we've been saying like, 'Oh millennials! Oh Gen X!' Honey, oh my god, they're not us…They take me back to the Martin Luther King era. Like, 'We're gonna die for right. We're gonna stand for right. We're gonna do whatever we need to do. We're gonna get your attention, because this is wrong and we're not gonna accept it anymore.'"
You can find the entire conversation on Bravo's Instagram account here.
For more ways to take action and get involved, please click here.
(E! and Bravo are both part of the NBCUniversal family.)