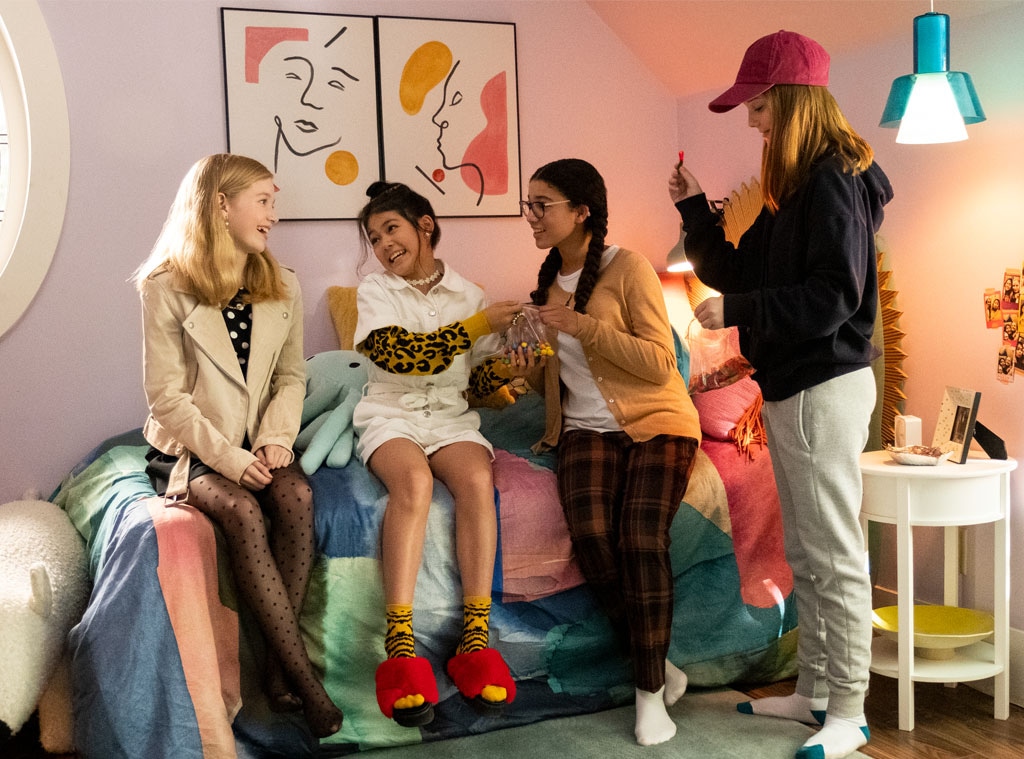 Netflix
Cue the nostalgia!
On Monday, Netflix released the first trailer for its reboot of The Baby-Sitters Club, which will be available to stream starting on July 3.
Based on the beloved book series by Ann M. Martin and following in the footsteps of the '90s sitcom and 1995 film, the new modern-day adaptation follows middle-schoolers Kristy Thomas (Sophie Grace), Mary Anne Spier (Malia Baker), Claudia Kishi (Momona Tamada), Stacey McGill (Shay Rudolph) and Dawn Schafer (Xochitl Gomez) as they create their own babysitting business in their small town of Stoneybrook, Conn. The series also stars Alicia Silverstone, who plays Elizabeth Thomas-Brewer. 
In the trailer, the gang lays the groundwork for their famous club, running around town and recruiting local parents. Fans are also treated to several Easter eggs from the original series, including the gang's throwback see-through landline phone, which Claudia hilariously bought from a vintage Etsy shop in the revival series.
As each character is introduced, viewers watch as Kristy, Mary Anne, Claudia, Stacey and Dawn form the iconic babysitting group and deal with the trials and tribulations of young adulthood.
"I started The Baby-Sitters Club to take care of kids," Kristy says in a voiceover. "But what I realize, we were more than a club; we were best friends."
Back in February, Netflix announced that the fan-favorite franchise being turned into a contemporary live action series. Thrilled to be bringing The Baby-Sitters Club to the small screen once again, Martin shared that she hopes the new series will empower a new generation.
Watch:
Alicia Silverstone "Excited" for Dove Cameron in "Clueless"
"I'm amazed that there are so many passionate fans of The Baby-Sitters Club after all these years, and I'm honored to continue to hear from readers—now grown, who have become writers, editors, teachers, librarians, filmmakers—who say that they see a reflection of themselves in the characters of Kristy and her friends," Martin said in a statement. "So I'm very excited about the forthcoming series on Netflix, which I hope will inspire a new generation of readers and leaders everywhere."
Like Martin, Melissa Cobb, who is the vice president of Kids & Family at Netflix, is also excited to see how the themes of the books will inspire with the young viewers of today.   
"The themes of The Baby-Sitters Club still resonate 30 years after the original book series was released and there has never been a more opportune time to tell an aspirational story about empowering young female entrepreneurs," Cobb said in a statement. "Together with Ann M. Martin and the team at Walden Media, our ambition is to contemporize the storylines and adventures of this iconic group of girlfriends to reflect modern-day issues."