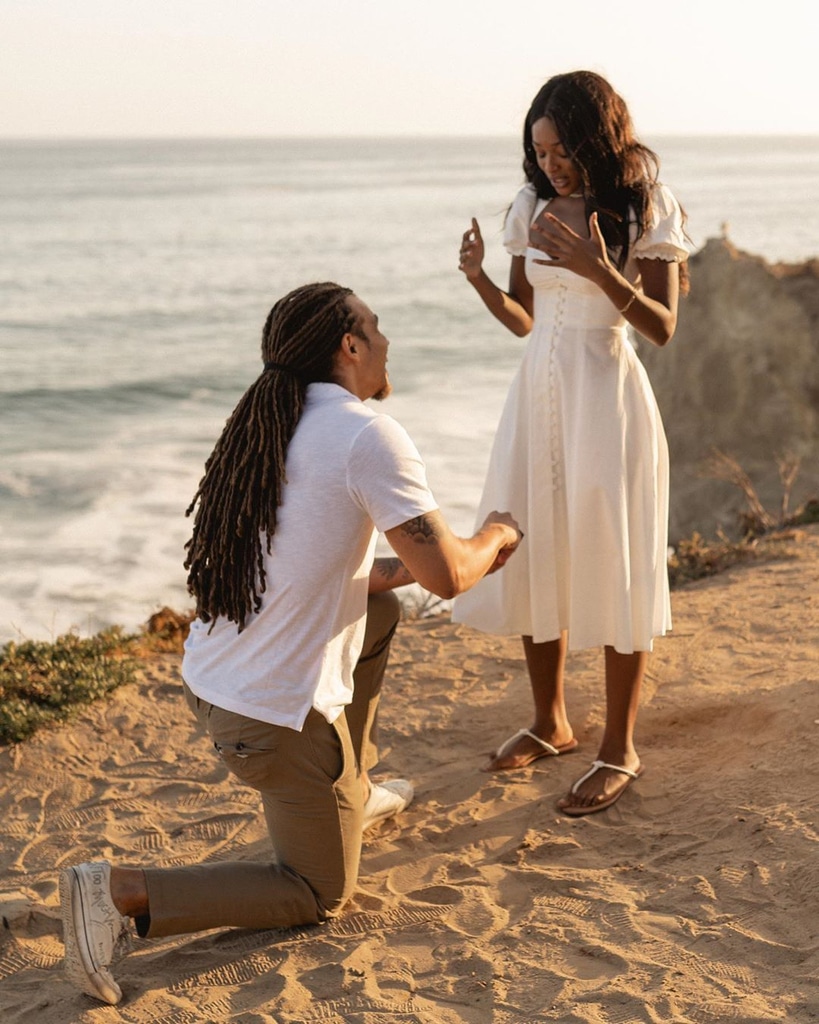 www.everwildlove.com
Clinton Moxam and Uche Nwosu are engaged! 
Taking to Instagram, Moxam revealed that he had popped the question in a heartfelt post. The couple met on the sixth season of the MTV reality dating series Are You the One?
"So yesterday my dreams came true," he shared, along with photos by @everwildlove from his romantic beachside proposal, where he can be seen getting down on one knee and sharing a sweet kiss with his bride-to-be. "I met my Fiancé exactly 3 years ago today & yesterday I asked her to spend the rest of her life with me. This was the easiest decision I've ever made. Honestly there wasn't even a decision to be made, I truly believe we were created for one another!" 
He continued, "Uche I've been searching for you since I was like 9. Our relationship and the love we have for one another came out of nowhere & it's undeniable you're my wife."
Gushing over Nwosu, Moxam added, "You're perfect, thank you for choosing to love me. Let's get these wedding plans started because I want some babies soon." 
Thrilled to share the milestone with fans, Nwosu paid tribute to her future husband with a touching post of her own. 
"Still speechless. I honestly didn't think love like this existed," she wrote. "I'm the most me, my BEST self - when I'm with you. No one loves me better. My best friend. My protector. My lover. My fiancé (literally what!!!!!!!) - I can't wait to be your wife." 
Watch:
Watch Kendall Jenner Reject a Fan's Engagement Proposal
Following the news, Nwosu gave her Instagram followers a behind-the-scenes look at the proposal on her Instagram Stories. Sharing videos leading up to the big moment, the model revealed that Moxam said that they were headed to the beach for a couple's photo shoot.
In another video, she said that it became clear that something was about to happen when her mother joined them at the beach, adding that her fiancé was "being weird af."
Nwosu also captured the moment that Moxam got down on knee and presented her with her engagement ring.