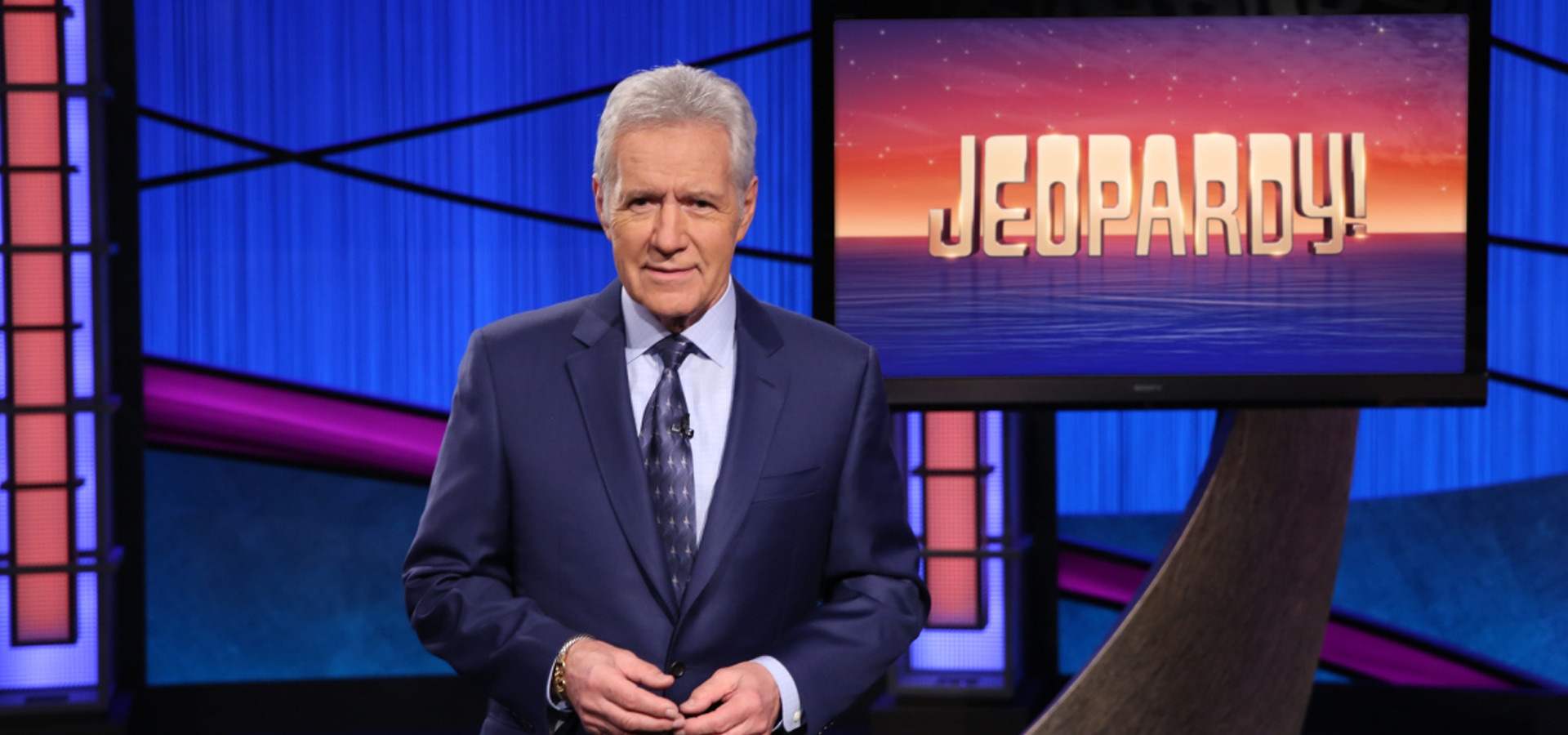 CBS Television Distribution
Father's Day is this Sunday, and Alex Trebek's kids are celebrating by sharing what he's like as a dad.
The Jeopardy! host's wife, Jean Trebek, interviewed his three adult children for a piece on Insidewink.com, for which Jean serves as an editor. Alex is the proud parent to Emily and Matthew—whom he shares with Jean—and Nicky, whom he shares with his ex-wife Elaine.
The children have many fond childhood memories, too. For instance, Emily recalls Alex pulling them in an innertube while he rode a jet ski, and Matthew remembers Alex coming to all of his paintball tournaments.
"Although it was a very unique sport, he still got very enthusiastic about watching and learning the game," he says.
As for Nicky, she looks back at one particularly special trip they took to a wine symposium in Hawaii.
"I wasn't a kid, but Vincent Price attended and I got to sit next to him at a dinner," she recalls. "Needless to say it was unforgettable. Bonus: On that trip he told me he was going to marry Jean and I could see how happy he was!" 
It looks like the trio inherited a few qualities from their dad, too. For instance, Nicky says she has a "similar passion for organization" in the household, noting Alex is "extremely into cleanliness and organization," and Emily says they're "both pretty Type-A individuals." As for Matthew, he says they "both tend to be discerning when it comes to sharing" their feelings and that they're "both very capable in taking care of most household repairs."
In terms of the qualities they most admire about their father, the children say these include his persistence, determination and generosity.
"I personally experienced him writing hundreds of thousands of thank you notes while he battled for his life," Nicky says, referencing Alex's battle with pancreatic cancer. "It's truly astounding. I honestly can't even put it into words."
The family members also share a few fun facts about Alex's skills, including that he's good at staying focused and fixing things around the house—especially sprinklers. And while Jeopardy! fans already know he's a pro at hosting the popular quiz show, Nicky insists he's the "best in the business." 
"People don't really understand what it takes to do what he does," she says. "He is meticulous and I feel very honored to have been able to watch him behind the scenes all of these years."
Nicky actually started working at Jeopardy! in 1984. After exploring other opportunities, she returned to the show and has been there for the past five years, which she describes as an "incredible blessing."
"It's interesting how we are guided to different places in our lives and I believe I'm there to support and be a blessing to him which makes me really grateful. Especially now," she says.
But is there ever any extra pressure?
"Sure, of course, but I can handle it. I'm tough like him. LOL," she says. "It does feel as if more eyes are on me to do the right thing and very aware when I do the wrong thing (haha) but all in all working on Jeopardy! has been and still is like my second family. The Jeopardy! fam is strong and resilient. I'm lucky to be a part of it."
Watch:
"Jeopardy" Celebrates 35 Years With an "All-Star" Season